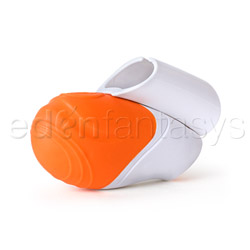 Chandra
Finger massager
by Emotional Bliss
Chandra sex toy review
Overall, the Chandra is an awesome toy. She can be used for many places *ahem* on males and females alike. She's a welcome addition to our bedroom to be sure.
Published:
Pros:
Rechargeable, versatile, antibacterial silver ions, comes with water based and silicone based lube
Cons:
Not waterproof
When it was time for another review, I scoured EdenFantasys' website for a new, different product. I spent hours hemming and hawing over which toy I wanted to play with next. I asked my husband for his input. I waffled with indecision. And finally, I made my choice; I chose the
Chandra|Chandra - Finger massager by Emotional Bliss
.
You see, I have been searching for years for a small, high power toy that I could use during sex. The problem I have always run into is grip – or rather the lack thereof.
Bullets and vibes|Shop for vibrating eggs and bullets
get so slippery that I can't seem to maintain a good solid buzz on my clit. Enter the Chandra.
I was shocked by the size of the box in which the Chandra arrived. It was about a foot long and quite pretty. The Chandra being around two inches long couldn't possibly use that much space, right? Well no, it doesn't need so much space on its own. What took up so much space were the user's manual and the charger with all of its adaptable plugs. Yes, that's right; the Chandra is rechargeable. Apparently, in several different countries. Oh and did I mention it happens to come with two bottles of lube, one water based and one silicone based? Yeah baby! Lube is always good. Free lube – well you can't beat that with a stick.
I was delighted to find my new toy fully charged right out of the box. It also happens to be incredibly easy to operate, having only one button and a single speed. I'm quite fond of simplicity when it comes to sex toys. The three finger attachments that come with her (yes, Chandra is a she) slide on with a minimum of fuss and offer a good fit for several sizes of fingers.
The feature that I had been searching for so long was stability in a small bullet-like vibe. Chandra finally brought that as she fit snugly on my middle finger and allowed me to enjoy a steady, uninterrupted vibration exactly where I wanted it. No slip-sliding off to the side; no shooting across the room at a truly inconvenient moment; just solid buzzing right where I need it.
She is small enough to slip into my pocket and smuggle to the bathroom at work but strong enough to get the job done. The only downside to her is the fact that she's not water tight. So If you are happily buzzing your way to an orgasm in the ladies room, be careful not to drop her into the loo. Fortunately, the only non-waterproof spot rests under your finger, which helps protect it from getting wetness inside the plug receptacle.
Overall, the Chandra is an awesome toy. She can be used for many places *ahem* on males and females alike. We truly enjoyed the extra intense orgasms she gave us both during sex, oral sex, and masturbation as well. She's a welcome addition to our bedroom to be sure.
This product was provided free of charge to the reviewer. This review is in compliance with the FTC guidelines.

Thank you for viewing
Chandra
– finger massager review page!