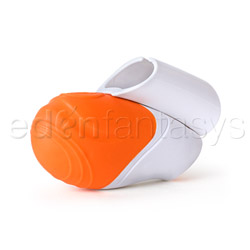 Chandra
Finger massager
by Emotional Bliss
Chandra: a Classy Clitoral
The Chandra is a sophisticated and high quality finger vibrator/ clitoral stimulator that appeals to women of varying tastes and generations.
Published:
Pros
Its small, compact size. The varying sized finger bands. The fact it's rechargeable.
Cons
It did not come with 4 different international converters and takes too long to charge.
I'm one of those girls that buys shoes and bags with names. I'm not sure why that is; I've always found people who their shoes as if they were people to be uber-pretentious. Yet, here I am, letting my shopping trend carry into my sex toys. One of my last reviews was
Elise
, a luxury g-spot vibrator; I loved it so much that I decided to try a toy with a female name once again.
Chandra's concept really isn't different from any other clitoral stimulator I've tried. However, it's the design and execution that really separate this finger vibrator from others. There are 3 varied finger bands that conveniently slide right over any finger of your choice. While I found the smallest to cut off circulation after a prolonged period of time, the middle sized band was perfect for my middle finger and my husband was able to slip the largest on his index finger during foreplay.
Inside the box were two 1 oz bottles of lube; one was water based and the other was silicone. While an ounce really doesn't sound like much, I found that just a little drop went a long way. Also, inside the box was the user manual, that was more of an entertaining booklet.  I enjoyed the tips inside the booklet on how to use the toy, especially the one where it suggests you wear thongs and run the vibrator on the outside of your underwear, and against your clit and lips. The text was sexy as hell, but it was also geared to be sophisticated, sensual, and feminine.
Chandra's emphasis is on solo female play; while inside the book there was talk of including your partner, it still kept the tone of using their products solo mio. I made sure to try out my toy with my husband; I always like to hear his response on how loud it was or how my face contorted when I finally orgasmed while using it. After I cum, I'm left sort of dazed and confused, and after being together so long as a couple, my husband can gauge my reaction to be able to help me later when it comes to rating the product.
Chandra massager
really did feel great. I enjoyed the three ring design; somehow it managed to hit all the right notes. It was quiet as well, as it should be due to its small and compact size; I could close my fist around the entire toy. It only has one vibration setting, but I found it to be powerful enough to get me off with about 15 minutes of use. The best part is that it's rechargeable. Unfortunately, it takes 12 hours to charge, l and then the battery is only good for 1-2 hours of use. Another downside is that the product description boasted it comes with 4 different international converters for overseas travel but my toy came with only one. I don't frequently outside of the United States very often, so they aren't necessary, but it was disappointing to say the least.
Overall, it's a lovely product and perfect for anyone in search of sexual and "emotional bliss."
Follow-up commentary
8 months after original review
The Chandra is a fantastic toy for "green girls". It encompasses everything you could ever want; it's rechargeable, it's made out of skin friendly medical grade TPE plastic, and it's easy to use. Plastic is a non-porous and phthalate-free material with a firm, smooth texture. While plastic cleans well, this toy can be a little tricky, make sure you plug the jack up with your thumb to prevent any water from going inside of it. Being plastic, this toy can also be used with all types of lubricant such as water, silicone, and oil. I prefer silicone lubricant because it lasts longer and doesn't wash away. It also doesn't dry up and helps your toy glide over your labia and clitoris for a longer period of time than water-based lubricant. The Chandra isn't just a basic finger vibrator, it's a kit. It prepares you for everything you'd need as if it's an introduction into having a better sex life. It gives you three different size finger sleeves, two bottles of differently based lubes, and an AC adapter with four international converters. (Unfortunately, mine only came with a US converter.)
This product was provided free of charge to the reviewer. This review is in compliance with the FTC guidelines.
Thank you for viewing
Chandra
– sex toy review page!