The finger massager that is Chandra.
The Chandra is a decent finger vibrator that took 7 years to make. I'm not a huge fan of it, but I'm just one women. The Chandra is not waterproof, so no bathtime fun. She is rechargeable, so you don't have to worry about batteries. Chandra comes with interchangeable finger slots to fit just about any finger.
Published:
Pros:
Rechargeable, Interchangeable finger slots, Discreet, Created with women in mind,
Cons:
Weak, One setting, Not waterproof, Not splash-proof
I was really unsure about this product, and that is only because I have not met a finger vibe that I've obsessed with. I have not the best luck in that department, although I have a couple that I do like, but I'm not in love with it, and this here is not any different. I do like the Chandra, but I'm not IN LOVE with it.
When you get the Chandra home, she comes in a pretty decent sized box. It is not too small, but it is not overly large. The box is also pretty discreet. It does not scream vibrator at all. The item is pictured on the box, but that does not mean you can not give it as a gift. The box is actually really pretty. The left side of the box shows the items, and it's measurements. The right side of the box has a picture of a hand, and the hand is wearing the product. The picture also shows you how to place the Chandra on your finger. The box also has some information on it, such as what is in the box, and information on why it was created, and who it was created for. The box says that they found that the vibration frequency of 80HZ is th perceived frequency to stimulate the erogenous zones. During their developing the Chandra, they found that 80 HZ is more response in the younger women between the ages of 18 and 30. Also, that women who are over 30 respond to a increased vibration of 110Hz. This isn't saying that if your over 30 that this toy won't work for you. Each body is different. You may be 45, and this works perfect for you, so don't let that but of information discourage you from giving this a try.
The box can be used for storage if you please, but you can also remove the Chandra and store it somewhere else. Using the box can take up more room than it needs. When you open the box there isn't anything really special in it, but your Chandra and the charger, along with he different size finger slots. The items are small.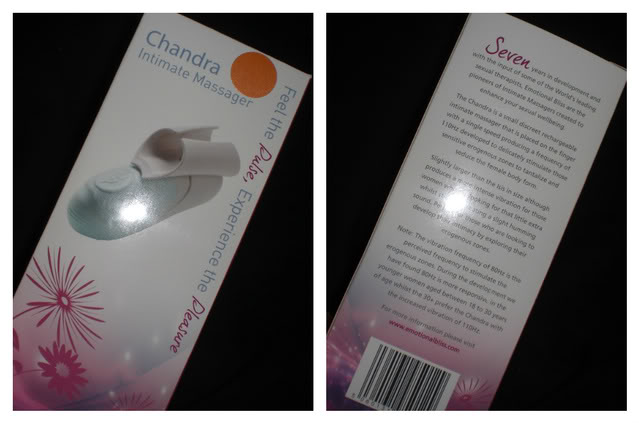 .
When I opened my box the first thing I seen was the Chandra, and the interchangeable finger slots. They were both placed inside of the same plastic bag. Under that was my charger. There isn't any type of booklet or anything that provides any extra information. Most of the information is on the box.
Now lets talk about the Chandra. The Chandra comes in three different colors, and one other size. The colors that it comes in are purple, orange, and lime green. I chose the Orange. Chandra is also offered in one other size, but she isn't name Chandra, she is named Isis. Looking at them they are both the same, just one is a little larger. The Chandra does have some texture to her. The texture isn't too much, but if you are extremely sensitive you may not enjoy the texture of the Chandra compared to the next women. The Clandra is made up of plastic according to the EF product page, but personally it feels like it's made up of plastic and the tip, where the color is, is made up of silicone.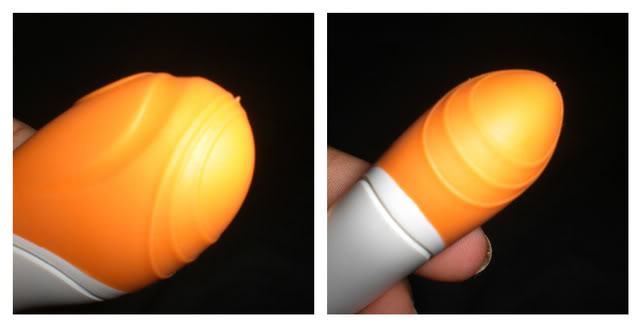 .
The rest of the Chandra such as the finger slots are also made of up plastic. Plastic doesn't hold on to bacteria, but I still do recommend using some type of covering when using this with another person. Because it is a finger vibe, you can not put a condom on it, but you can lay a sheet of dental dam over the other persons genitals before using it on them. The finger slots come in different sizes for all fingers, but your most likely only going to use one or maybe two of them. The others you can just put away for a just incase moment.

.
Experience
Continued...
This is the major down fall for me about the Chandra. She only has ONE setting, and it's a cross between medium and high, but the vibrations are somewhat buzzy. It doesn't have a deep feeling vibration. The vibrations are suitable for anyone. You would have to be extremely sensitive in order for this to be too much. The Chandra is operated by one single push button at the butt on the finger vibe. The vibrations are kinda loud. You could hear it through the cover and maybe through a closed door.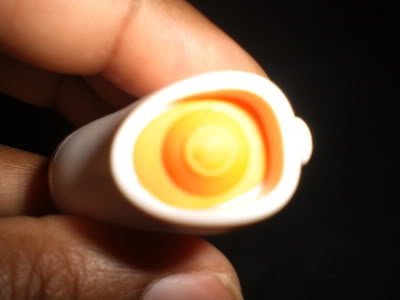 .
The Chandra is also rechargeable, which is a major plus. You don't have to worry about batteries. I would think if it did take batteries. It would take those annoying watch sized batteries. The charger plugs into the bottom of the Chandra. To fully charge it takes about an hour and a half to charge and can last about two hours when using it.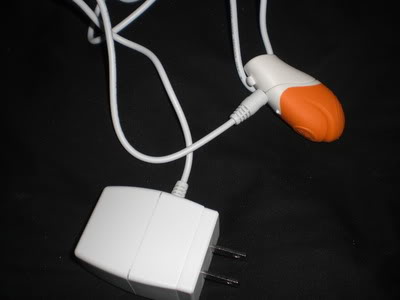 The Chandra is pretty small. You can hide it in the palm of your hand. This makes it perfect when needing to hide it, or when you need to take it out of the house. You can place it into your pocket, or a small purse. Even with one of the finger slots attached to it, it's still pretty small. It's 1.8 inches in height, 2.5 inches in length, and 0.8 inches in width, and weight about 1.4 oz.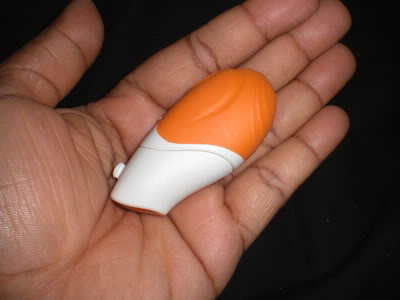 .
When cleaning the Chandra you can use your favorite toy cleaner, or a wet cloth. The Chandra is not waterproof, and it isn't even listed at spashproof, so you can't take it into the shower or the tube. You need to be really careful when cleaning it. When using it with lube, I'd highly recommend you using water based lube. It's the safest of the lube. You can pair her up with your favorite dildo if you like, you can even use her during sexual activity to stimulate the clit.
Experience...
Personally speaking the Chandra did get me off, but it took much longer then I would have liked it too. Once we even had to stop using it and grab something else. I do love this for a warm up toy, but it wouldn't be my main toy. I love that it's rechargeable. Rechargeable is always a major plus. I just wish it had more settings, and that it was a little stronger. I don't knock the Chandra because it does do what it's supposed to do, but it takes a little longer than I would like it too. I love that it has interchangeable finger slots. I've come in contact with finger vibes where the finger slots are too small, or have even ripped because of stretching it. With this, you don't have that problem at all.
This product was provided at a discounted price in exchange for an unbiased review. This review is in compliance with the FTC guidelines.

Thank you for viewing
Chandra
– finger massager review page!