Cooling You Down While Heating You Up (see bullet removal tip)
Perfect for those hot summer nights when you want to cool off when you are hot. We have both the small version and the larger version. The larger one works better the larger hands of my husband. It also holds more ice (or other frozen liquid). We love these for temperature play both for having a firm grip on your ice, having more ice and (most important) not freezing your finger tips off while playing. Vibrations do not carry well through the ice.
Published:
Pros:
Holds a lot of ice
Dont freeze your fingers off
Cons:
Vibrations do not carry well to through the ice
It was over 90 degrees here today and I am very happy that we had our Touche Ice in the freezer ready to go. This is very similar to the small Touche Ice that I have also reviewed.
Touche Ice Small
My husband prefers the larger one, if he is the holder and I prefer the smaller one. Although we can use either, size does matter.
Perfect for temperature play. If you like to use ice in your play session this is perfect. One thing that I dislike about playing with ice is that the cubes are hard to hold on to once they start to melt. It is not very sexy when the ice cube you are holding slips out of your hand and lands somewhere your partner is not expecting. That can interrupt the flow of the session. Another thing with playing with ice that I dislike is if you are the one holding the ice, your fingers get frozen. The receiver does not have this problem because you are moving the ice around on them. The Touche Ice fixes both of those. As the ice is attached to the silicone holder, you never have to worry about it slipping out of your hand or freezing your hand. The silicone is a bit cold when you are hanging onto it but no where near as cold as the ice itself. The silicone is also very easy to grip.
The toy is versatile in that you can use any liquid that will freeze. So if you want a bit of flavor when your tongue trails after the Touche Ice, you can have it. The only caution I would give is that sugar and lady bits do not mix well. If you are going to be using this in your lady's nether regions choose a sugar free liquid or she may end up with an infection. That is a big mood spoiler.
You will need to do a bit of prep before using your toy. Follow the instructions on the bottom of the box. Pretty simple take the toy out, remove bullet, fill with water, put silicone holder on top and freeze. We keep ours in the freezer. It looks like an egg so is discreet. It would be hard to guess what it is. I did have one person think it was something to hold baking soda to keep my freezer fresh.
Bullet Removal
Other reviewers have mentioned their frustration with removal of the bullet. What works for us is to let the ice melt off the Touche. Then push your fingers up from the bottom center of the toy. This pushes the bullet up. Once it is about a third of the way out you can grab on the top of the bullet and twist it the rest of the way out.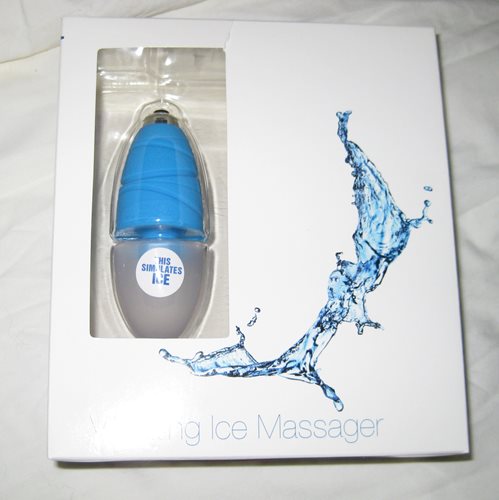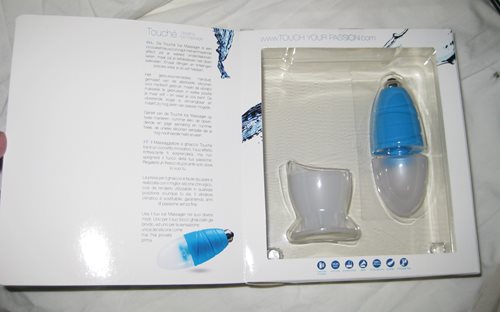 Experience
We liked our Touche Ice large so well we got a second smaller one as well. My husband prefers the large as it gives him something more substantial to grab on to. The vibrations in the large are a bit stronger. However, if you are looking for a strongly vibrating piece of ice this is not it. There is only one level of vibration and through the ice it is very light. That is the only drawback we have found.

I have rated this a 5 despite the weak vibrations because otherwise it is wonderful for ice play. I no longer have to keep switching hands to continue play. With this we can make the ice play session last much longer and even switch off with the ice without having to go to the freezer for more ice. The large holds quite a bit of ice.
This content is the opinion of the submitting contributor and is not endorsed by EdenFantasys.com

Thank you for viewing
Touche Ice big
– egg vibrator review page!