Delight?... I don't think so
The delight is far from a delight. It is a wonderful beginner toy. Not for someone who require girth, or stronger vibrations. The delight has seven different vibration setting and glows in the dark. Used on its own the delight is a flop!
Published:
Pros:
Multiple vibrations, Beginner Friendly, Glows in the dark
Cons:
To slim, Loud, Is not worth the price, No waterproof, Not splash-Proof
Slim smooth delight – traditional vibrator is a lovely change from your run of the mill straight edge traditional vibrator. The slim, smooth delight is an oddly shaped vibrator. I've never once seen a vibrator with this quite of design. It was fun trying something that I have never tried, or thought I would have. I also loved the idea of masturbating with something that was glow in the dark. I did not even know they made vibrators that had that ability.
The smooth delight is an all-white silky smooth vibrator. The shape of the delight is something I have never seen, so I do not even know what I could compare it too. It has a small head, followed by a smaller neck, and wider shoulders. The design of the delight makes it perfect for pinpoint stimulation. The size of the delight makes this perfect for beginners. The delight is a very slim toy. Someone who enjoys the feeling of being full, this would not do anything for you. The oddness of the shape makes it easy to use during sexual penetration. It is large enough to get you off, and small enough to use during sexual intercourse. I would not recommend using this for anal. It does not have a base, nor is the handle long enough.
Measurements areas followed:
Length: 6 1/2"
Insertable length: 5 1/2"
Circumference: 3 1/2"
Diameter: 1 1/8"
Smallest part (neck) 1 ¼ "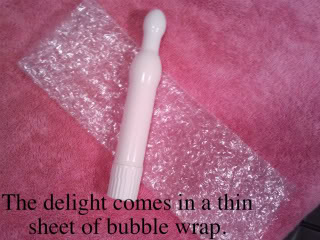 The delight is made of plastic, so you have the luck of using water, silicone, or oil based lubricants. When washing, you can use the normal. You can use water and mild soap, or you can use your favorite toy cleaner. The delight is NOT waterproof, nor is it splash-proof. You cannot take it into the shower or bathtub. When washing try not to get any water into the battery compartment, if you happen to do so allow it to air dry before replacing the batteries. If you do choose to share it do use a condom. The delight runs in two triple A batteries. One of the good parts of it is that it does have seven different vibration settings.
The vibrations are as followed.
1. Off
2. Low rumble (3 bees, 2Vrooms)
3. Medium rumble(3bees, 3Vrooms)
4. High rumble (4bees, 3Vrooms)
5. Low to high exclamations- It comes for a stop for a few seconds (4 bees, 3vrooms)
6. Fast pulsations (4bees,3vrooms)
7. Bunched Fast quick pulsations( 4 bees, 3vrooms)
8. Really high steady vibrations (4 bees, 4vrooms)
9. Off
The vibrations can be felt throughout the toy. The vibrations are not like normal vibrations, they are more of a rumble. The vibrations are high pitched; you can hear them through the covers and a closed door, which may not be perfect for roommate living. The delight lack personal packaging, You do not get any; all you receive is the toy, and it is wrapped inside a small bag of bubble wrap. Which was a letdown to me, I'm used to at least getting the normal plastic clear case. You do not even get that. Traveling with the delight is easy You can put it into your bag. Housing the delight is also easy. You can house it with other toys.

Experience
I must admit that I did not care for the delight. I've tried using it on 4-5 different occasions. Each time the same thing, happened. I was left disappointed. Yeah, it is cool because it can glow in the dark. That is all that is cool about the toy. The odd shape did not agree with my body, at times I almost did not feel it. I did use it during sexual activity with my boyfriend. For clitoral stimulation, this was an okay toy. It did get me off. It was nothing to scream home about. It is wonderful for a free gift, but I would never spend 25$ on this one vibrator.
Follow-up commentary
7 months after original review
I don't like getting rid of toys without giving them a second try. That even means giving this one a second chance and I was once again let down. This by far is my least favorite vibrator. I wouldn't mind it for someone who was new, and unsure what they like. It's a good starting point. If you know what you like then you may not get anything out of it. I'm glad that it was a free item. I would have be very upset if it was something I had paid for.
This content is the opinion of the submitting contributor and is not endorsed by EdenFantasys.com

Thank you for viewing
Slim smooth delight
– traditional vibrator review page!