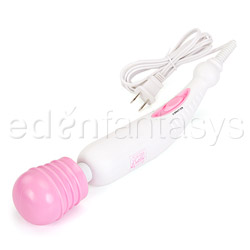 My miracle massager
Massager by California Exotic
Disco is Dead
The My Miracle Massager is this generation's Hitachi. With a sleek design and spring mounted flexible head, you're able to easily soothe sore muscles and masturbate until you're breathless.
Published:
Pros:
Sleek, easy to hold design. Massive power!
Cons:
Powerful vibrations can numb fingers and buckle knees (not necessarily a bad thing).
Let's face it, we're the new generation of sex toy connoisseurs. We want toys that are sleeker, quieter, but most of all, we want more power. Since the 1970's, the Hitachi has been the forefront to the vibration movement, whenever I think 'power' I think the Hitachi. However, whenever I think 'bulky vibrator that's hard to use,' I think Hitachi. The
My Miracle Massager
is this generation's Hitachi, it's our powerhouse with updated features and orgasms that may just be better than those had 30 years ago.
Besides being an upgrade from the Hitachi, the
My Miracle Massager
is even an upgrade from the
Miracle Massager
, Cal Exotic's previous leading powerhouse vibrator. Now in a pretty pink and white color palette, the new massager also offers a new softer, ribbed head. Susan Colvin, Cal Exotics' founder, says My Miracle Massager's redesign creates a toy that retailers have been clamoring for. "Over the years, Cal Exotics has nurtured great relationships with our customers and vendors," she says. "Women and couples know we're listening, so they tell us exactly what they're looking for."
What sets this massager apart is its sleek, ergonomic design. I've owned the Hitachi for years and through all my time spent with that vibrator it was hard to maneuver, hard to grip, and an overall strain on my wrist because of it's bulk and weight. The My Miracle Massager is not only lightweight but its body is angled for direct contact with your muscles and clitoris which aids in preventing unwanted stress and pressure to wrists. This new design also offers a spring mounted, flexible PVC and phthalate-free head that has the ability to bend. With the Hitachi, I've had to grind it against my clit and have had to try and manipulate its stationary head to focus the vibrations on the right spot, the My Miracle Massager's smaller, flexible head offers pinpoint accuracy and the ability to easily glide between vaginal lips. This new smaller head can even be used against your vaginal opening, while it's thicker than most dildos I own, I was still able to achieve penetration with it; however, I'd recommend an
attachment
if you desire vaginal penetration as well as clitoral stimulation.
Another great feature is as opposed to the Hitachi, this massager does not overheat. It remained cool for the 20 minutes I used it whereas with the Hitachi it becomes too hot to touch after only a few minutes. Does the motor chug along as proficiently as the Hitachi? You bet. The
My Miracle Massager is a 2 speed vibrator
. Low is powerful enough to numb your fingers and high could quite easily make your knees buckle. Comparatively, I see no difference between the power in this massager and the power in the Hitachi. A major upgrade is that this is quieter. Yes, it was louder than my battery operated toys but with a fan running I was able to tune out its hum. The whirring of the motor wasn't distracting and I was easily able to get into a groove with this vibrators deep vibrations.
As well as being able to stimulate your clitoris, this vibrator can easily be used on sore, taut muscles. It helped to alleviate my everyday stress; I always get back pain and at the end of the day, I can come home, slip off my high heels, and sit on the edge of the bed with this massager until I start to feel better. It was easy to use by myself as the 11" long body could easily reach any and all spots. It was also easy to hold, no matter what area of my body I was applying this vibrator to, the ribs in the body shaft made it a breeze to grip.
Whether using to masturbate with or to soothe muscles, this was a huge upgrade from my Hitachi. My Miracle Massager was designed for this generation, let's leave the Hitachi where it belongs; back in the 70's with Disco, 8-tracks and polyester neckerchiefs.
Follow-up commentary
1 month after original review
The My Miracle Massager has completely replaced my Hitachi. I keep this new vibrator right beside the bed on a shelf and plugged in because I use it so often. As soon as I'm done folding clothes I'll sit down on the edge of the bed and give myself a massage, right after I brush out my hair I do the same, and whenever I walk into the bedroom for any given reason I make an excuse to use this. This vibrator is my excuse to pamper myself. I love it. :)
This product was provided free of charge to the reviewer. This review is in compliance with the FTC guidelines.

Thank you for viewing
My miracle massager
review page!