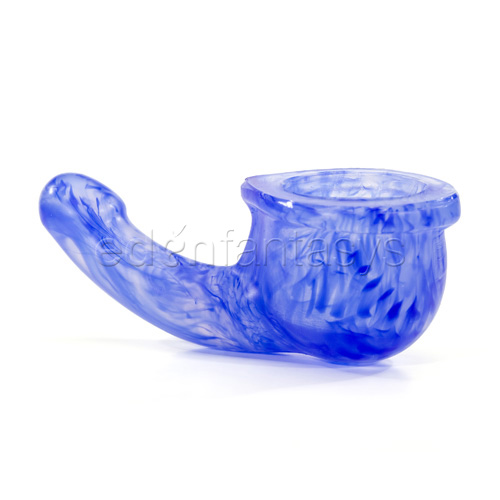 Gee whiz
Vibrator Accessory discontinued
by Vixen Creations
Gee-Whiz! That's a lot of Lint!
I am giving it three stars because I don't particularly care for it, but Mr does, so it will still get used. I'm also not a fan of not being able to put it down ever without it getting some kind of lint or particles on it. If you like plush silicone and the really intense vibrations of your wand massager, I would recommend this toy; however, if you like to be able to feel your lips after orgasm, you might want to pass this one by.
Published:
Pros
Gorgeous, silicone, easy to use, good for P or G-spot.
Cons
LINT! May be too plush for those who like firmer materials.
I'd like to introduce you to the most gorgeous lint roller you'll ever see! (I'll get to the lint issue soon!) The Gee-Whiz from Vixen Creations. This honestly looks like something you would see in a head shop but it's not. It's actually an attachment for your favorite full-size wand massager/vibrator.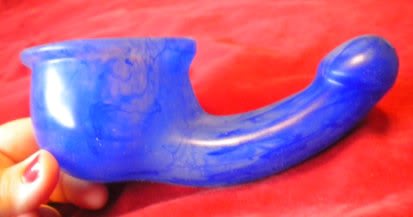 Personally, I own the Hitachi. It fits perfectly onto the head of the vibrator so you can turn your wand into an insertable vibrator! This makes it possible to only use one hand while using this on yourself; OR, if you have an Axis Hitachi, to use it hands free with a little creativity!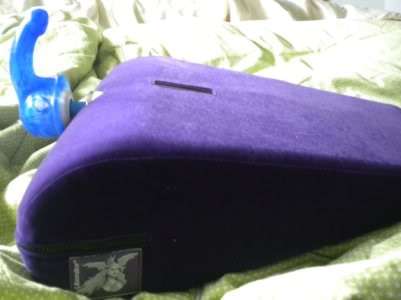 Discretion is not the name of the Gee-Whiz's game. It's fairly phallic in shape, plus the "pipe-like" quality makes this fairly questionable as an item to be left on the shelf; not to mention its lint attraction. Within a few weeks you'd have a fairly fuzzy piece of art.
Vixen Creations uses top grade silicone which makes this toy able to be completely sanitized and does not require you to be fluid-bonded with your partner in order to share. It also makes this toy anally safe without a condom because you can sanitize it before using it vaginally. It is compatible with water-based lubricants or oil-based lubricants (for backdoor play), but I would not recommend silicone lubes unless you patch test it first. To sanitize your Gee-Whiz, simply boil for about 3 minutes, spray down with a 10% bleach solution, or place in the top rack of your dishwasher (sans soap). For everyday cleaning, toy cleaner or antibacterial soap combined with warm water will do the trick nicely. The Gee-Whiz is very smooth silicone, which makes it a magnet for dust, hair, crumbs, or whatever other particles might be able to cling to it. I recommend that you keep the canister that this comes with and when you are done washing it, using your hair dryer to dry it without getting lint, paper, or cloth particles on it. You might want to use tongs or forceps to carefully place it in your canister without anything touching it. OR you can simply wash
before
and after use! You choose!
Aside from the lint, this toy performs fairly well. I did use this on my own, with Mr,
on
Mr, and with my Axis. From what I've been able to ascertain, Mr enjoys this toy far more than I do. The insertable length is about 4 inches and the circumference at the head is also just over 4 inches. Since the silicone is plush, it doesn't have enough firmness for me to get the pressure I need on my G-spot, even with the intense vibrations of the Hitachi. It holds its position well and is not too floppy, but like I said, I love firm pressure on my G-spot. With adequate lubrication, it doesn't have too much drag, but if you don't use enough, it can get a little friction-y! It takes me so long to orgasm on my G-spot with the plush material that by the time I do, my entire vulva is numb. The spot that is supposed to reach my clit and stimulate it does, in fact, reach; however, since I have to thrust the toy to stimulate my G-spot appropriately, I don't get the constant clitoral stimulation I prefer to have. I did like just putting the tip of the phallus on my clit for stimulation, that was very nice, but it's not worth getting it out and cleaning it every time I want to have clitoral stimulation, especially with my dedicated clitoral toys within arm's reach at all times. Using it with the Axis Hitachi, you can ride this toy. I found it easier, though, to turn the Hitachi sideways and nestle it between my thighs, similar to this picture (only
with
the attachment):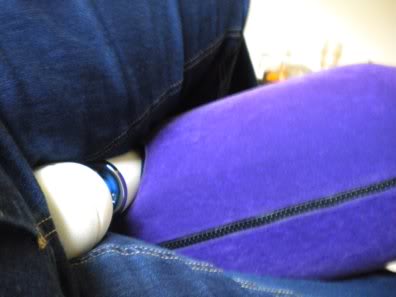 As for using it on Mr, he appreciated the smoothness of the Gee-Whiz tremendously. The curve and girth was sufficient for stimulation of his P-spot, and he found the vibrations of the Hitachi to be excellently transmitted through the toy. He did not suffer from the same numbness that I did; or if he did, he did not mention it and may not have noticed or cared since he'd just had several orgasms!
This product was provided free of charge to the reviewer. This review is in compliance with the FTC guidelines.
Thank you for viewing
Gee whiz
– vibrator accessory discontinued review page!