Intensely Itchy
This is a fun little vibrator that comes in really cute colors. That being said, the vibrations are so buzzy they itch and numb the skin. It's an OK toy for the price, but don't expect anything special.
Published:
Pros:
Small
Cute colors
3 settings
Cons:
Very buzzy
Button doesn't always respond the first time
This bullet has become quite the enigma in my mind. I've heard so many conflicting stories about it, and decided to try it for myself. I have several friends that are looking to get their first vibrator, and since this one is small, cute, and non-threatening, I thought this would be a great starter toy to recommend if it worked.
The bullet is made to be an external clitoral vibrator. Because of it's lack of flared base, I would absolutely
not
recommend this vibe for anal play
ever
unless an embarrassing trip to the emergency room is on your wish list. Honestly, I can't imagine it working that well as a vaginal vibe, either.
The bullet comes in a variety of colors, but the one I received is a fuschia pink with a green button and green gasket. It's about 3.25 inches from tip to the base of the button, just over 2 inches around at its widest point, and the end comes to an almost sharp point. The base below the gasket unscrews to expose the battery compartment, which takes an N battery.
General care of the bullet is really very easy. It's made of a velvety plastic, so any lubrication can be used with it. Because it is waterproof, clean-up is simple with soap and water or toy wipes.
The bullet came packaged in a small plastic bag that also contained the battery. When I took it out of the bag, I was struck by how nice and soft the material felt. At first, I thought I was feeling matte silicone. Nope, it's plastic. Just really nice feeling plastic. When I continued to inspect it, I noticed a small piece of paper inside the battery compartment, but couldn't read what it said. I pulled it out and found it said, "Do Not Remove." Whoops. I rolled it back into a cylinder and put it back where I found it.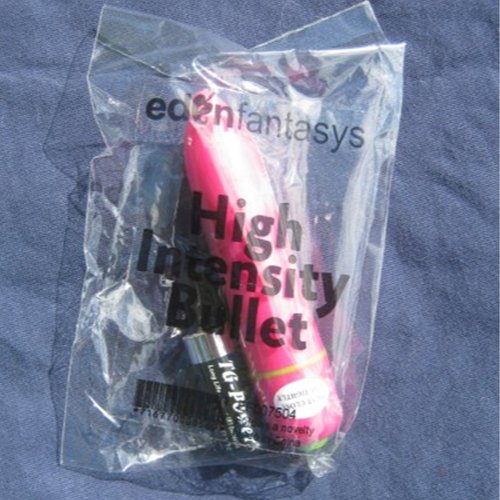 I turned it on, and here's where it gets fun. After reading several reviews, it seems like everyone has a different idea of exactly how many vibration settings there are. Some say just one, some say 2, some say 3. Mine came with 3 (low, medium, and high). I turned it on and off a few times and played with it. I played with it on and off for the next few days, too. The vibrations were extremely buzzy and had no depth, the exact type of vibration that can make you numb, itchy, or both. But really, who expects rumbley, deep vibrations from an inexpensive bullet?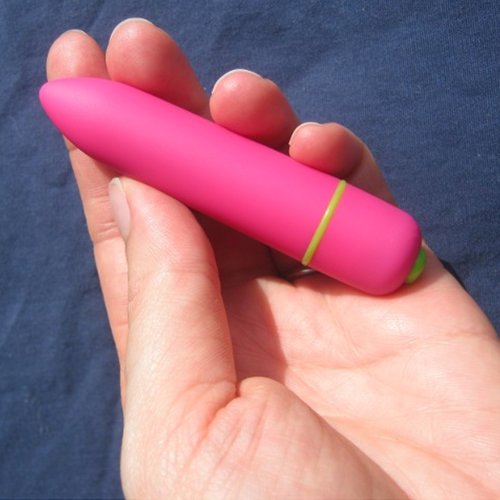 On my clitoris, the buzziness of the vibrations really didn't do that much for me. Honestly, I get more annoyed feeling the itchy vibrations in my fingers than I get pleasure from the vibrations. In other words, the particular type of vibrations are more of a distraction than a pleasure. When you combine very buzzy with very intense, it's just uncomfortable.
In the end, I'd say this is a great freebie/starter toy if you don't know what you like, just so you have a point of comparison and can say, "Oh, so
that's
what they mean by buzzy." However, I'd say pass for everyone else unless you want something you can carry in your pocket. It's an OK toy, but nothing particularly special.
This content is the opinion of the submitting contributor and is not endorsed by EdenFantasys.com

Thank you for viewing
High intensity bullet
– bullet vibrator review page!