My Oh My, How High We Fly!
This little guy's value comes with all the ways you can use him. If you need a good bullet for some of your toys or have some sleeves that can fit this bullet, the High Intensity is worth a try!
Published:
Pros:
Tiny
Strong
Quiet
Cons:
N Batteries
Buzzy Numb
So, Mwar... how are you doing? What have you got there?
Quite well actually! And this little guy is the High Intensity Bullet. While tiny, it is definitely mighty! This bullet is designed with travel and discretion in mind. It's small enough to place in a purse, pocket, or even your bra if you're on the go! It is also pretty darn discreet, coming in at about 2 Bees on its highest setting. You won't be heard beyond your closed door. And if there's background noise going on, you won't even be heard with an open door.
Cool, cool. So what am I using it for?
The High Intensity Bullet is designed for external stimulation, but you can also tease the entrance of the vagina. It can be used as a teaser toy for the erogenous zones. It can also stimulate the clitoris in between partners during some sex positions. The bullet is also small enough that it might fit into some hollow toys that come with bullets as well as some sleeves if you want to change things up. It's a nice change from standard, boring, silver bullets.
The High Intensity Bullet is very beginner friendly. It's not intimidating and makes and affordable first toy for a friend. It can also make a great stocking stuffer or be apart of a bath and body gift bag. Even advanced users may get a kick out of this bullet, since it is pretty darn strong. Also, the green and pink color scheme is pleasing to the eye and reminiscent of watermelons. I would not use this bullet for anal play. It is so small, and with its strength (and maybe lube) it is easy to mis-grip and could cause an embarrassing trip to the ER. It's not worth it, folks!
So how does it feel? Is it easy to use? Or are my hands going to cramp from this pipsqueak?
To start, here's some pictures of the High Intensity Bullet. I've included both a vertical shot and a horizontal one comparing it with my index finger and thumb.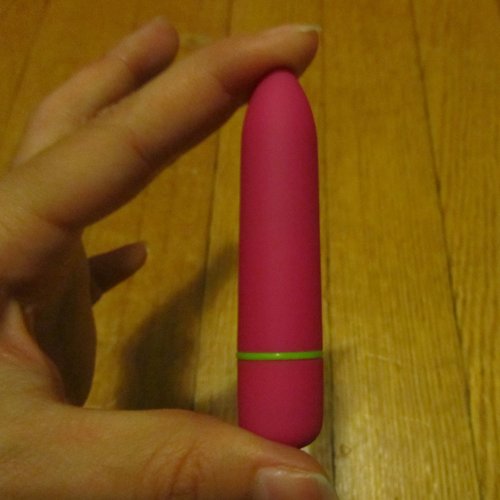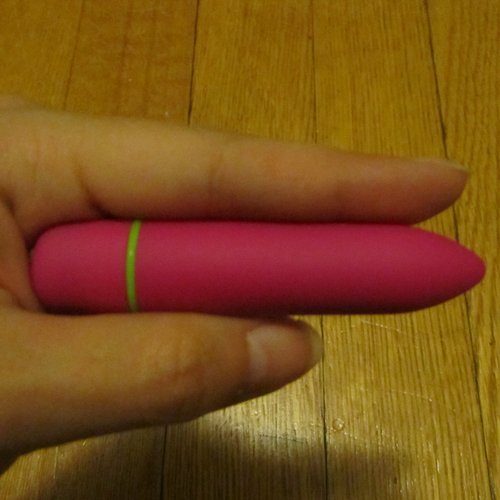 The bullet is very smooth and is made of plastic. Plastic ranks an 8 out of 10 on the Eden Safety scale. It is non porous, so bacteria cannot thrive inside the toy. It is also hypoallergenic and made of food grade materials. It does feel like there is a coating of some sort on the bullet, but it makes the toy feel nice and allow for a smooth glide on the skin. If you want it even slicker, you can add a drop of your favorite lubricant. The High Intensity Bullet is compatible with both silicone and water based lubricants.
There is no texture on this bullet. It does come to a tapered tip. This allows for more pointed, direct stimulation. If you want broader stimulation, you can angle the bullet or have it pressed on its side. This toy is solid and firm. It does not bend or yield in any way.
In terms of ergonomics, this toy can make you hand cramp. It depends on your hand positioning and how long you use it, but the bullet can cause your hand to cramp with extended use. If you add a sleeve to it or put it in a toy that has a bullet slot or hollow core, this can relieve your hands. The bullet can also be a bit to hold on to when it is going. Be warned, this little guy can numb your hand depending on how you hold it. The more precision you want, the more control you'll need on the toy. Thus, you'll probably hold the toy tighter; this will cause you to cramp and numb more quickly.
Still, this toy is good to use. I think it's best using it with something. By itself it's not as user friendly.
The High Intensity Bullet is easy to use. One button at the base does it all. And it is pretty strong. Granted, they are very buzzy vrooms, but vrooms none the less. The buzz is what give the numbness. Again, this can be taken care of if you put this bullet in a sleeve. The High Intensity Bullet has 3 Vibration settings: Lo, Medium, and Hi. The High Intensity Bullet clocks in at about 4 Vrooms at its highest setting. It is pretty intense. My one gripe is the button on the base of the toy can be a bit hard to push at times.
Experience
Okay! So how do I clean it and take care of it?

Cleaning is pretty much a breeze. Soap and water, wet wipes, or toy cleaner will work well. There's mixed messages on whether this bullet is waterproof. I think it is splash proof, but I wouldn't submerge it in water. If you screw it on tightly, you should be fin during cleaning.

The one downside to this toy, besides numbness, is that it takes one N batteries. N batteries are not common household batteries. the good news is that the bullet comes with one and that it does seem to hold its charge well.

Anything else you want to share?

My favorite use for the High Intensity Bullet is placing it in dildos that have hollow cores. The bullets they come with tend to be mediocre at best. With this bullet, the vibrations are more intense.
This content is the opinion of the submitting contributor and is not endorsed by EdenFantasys.com

Thank you for viewing
High intensity bullet
– sex toy review page!