Pocket Rocket offers good vibes for beginners
The Pocket Rocket is a great first toy that can provide clitoral and other external stimulation. If you like a buzzy, strong, travel-friendly but somewhat loud vibe, then get the Pocket Rocket. If you have more sophisticated or expensive tastes, save up and purchase another multifunctional toy.
Published:
Pros:
size, strong vibes, low price, non-porous material
Cons:
loud, single-speed, buzzy
The Pocket Rocket was my first toy, so I remember my early days with it fondly. However, as I became more experienced, I learned that this toy was not a premier orgasm machine as I had believed. Although it is a good basic vibrator, it is a bit loud compared with other higher-end toys. If you get this for free with a purchase, or if you are a beginner looking for a starter toy, go for it! If you are more advanced and have a solid collection, then I would pass this up for something quieter that offers multiple functions.
This vibrator is about the length of my pointer (4"), and very thin, so you can pretty much hide it anywhere. Put it in a purse, under your pillow, or in your toy box. This also makes it good for travel. It is made of plastic, earning an 8 out of 10 on the material safety scale. In addition, it is non-porous, hypoallergenic, latex free, and phthalates-free. I have a minor latex allergy, which is not usually an issue, but I do try to be careful about toys I buy (your genitals are not an area where you want to have a reaction!). Needless to say, I was fine using this toy. This toy is not water-resistant, so you can not submerge it in water or take it in the shower or bath, and you want to be careful when cleaning it so that water does not get inside the battery chamber. I usually used a damp washcloth with a tiny bit of soap to wipe off my Pocket Rocket.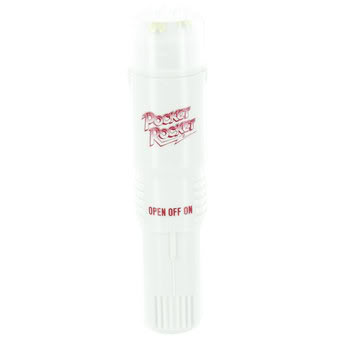 The Pocket Rocket takes one AA battery. To use, you just twist the base of the toy. A stronger twist will take off the cap and open the battery chamber, so be careful when turning this toy on or off! I found that the battery lasted a fairly long time, and the lower the batter gets, the weaker the vibrations, so you know when to pop in another battery. However, I did not use this toy for prolonged periods of time (i.e. for fifteen minutes at a time); I usually warmed myself up with it for a couple of minutes and then switched to a different toy. The reason for this is because The Pocket Rocket has one speed and it is pretty buzzy. I know that some people like that, but it does not happen to be my personal preference.
This toy comes with a removable plastic cap that has some longer "spikes" on it (I found them uncomfortable and misplaced the cap long ago). Under the cap are three metal nubs. I usually sit the nubs right over my clitoris, and I can feel the vibrations all the way up my torso. As a personal preference, I like more deep and throbbing vibrations. However, for those who are fans of the buzzy vibes, I would keep the Pocket Rocket in mind. The nubs present a problem when cleaning: since there are seams where the plastic and metal nubs meet, I felt I could not totally sanitize this toy as I could with a silicone or glass toy. I like my toys super clean, so this concern was always in the back of my mind.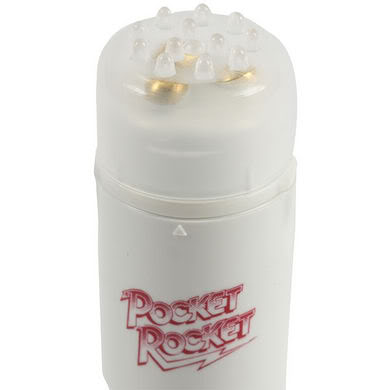 Experience
Continued....
The metal nubs on this vibe offer an interesting texture, but after a few minutes, they started to bother my clitoris. Sometimes I used it outside my panties to get me started, which reduced the buzz factor and did not wear out my clit. I did not really use lube with this, but feel free to try water-based, oil-based, or silicone lubes. Do be careful about how much you apply, because as I mentioned before, cleaning can be a bit difficult. This is because of the battery chamber.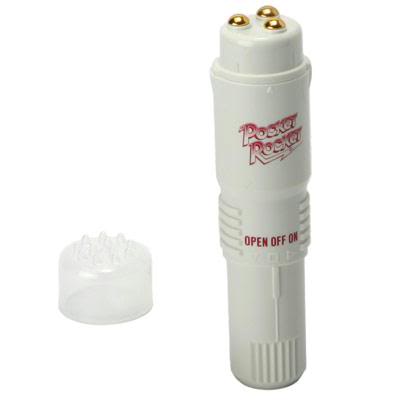 The Pocket Rocket is fairly powerful, and it can be pretty intense if you press the vibe directly on your skin. However, it is also quite loud--it's hard not to notice the sound through a wall or door. If you use it under the covers with the door closed, it is more difficult to hear, but if you know what to listen for you definitely hear it!
In short, if you get this for free, you are looking for a single-speed buzzy vibe, or you are a beginner looking around for a first toy, then I would suggest getting the Pocket Rocket, popping in a battery, and having some fun. I would also go for this if you are looking for something small to travel with, although this can not be used in a shower or bath and does make a considerable amount of noise. If you are looking for something quiet, a toy with multiple speeds, or you would like something a bit more versatile, there are a ton of other toys to try that will give you just as much, if not more, pleasure.
Experience...
I used this toy on myself for solo play, and my partner also had fun using it on me and seeing me squirm. A couple of times I placed the nubs under his balls, but he often found the vibration very intense and could not stand more than a few seconds without asking me to stop. I would shy away from using this during intercourse anywhere near the anus, because cleaning the Pocket Rocket is an issue and I would not want to get any bacteria near the nubs where there are seams.
This content is the opinion of the submitting contributor and is not endorsed by EdenFantasys.com

Thank you for viewing
Pocket rocket
review page!