Slip in some luxury.
The Vr9 is by far the best vibe I own; the power, shape, feel and everything about it is just divine! Two different sized ends with different vibe intensities, easy to use controls and water proof, what more could you ask for? Hell, Jopen even sends you a storage pouch to help keep the dust bunnies at bay. Top notch vibe from a top notch manufacturer!
Published:
Pros:
Luxurious Silicone, Lithium rechargeable battery, stimulating shape, double vibes.
Cons:
Raised lettering, charge port may collect fluids.
Over a year ago I stumbled across the
New Vanity vibes
from Jopen, when Al Bloom from Cal Exotics told about all the features, my asspussy longed to have one. I am a big fan of purple, know all too well about Lithium batteries, water proof is a must around my house and even though the price is a bit high I knew these toys would be worth it. Aside from the rabbits (I still think a rabbit would work good for P-spot/perineum stimulation), the Vr9 called to me. The shape, size and dual vibes just sounded so divine.
IT IS!
Just look at that shape
Jopen saw fit to use ultra smooth, luxurious silicone for these vibes. They do have a bit of drag due to the matte finish but this just helps to hold onto the lube. When dry the silicone feels like the softest silk and just begs to be stroked and caressed. Aside from the control buttons and some embossed lettering (More on that in a bit) the vibe is seamless and no flaws can be found. That's the way it should be, eh?
The Vr9 starts with a small 1" diameter (3 1/2" cir.) ball that is mounted off center from the 5/8" diameter shaft. This provides a P/G-spot bulge on one side while the other side is smooth. This end has some flex to it, it may not be able to provide firm stimulation but it does follow the anatomy of your orifice of choice. The shaft gradually tapers up in size as it curves in an "S" shape until it reaches a maximum diameter of 1 5/8" (5 1/2" cir) at the other end. The big end is oval in shape and while it does not have a bulge like the small end, it does fit my anatomy well. This end has not flex to it and will allows you to apply as much pressure as you wish. Overall it is 10" long measured in a straight line.
Now this vibe does not have a flared base so folks using it for anal play need to keep a good grip on it. I found that the small end does not need to be inserted more than two inches or so to hit the prostate. The big end likes to slide in and sit perfectly against my prostate. Either way, half of the vibe is left out to provide a good hand hold during use. Still, caution should be used when using it this way as it could slip in further.
The Vr9 has two separate vibes, one on each end, that are controlled separately by two small raised nubs. The controls are located in the center of the vibe. The controls are easy to press, to easy really, if I insert the large end to far my anus will turn up or turn off the vibes. This is a double edge sword of sorts. One the one hand it can be turned off pretty fast, just hit the button and it's off. On the other hand you can bump the button during use and change the setting. Each control works the same way; press it once to turn it on. Press and hold down to increase the intensity. There are no patterns but the vibes are midway between buzzy and thumpy. The small end leans more towards the buzzy side and the large end leans towards the thumpy side. They also can be used at the same time to provide a great mix between the two. Both are very quiet and the sound can be covered by a radio or even a sheet. The sound is almost gone once inserted if only that sides vibes are running.
Each button has a light behind it to let you know which vibe is on.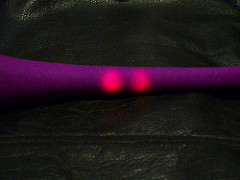 With both vibes on.
It also can be locked for travel, simply press and hold both buttons until both lights turn off. You have to press and hold both buttons, until both light turn back on, to unlock it. This is great if you need to put it in carry-on luggage, no mystery vibes/noise to freak out the TSA.
The Vr9 comes in a classy white box, inside the vibe rests in a cut out of stiff paper. Underneath the holder is a pouch for storage, the charger and two pamphlets with use/care instructions and some info about Vanity and the Jopen line. You can use the box for storage or the pouch if space is limited. Silicone is a dust and hair magnet so you will want to use something.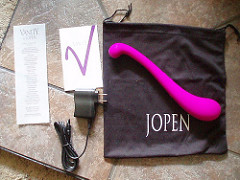 Experience
To charge your vibe, plug the charger into a wall and insert the charging jack into the small hole on the back of the vibe. A light will come on to let you know it is charging and will go off when it is done. The good part is that the charge will last for quite a long time. I used it for about an hour and a half on the first charge (About three uses) before noticing a decrease in power.
Clean up is a snap since it is water proof. Use antibacterial soap and water, a 10% bleach solution or your favorite toys cleaner. You cannot boil it or place it in the dishwasher due to the electronics.
Oil or water based lubes are fine for use with the Vr9, some silicone based lubes may work but spot test it first to make sure. Frankly, why even chance it? This toy should be cared for with the utmost respect and nothing should be done to risk damaging its delightful finish.
The small ends is just great for warm up and all over body use. Of course, this end targets my prostate with pinpoint precision. Much like the Pure Wand from Njoy, it seeks, locates and stimulates effortlessly. I can just let it sit in one place, slowly thrust, or use a wiper type motion to provide wondrous stimulation.
The big end is awesome for warm up, short thrusting (more on that in a sec), or to use to add vibration to a glass plug like the Sexy Spades large. Using it with that plug is delightful; I can just hold it against the base or wedge it between the base and my anus/perineum. The strong vibes travel through the glass well and my hole asspussy enjoys every minute of it.
I only have two real complaints with the Vr9; these are small in the grand scheme of things but still worth mentioning. The first is the charging port. During use/cleaning lube and or soap can fill the small hole. Know I have no reason to suspect that the fluids are getting in there but there is no way to be 100% sure without tearing it apart.
Showing the charge port and raised lettering-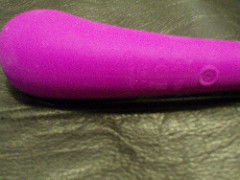 The second issue has to do with the raised lettering on the large side. While it does not stick up to high, it can be felt during use and has caused some irritation. Since it is less than 4" from the tip, ladies may feel this during vaginal use as well. As far as that goes, the charging port is just past this area so that could be felt as well. Thus the reason I cannot thrust that much with this end.
I am still giving the Vr9 five stars despite the few flaws. The silicone is luxurious, the vibes are very nice and the shape is perfect for my intended use. The storage pouch is a great extra as is the storage lock for the vibe. All in all this is a fabulous vibe, well worth the year long wait.
I want to thank EF for providing me this vibe for writing my 100th review. I love this site so much, y'all rock!
This product was provided free of charge to the reviewer. This review is in compliance with the FTC guidelines.

Thank you for viewing
Jopen Vanity Vr9
– sex toy review page!