The Alien Invasion Diaries
The UFO sounds like someone cutting down a tree outside while you are in the house. It is a fun and quirky toy, pretty decent vibrations, LOUD, but I'd expect a little better than "loud" for a $79.99 luxury toy!
Published:
Pros:
waterproof, rechargeable, storage pouches, funky blue, odorless, good vibes, easy to care for
Cons:
the buttons, LOUD, too expensive for what you get
Day 1: The UFO has landed.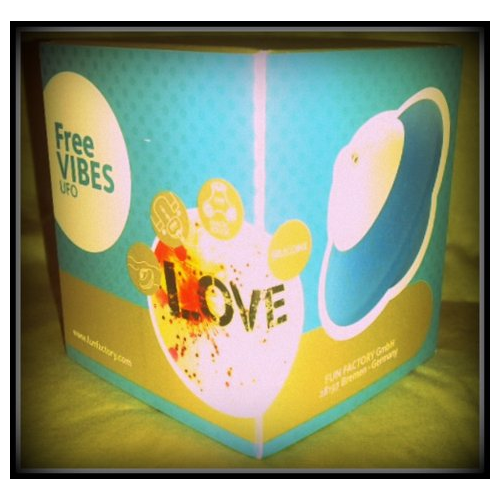 Day 2: I finally built up enough courage to open the travelling unit of the UFO. Bright. Cheerful. Cardboard. Inside there were two storage pouches previously unseen in all the Fun Factory planet's travelling units. There was also a small sachet of Toy Fluid for the alien probes to make the slip and sliding easier.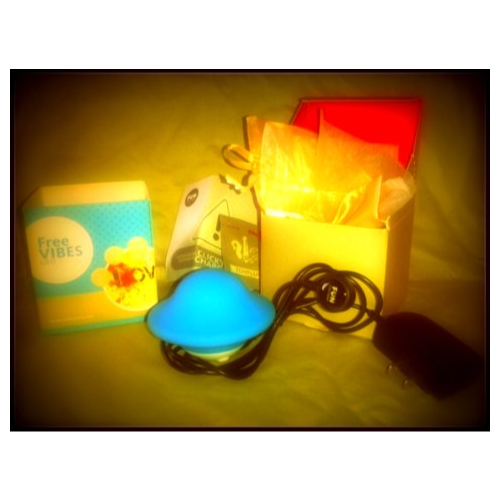 There was what looked like an instruction manual in many different languages.
They must speak a different language on the planet Fun Factory.
Tugging along behind the toy box, was yet another box. And this box had a earthlike plug. It looked magnetic. And it looked like it connected somehow to the UFO. I am telling you Diary, for something from outter space, I wonder how did they know to make this technology universal for Earth use? On Fun Factory, do they have 100-240v too?
When I reached in to try to feel what else was in the cardboard travelling unit, my hand touched something satiny. Squeezing my hand around it, there was something hard within the satin. I squeezed some more. It felt... strange. Like something I've only dreamt of feeling before. But I knew the shape. I've seen it everywhere before. Max Even's from Roswell kept on showing me pictures of the space ships that had landed there before.
Day 3: Diary, I did not tell you about how I discovered how to made the UFO go yesterday. I took the plug, and plugged it into the wall. The cord snaked over to the satin pouch and it clicked. It wanted what was inside. I was excited about opening the goldie-tan coloured pouch. Tipping it over, a vibrant blue silicone spaceship landed in my hand. Diary, I'll tell you the UFO's size and all, I mean I could paste in some pictures, but those fade over time. It's circular about three and a half inches long. [italics|These aliens must know all about TARDIS technology.] And it's width is also three and a half. It is a circle after all. But it is about two and a half inches in height.
I tried to find out how to attach the cord to the UFO yesterday. And as it turns out, the magnet on the cord lines up with the writing "FUN" on the white plastic base. When this happens? It causes the black cord to glow red and the white plastic base to glow.
I always knew that aliens put on a good light show.
When I woke this morning, I took the UFO in my hands again and explored it. It was like the UFO was talking to me. My fingers found three raised buttons that had these alien symbols in a triangle formation, *, + and -. I discovered that if I pressed the + button for about two seconds, the UFO would rumble. Each press turned it up more and more! It vibrated! I could press it seven times and felt different stengths of vibrations. I was curious. So I pressed the - button. And the vibrations got weaker and weaker till it stopped.
The * button seemed to make it go through patterns of vibrations. I felt four. The first one felt like it was a high low high low pulse pattern that was pretty fast. The second felt like a low to high fast pattern. The third was similar to the second, only slower. Much slower. The fourth reminded me of a chainsaw. Sounded as loud as one through a door. Well the whole UFO when on high sounded that way. Want it to stop Diary? Just squeeze the spaceship between your fingers and it seems to make the aliens inside stop their chatter.
I couldn't help but wonder Diary, if there was any aliens inside the UFO. Was it them jumping around making the space ship vibrate and all that noise?
I was horny today Diary. And this thing vibrates. So I let nature take over and see how it would work on various body parts. I tried it on my nipples, between the labia majora and minora. I rested the circle head on my vulva and listened to the UFO get louder and louder with each pres of the + button. Even with blankets, the UFO was loud.
Dairy, do you think inside the UFO they have trees or grass? For that is what it sounded like. You know when you are inside? And someone is weed whacking or using a chainsaw outside? That is what it sounded like.
I tried turning the UFO so the thinner portion was pressed up against my clit and my finger.
I'm an easy orgasmer when it comes to toys. But I tried twice today, and nothing.
Experience
Day 4: I've tried everything! I've tried water based lube, I've used my nice antibacterial soap to clean it after every use because it likes lint and hair. I store it in the satin pouch when not in use! Good lord, my orgasm seems to be hiding from the UFO aliens! It doesn't even smell bad to repel my orgasms!
Day 5: No aliens came out of the UFO over the past twenty-four hours. No luck yet on the orgasm frontier. I tried him in the bath, the shower, on the bed, on the couch. But the weird news is, my neighbours think I got a new blender. Today, I tried for three hours to climax. Had to use something from the Planet Jopen to finish. I wonder if the purpose of the UFO is to steal a person's orgasm?
Day 9: Dear Diary, I'm at the point where I might not worry about the alien invasion and and send this UFO to a darkened corner for a time, perhaps isolation might do the trick to have the UFO return my orgasm to me. I'll continue trying though. You know what they say! If at first you don't succeed, try, try... bend the numpty to your will!
It is a novel toy. It is a really neat toy with some quality rumbles. And I have no idea why I am not orgasming with it. I have tried. Boy, how I have tried. But with the UFO I've just been unsuccessful so far.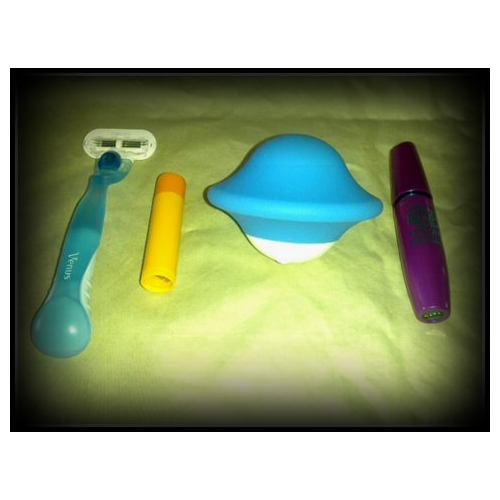 You can see what I mean about it fitting into my hand. It's small. It's cute. Look at it beside a Venus Razor with an original head, Burt's Bee's Lip Balm, UFO and a tube of Maybelline's Falsies.
In all seriousness, I am not sure I would recommend this to anyone who lives with other people if you don't want them knowing you use sex toys. It is a neat little toy and fits in the palm of your hand, it's quirky looking and would capture any scifi heart. But, with the UFO's loudness and decent vibrations, the buttons being hard to work under blankets (I kept on hitting the wrong ones when I wanting to change something), I still prefer the vr6, Orion (even if it is buzzy!!), Eroscillator and Better Than Chocolate used as a clit vibe.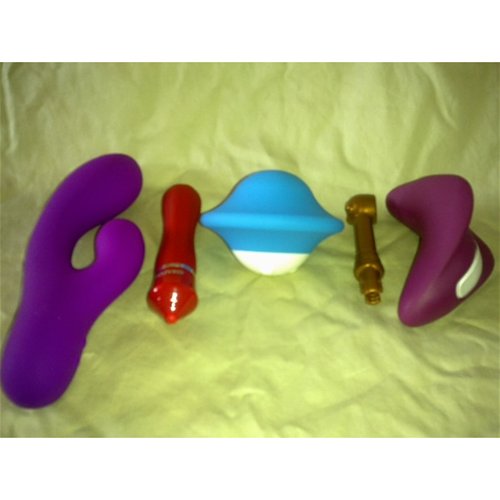 As much as I love and adore Fun Factory, they don't have my vote for the UFO. I've read many reviews where they think that the motors are not the same as in the G4 line, I actually think they are the same motor. Only, I think the way the silicone is, diffuses the intensity of the vibrations. Rather than sending the vibrations up and through a shaft which you can feel within you, this sends them out where only a portion of the vibrations are felt on your body. My hand up to my elbow felt like it was still vibrating after forty minutes of working this space craft.
Final Entry: I won't give up. I will orgasm with the UFO!!!
Follow-up commentary
1 month after original review
I saw that the price of the UFO went up. To almost a hundred freaking bucks!!! I almost had a frustration orgasm at the news of that.

All my original thoughts of the UFO are still in place. It is still loud, my neighbours can hear it through a concrete wall, after about tenish minutes of use my arm feels numb.

And I've still not reached the ultimate goal for this scifi woman. To reach the stars with my UFO vibrator.

I've tried on an angle (the toy I mean and yes me too), I've tried holding it, he's tried holding it (and yes, moving it around a little too), big side, small side, using the patters, laying on it, face up, laying on my side, in a chair, quite a few various positions during sex... but notta. I have made an attempt to bring him out at least once a week (sometimes more) to try to make him work.

I think it might actually be time to move him to the rarely used toy box and label his box "maybe one day I'll fly away"... whoops! Wrong movie.


This product was provided at a discounted price in exchange for an unbiased review. This review is in compliance with the FTC guidelines.

Thank you for viewing
UFO
– clitoral stimulator review page!