The Everlasting ClitSucker
I got this low-priced, non-jelly clit pump as an experiment---but it totally worked! It increased my clitoral sensitivity and let me orgasm with a toy which had never brought me to orgasm before, and works well as a prelude to partner play as well. The suction bulb applies good suction (but not too much!) and can be easily released, and the seal holds even hands-free. This is an excellent proof-of-concept pump if you'd like to see how your sensitivity can be increased.
Published:
Pros:
Not jelly, price, holds suction well, bulb prevents too much suction.
Cons:
Plastic construction is cheap, TPR isn't totally odorless.
INTRODUCTION
When you're committed to trying anything sexual at least twice, eventually your eye will be caught by a clitoral pump. Partly because they claim to increase clitoral sensitivity, partly because sustained suction's not a sensation you're familiar with (even after you've tried every kind of vibrator and oral sex simulator, and every act that doesn't turn your partner blue in the face), and partly because they look mysterious and Wonka-like.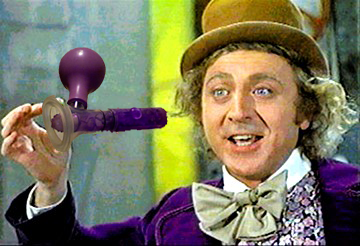 (You want to try one now too, right?)
Once you've decided that you want to try out a clit pump, the Penetrating Mini Clitoral Pump, from California Exotics, is a pretty solid choice. It's not made of jelly and it's still low in cost. It comes with an integrated vibrator, and with just a bulb-type suction device, it would be impossible to accidentally damage your body by sucking too hard. With all those nice characteristics, I was excited to try this clit pump out---and I even had a test for efficacy handy. While my clit is generally pretty sensitive, I've never been able to climax from oral. I spent a lot of money on and time with
SaSi
, a roller-ball oral sex simulator, trying to learn---but it just didn't quite have enough pressure to bring me to orgasm. So my test was---if I could use the clit pump, and then get SaSi to give me an orgasm, the clit pump would be an unqualified success. If I didn't have an orgasm with the SaSi but the clit pump felt good on its own, it would be a medium success, and if the clit pump didn't feel good, it would be a failure.
I had a plan, and after the UPS man dropped off my package, I had a Penetrating Mini Clitoral Pump (aka Everlasting ClitSucker). I excitedly took it out of its cardboard packaging (adorned with a mostly-naked lady using the pump) and was glad to see, first, that the whole shebang was sealed in a a clean plastic pouch, and second, that there were instructions. (I've never used a pump before, and I thought instructions might prevent me from hurting myself.) These were actually just generic vibrator instructions, explaining battery orientation, so they found their way into the recycling bin on top of the smiling lady.
MATERIALS
Now I had only a plan and a pump. As you can see Mr. Wonka displaying, there are four major parts to the Everlasting ClitSucker. A transparent hard plastic battery case holds two AAA batteries, which are connected to a ~1" long vibrating motor which is coated in nubby purple TPR. The vibrating motor sits in the center of a clear TPR ellipse, which forms a suction seal around your clitoris and vaginal lips. A large natural rubber suction bulb (not so different from a turkey baster bulb) is connected to the airtight compartment. It allows you to take only one turkey-baster-bulb's worth of air out of the compartment, which prevents you from creating enough of a vacuum to cause any damage to your sensitive tissue.
This clit pump, unlike many others in its price range, is phthalate-free and body-safe---the plastic battery compartment is completely odorless, the TPR has a light petrochemical odor that can't be detected from more than 2" away, and the rubber bulb smells faintly like rubber when you're closer than 6". Those with latex allergies and people who need their pump to be sterilizable should seek a different pump---but those who simply want a body-safe proof-of-concept concept will be happy with the Penetrating Mini Clitoral Pump. It can be cleaned with soap and water (the battery compartment is not watertight).
METHOD
Looking at the Everlasting ClitSucker in my hand, I wasn't too sure how exactly I was supposed to use it. I rinsed it off, tossed two AAA batteries into the vibe compartment, and tested the rickety dial-control. Everything worked fine, so I headed off to the bedroom. Judging by how non-ergonomic the pump looks, I was really surprised by how naturally it fit my body. I tried it in two different alignments---one with the ellipse centered around my clit so that the nubby motor was right on top of my clit, and one with my clit just barely in the suction ellipse, with the motor centered over the middle of my labia minora. In both configurations, my labia majora held the pump in place, and I was super surprised to see that, once I squeezed the bulb to create a suction seal, this pump was totally hands-free! I'm not sure if my larger-than-average labia minora played a part in the seal holding so reliably, but since they sort of moved with the pump, I could even rub the motor back and forth over my clit (my preferred method of stimulation) without losing the suction seal.
Experience
RESULTS
The suction seal is about a perfect level---strong enough to hold itself in place, but weak enough to be removed easily by just tipping the handle of the pump far to one side. My clit and labia minora plumped up a bit when under suction, and they turned a darker pink (I checked in the mirror occasionally to make sure I didn't turn purple, but I stayed a nice healthy pink). When I released the suction, the plumpness didn't really persist but I did stay more pink than usual for a while.

I enjoyed using this more than I had expected to---my impression had been that pumping itself wasn't supposed to be pleasurable, just that it was a step one would take in order to be more sensitive during the next stage of play. So when the ten minutes I spent under the cup actually felt good, I was impressed. The vibrations are not strong at all, even on their highest setting, and they're not quiet---but if discretion is important, you don't need to turn the vibrator on to use the suction bulb. When they are on, the nub-covered motor felt quite nice rubbing against my clit or labia. Afters ten minutes of almost-continual suction, my body felt like it was done being sucked, so I switched to SaSi. If I hadn't felt like I had reached my suction limit, I probably could have had an orgasm in another 5-10 minutes... but I can usually have a clitoral orgasm in 5 minutes or so, so the pump would definitely not be the most efficient choice if you want a quickie. But it's not supposed to be---it's just supposed to increase sensation for the next item on your sexual menu.

I plopped SaSi down on my clit and turned the little robot on. I was immediately impressed---I knew I was going to be able to have an orgasm. SaSi felt much stronger than it had felt the countless other times I'd tried to use it. In earlier trials, I would like the pattern SaSi's ball was tracing, and I would press it down harder onto my clit---which would cause the motor to hang up. Now, with my freshly-pumped clit, I tried pressing SaSi down as hard as I had before---and I actually backed off the pressure! I didn't want to push so hard that the motor stopped, because I had enough sensation when SaSi was just held lightly. I was totally shocked. I had used SaSi for ~30 minute sessions previously without an orgasm, and after using the Everlasting ClitSucker, I was able to orgasm in 12 minutes with SaSi.

CONCLUSION
The Everlasting ClitSucker turned out to be an unqualified success! I'll be using it before partnered oral sex now too to see if the results are improved. If the battery compartment ever gives up the ghost I will probably continue to use the pump anyway. I had thought that, if I liked this, I might eventually get a silicone one---but really, why would I need a new one when I have an option that already works? I'm going to be keeping the Everlasting ClitSucker around---and suggesting to anyone who's trying to understand how their body responds to stimulations that, for this low price, it's definitely worth a try!
This product was provided free of charge to the reviewer. This review is in compliance with the FTC guidelines.

Thank you for viewing
Penetrating mini clitoral pump
– clitoral stimulator review page!