Ah, behold, the snow penis: a
time-honored tradition
almost as venerated as the snowman itself. While snow penises are a common winter sighting on snow-covered lawns
across the world
, several of the icy artworks are under assault, as they potentially might lead to traffic accidents, Class A misdemeanors, and Scrooge-ish neighborly complaints.
In Poland, a 17-foot sculpted work of snow-penis art was built a little too close to the road, perhaps—Warsaw authorities blamed it for a
30 percent rise in traffic accidents
earlier this wintery month. The frosty dick sat at a busy intersection and police said that female drivers were especially distracted. Probably because it was
17 feet tall
, we're guessing.
In Louisiana, a couple's finely-wrought snowy genital sculptures had to be taken down, even after police "showed up, laughed and drove off," because complaints by neighbors had the sculptures being re-investigated as a potential violation of the state's obscenity laws, which might lead to
a class A misdemeanor
for someone.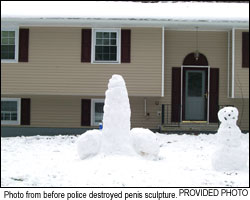 And in New Windsor, N.Y., a snow penis statue was knocked down by law enforcement officers—but no one's in trouble and the creators said they intended to rebuild as soon as the snow wasn't "
too stiff to sculpt
."
Too stiff. Heh. We also love the headline: "Police whack giant snow penis."