A sizzling-hot 2011 calendar has been released in Bulgaria for the benefit of beleaguered farmers—and to the delight of pretty much everyone who stumbles across it.
Topless models
lolling in the hay, dripping in sunshine, caring for … gigantic tractors … what's not to love?
Mmmm, tractors
.
The photographer responsible for the sunny farm-girl calendar shots is Borislav Borissov, founder of the agrarian site fermer.bg. As he said, "We want to cheer up the people in the sector and picture it in a different light as it is being battered by problems on a daily basis." The pictures, which were shot in March 2010, took a page—or a milk pail—from the lives of ordinary Bulgarian farmers, and feature some of Bulgaria's most stunning top models.
Models such as Malta Pandeva, who has previously appeared in
Playboy
, several Miss Bulgaria winners and Lachezara Kuncheva, who shows up in the calendar in February, posed repairing a tractor and slathered head-to-toe in grease. Or, as the
Google-translated version
of fermer.bg says, "Page as of February adorns Lachezara Kuncheva, which 'repaired' tractor and was dirty with oil of Interest." Oil of Interest, indeed. Thanks, Boris. Thanks, Google.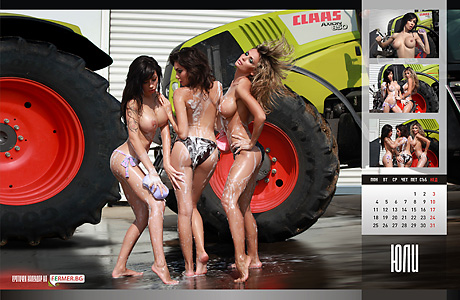 Mmmm. Tractors.
(More
Sex Feed
)