The cast of the new musical,
The Deep Throat Sex Scandal
at the Bleecker Street Theater in New York, however, approaches the tricky subject matter with superb acting and good spirits. Of course, there are laughs as the cast makes light of the on-stage blowjobs and non-stop references to fellatio. (Even before the curtain rises, the announcer welcomes the audience to "feel free to now unwrap anything you'd like to put in your mouth during the show.")
The story is told by the struggling, yet ambitious actor Herbert Streicher, played by Malcolm Madera, who gets into making adult films to pay the bills. Streicher is hired by
Deep Throat
director, Gerard Damiano (John-Charles Kelly), as a crewmember as the cast heads down to Florida to make the movie.
Streicher learns quickly from Damiano that they are in the business of making "adult films
not
pornography." When the male star cast to play opposite Linda Lovelace (Lori Gardner) drops out, Streicher steps in. With his newly dubbed
nom-de-porn
, Harry Reems, he fakes an accent and takes on the role of a doctor who helps Lovelace's character realize that her clitoris is actually located in the back of her throat. The rest is history.
Having Reems continue to narrate offers comic relief, but the audience is unable to ignore the abuse Lovelace suffers at the hands of her husband Chuck Traynor (played by Zach Wegner). The play chronicles how Traynor forced Lovelace into prostitution, pornography, and bestiality—and made her to do anything, and everything, on camera, against her will, and the emotional price she paid.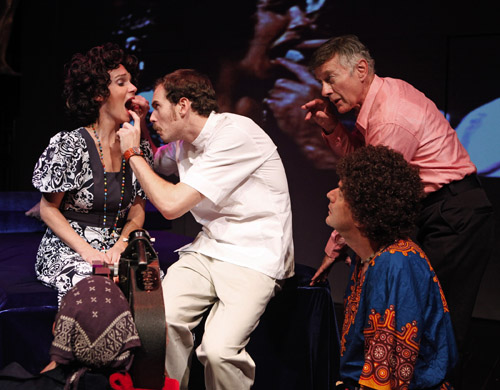 Lori Gardner as Linda Lovelace, Malcolm Madera as Harry Reems, John-Charles Kelly as Gerard Damiano, Frank Blocker (as the makeup man), and Stephen Hope (as the cameraman) in The Deep Throat Sex Scandal. Photo by Carol Rosegg.
Act II explores the impact the film had on the culture of the day and the people who participated in its making.
Deep Throat
, while by no means a cinematic masterpiece, brought the taboo subject of oral sex to the mainstream, broke barriers of convention, and opened the floodgates for a tidal wave of mainstream porn. That said, blowjobs and films about them are not rocket science, but for better or worse, the characters in
The Deep Throat Sex Scandal
found themselves caught up in something that was no less than revolutionary.
Performances are Tuesday though Friday evenings at 8 p.m., Saturday at 7:30 p.m. and 11 p.m., and Sundays at 4 p.m. and 7:30 p.m. Tickets are available by calling (212) 239-6200. For more information, visit www.deepthroattheplay.com.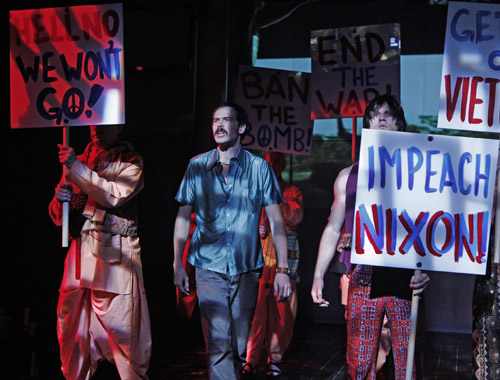 Malcolm Madera (center) as Harry Reems, surrounded by the company. Photo by Carol Rosegg
.