Turns out that there's enough doubt cast on the 40-year-old case of Jim Morrison's indecent exposure case. Florida's Clemency Board has officially pardoned the legendary Doors lead singer for lighting an audience's fire.
According to the Associated Press, Morrison reportedly
exposed himself
to a cheering and most likely chemically-altered, adoring crowd in Miami in 1969. The brilliant poet and singer was arrested on indecent exposure and profanity charges, though bandmates contend that the Lizard King's lizard did not actually make a showing and that Morrison was just "teasing" the crowd. Jim Morrison unfortunately passed away in Paris before he was able to appeal the charges or serve his sentence.
Florida Gov. Charlie Crist and the three-member clemency board
decided finally
that the case was a "blot" on the record of a beloved pop icon for "something he may or may not have done." But, while supporting the pardon, Ray Manzarek, the Doors keyboard player, said, "Jim's legacy is one of Dionysian madness and frenzy and of a chaotic American poet. I don't think that the Miami episode has altered his image one iota."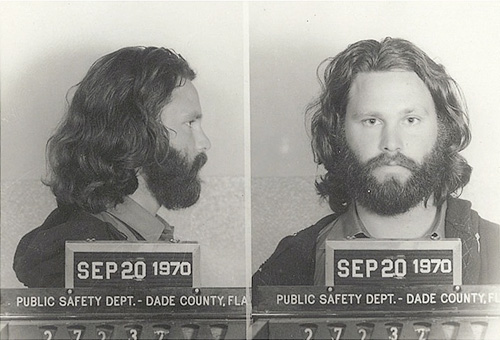 Jim Morrison, 40 years ago.
(More
Sex Feed
)