Perched in a director's chair in one of her trademark all-black ensembles, Minnelli sang five of her most beloved ballads from her upcoming Confessions album to an intimate a group of less than 100 people. Many in attendance were old pals from her Studio 54 days.
Few can claim as many famous relations as Minnelli—her mother, Judy Garland, godfather Ira Gershwin, and her father, Oscar winning film director Vincente Minnelli, who used to teach her songs. "Everyone went to the playground…I went to the studio," Minnelli recalled. "My dad would pick me up from school and let me sit on his lap when he was driving and he taught me this song when I was about five." She then sang an emotional "I Hadn't Anyone Till You."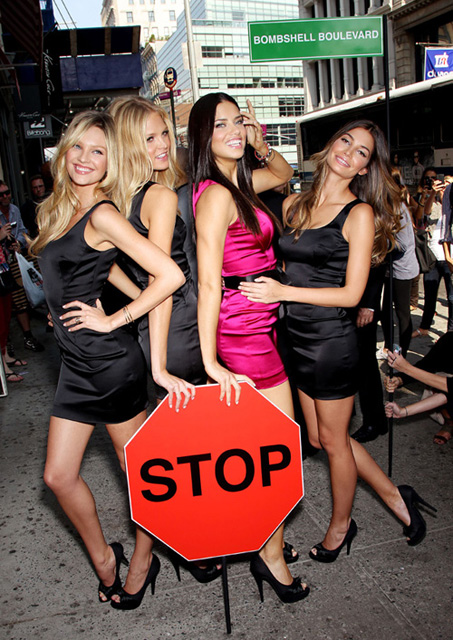 (Victoria's Secret models take Manhattan. Photo by Marion Curtis for StarPix)
Earlier, in the day, Victoria's Secret Angels Adriana Lima, Lily Aldridge, Candice Swanepoel and Erin Heatherton strutted their way down Broadway (a.k.a. "Bombshell Boulevard"), turning the heads everywhere they went. In towering heels and satin dresses the girls posed for photos and spritzed passersby with VS's new fragrance, Bombshell. A lucky few were treated to makeovers by the Angel crew and a souvenir photo shoot. Now
that's
a slice of heaven!