The U.S. Supreme Court is poised to hear arguments in what should turn out to be a landmark case for defining free speech rights, as
Snyder v. Phelps
gets underway. (Phelps being the anti-gay pastor who likes to spew anti-gay hate at soldiers' funerals.)
The Westboro Church traveled 1,000 miles to picket the funeral of Marine lance corporal Matthew Snyder in hopes of drawing attention to their view that society and the military are too tolerant of homosexuality. (What news have they been reading?) But, then church members went for adding insult to more insult by publishing a poem on the Internet about Matthew Snyder, saying his parents "raised him for the devil."
The original ruling in the case was that while the Phelps clan has ample opportunity to broadcast their hate, Mr. Snyder only had one chance to say goodbye to his heroic son. Snyder's father has appealed to the Supreme Court after the U.S. Court of Appeals overturned the damages awarded by a Maryland judge.
***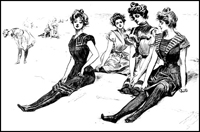 Who says teens are too sexualized these days? Cheerleaders in Bridgeport, Conn., have made the national news by protesting that their midriff-bearing outfits are
too skimpy
.
Ariana Mesaros, the captain of the cheerleading squad, told the board of education that the tiny uniforms hurt some of the team members' self-esteem. "I am embarrassed to stand up here dressed like this. Is this really how you want Bridgeport to be represented?" Board members quickly ordered black body suits for the girls to wear under the uniforms for events and practice. Next up: knee-length pantaloons for the swim team.
***
The results of the 2010 Trojan Sexual Health Report card is in, and Columbia University
tops the list
as most sexy-healthy, with Michigan State coming in at a close second.
Right behind is Ohio State at third, followed by the University of Michigan and Brown. The report card ranks each higher-learning establishment based on programs that offer STI testing, confidential counseling, outreach programs and the availability and price of condoms. According to Dennis Martel, MSU's health education services coordinator, MSU has one of the
most aggressive condom distribution
programs in the country—but would they get a B on their report card if the condoms weren't Trojan brand?
***
The world's oldest porn star has finally let his secret out and apparently, his family is now supportive of his extracurricular profession that has him filming at least one new movie a month for adoring fans.
Shigeo Tokuda
is 76 years old and one of the most popular actors in the rising genre of "Elder porn," a brand of Japanese porn that pairs older men with women in their 20s, giving the audience someone to identify with. As Tokuda told
The Globe and Mail
, "It's mostly older men who watch. Maybe some single women who are a little older. Definitely, they want to have some connection to a character that's their age, to feel they can have the same satisfaction."
But only recently did Tokuda's family discover his professional hobby, after a porn script fax got into the hands of his 35-year-old daughter. His daughter was "shocked," but apparently his wife was totally cool with it. "My wife lets me do whatever I want now that I'm retired," he said. "She's just concerned about my health, and tells me not to work too hard." We imagine she might be a little proud of her husband's sexual prowess, too.