Don't get me wrong, Susan and I enjoy experimenting with them, and if we're
really
being honest, I know that she would always prefer the real thing so there are no insecurity issues here. Still, most of these devices are ergonomically engineered so as to "perfectly stimulate the elusive g-spot" or they're outfitted with an extra nubbin that's designed for the sole purpose of pulsating one's clit into submission. I've never experienced a toy that has empowered
me
sexually.
Until I slipped the
Je Joue Mio
over my member and all of the sudden felt as though I had stepped into a phone booth and emerged a sexual superhero. Almost ten minutes into our first Mio-enhanced session, Susan pulled my head down and said, "Oh my god … this is my favorite … toy … ever," between heavy breaths.
I can't remember ever feeling more virile than at that moment, looking into Susan's eyes while she was having this breathless, quivering orgasm – but also seeing that she understood we were just getting started.

The Mio is a cock ring supercharged with a topside, bullet-sized vibrator that has seven settings – either a continuous hum or various pulse patterns – and five levels of intensity for each. It's made of seamless silicone that's flexible, totally waterproof, and perfectly comfortable. And operating it is easy. There are three small buttons: one turns it on and makes it go faster, one slows it down and shuts it off, and one cycles through each of the modes of operation. Oh, and I'll give you one guess as to where the vibrating segment lands during sex.
"Right on my clit," Susan says. "Cowgirl was incredible. Every time I slid down, it'd be there waiting for me. I'd pause with Rydell all the way inside and the Mio working my clit. It seemed like my thighs would literally start shaking every time, and I'd be on the verge of an orgasm before Rydell would lift my hips, prompting me to slide up again and start all over."
Recognizing Susan's situation, I decided we should flip over to standard missionary. But it quickly became apparent that nothing is standard when the Mio is involved.
At its core, it's a simple cock ring, and the point of such an apparatus is to prevent the blood that's making you hard from exiting the scene. Whatever science is involved, the outcome includes a stronger erection and delayed climax. Add to that the vibrations and … well, remember those intimidating dildos and vibrators I mentioned before? With the Mio you become a human hybrid of them, no concocted baseball or Coke necessary.
"That's what I love about it so much," Susan says. "We get all the benefits of the toy, but it's still all Rydell, too. I don't have to choose between him or some fancy vibe – or find a place for both. Plus, neither one of us has to be fiddling around with it while we're fucking."

Indeed, it truly is a hands-free device. Once you put it on and rev it up, you're free to do all the groping, pinching, tugging, and massaging you like without having to worry about it falling out or slipping to the wrong spot. Switching positions? No problem, it remains snug at the base of your shaft through any interlude.

"When we rolled over, my instinct was to reach down to reposition it because that's usually what I have to do when we move," Susan says. "But not with this thing. Rydell just pushed inside me and there it was, right where it had left off."

A couple strokes later was when Susan declared her gasping allegiance to the Mio. "I was totally spent," she says. "I came so hard, I figured Rydell had to be close, too. But I looked up at him and he had this mischievous smile and I was like … oh, shit, here we go!"

And we went and went. I've never really had sexual delusions of grandeur (you know, boasting about how I could make a porn star scream to Jesus or withstand multiple rounds with a group of Brazilian beauties – though I would give it my all), but just before Susan gave me that oh-shit look, I happened to glance down at my dick, granite hard and humming, the Mio still in place.

It was totally invigorating, and for lack of a better way to describe it, I felt as though in that moment I could finish Susan off and move on to a couple stately women from Brazil and then take Janine. I'll never know for sure, of course, but I am aware of at least one lady who's recovered and ready for another go with my Mio and me.


We bet you do, too! So as our thanks for reading us, we've got one just for you!
Purchase the Je Joue Mio from
EdenFantasys
, and take 15% off the toy's price with coupon code
SexIsToys
.
Click to enlarge: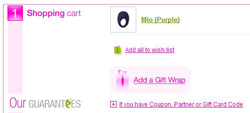 At check out, click on "If you have Coupon, Partner or Gift Card Code" in pink. It's right there below "Add a Gift Wrap". Paste
SexIsToys
in the box that opens under "Enter your Coupon or Partner Code," click submit and watch the price drop. It's that easy.

We'd love to hear what you have to say as well! Leave it in comments, or write a post of your very own!

Yes, that's right. We want YOU to write something for SexIs! See this post for details!