The Attraction to Steak
It's not hard to understand steak's role in sexy meals. Steak is the visceral, naughty taste equivalent to a good, hard fuck.

Eating Up The Foreplay
Considered decadent and expensive, steak's reputation has withstood the whims of culinary culture and shows no sign of losing its sex-symbol status.

We should all be so lucky!
Steak is a heavy, rich meat, and the last thing you want is to complete your sexy dinner with a need to sprawl out on the couch like a beached whale for a couple of hours to recover.

Light side dishes are a must, and fortunately, with a big star like steak as the main attraction, they're all you'll need. Steamed veggies spruced up with a little butter and sliced almonds can do the trick, or a salad heavy on the greens and light on the dressing can bring the calorie count down.
Believe it or not, Portobello mushrooms are the steak of the vegetable world. Their meaty heft and flavor make them an easy substitute. Portobellos take up sexy grill marks nicely, and if you happen to serve a mixture of veggie-eaters and carnivores, you can use the same marinades and gravies (provided that they're not meat-based themselves, of course) on meats and mushrooms alike.

Just be aware that Portobellos aren't as filling as steak, and so you may want to opt for a heftier side dish to make sure your sweetie has the fuel to last the night.

Veggie-friendly appetizers are another great option, particularly if they're finger food or easily fed to one another—think marinated veggies on toothpicks or mini phyllo pastry cups baked with cheese inside.
Be sure to give yourself and your dining companion(s) enough time to digest a little before you hit the mattress. A light dessert of fruits and sweet cream can give you the time to settle your stomach even as you engage in a little oral foreplay. An after-dinner drink (alcoholic or not) mixed with a little dirty talk can ease your way from the table to the bed, too.
In the end, a sexy steak dinner is sexy because you think of it that way. Treat the meal planning, the cooking, the presentation on the plate, and the eating itself as a form of culinary foreplay.
Learn what you need to know about cooking steak the same way you'd pick up an extra sexy technique or two to wow your lover. Think of food as sex for your mouth, and you'll start to understand why steak remains in the realm of the carnal after all this time.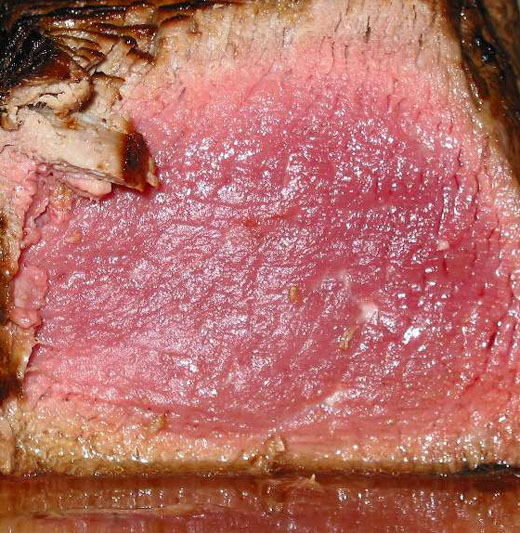 Filet Mignon. Mmm, juicy!