The Silly
Go on, snicker all you want. Bananas have that reputation as a sexually silly food, good for nothing more than a deep-throat joke or maybe getting stuffed down the front of someone's pants as an impromptu dong. The thing is, silliness goes naturally hand-in-hand with sex under the right circumstances.
A silly date can do the trick sometimes, so why not go with it? As a pre-sex dessert or a post-sex sugar rush, what better activity than creating your own sexed-up banana split? Try a banana cock with ice-cream-scoop balls. If you prefer eating out to going down, it's just as fun to make yourself a vagina-themed treat. Cut your banana in half lengthwise and arrange the pieces in a long oval for your decorating pleasure; ice-cream-scoop boobs are the easy way to go, but you can use your imagination however you want.
If asses are your thing, make yourself a perfect rear of two nice tight scoops. This is one activity truly open to everyone, regardless of orientation or gender identity—you craft whatever genital configuration is sexy to you! If you're short on ideas, here are a few: Try chocolate sauce or whipped cream for whimsical pubic hair (or squirts of come or lube, if you're more on the ribald side). Go nuts with the nuts. A maraschino cherry might make a nice cock-head, clit, or nipples. If you or your partner(s) dig strawberry ice cream, having a pink ingredient handy can help fill in all kinds of juicy bits. You could even go 3-D and stand your banana cock straight up, or combine splits together into a virtual sex act.
Represent piercings with silver nonpareils. Kinky? No problem: strands of black or red thin licorice can be made into cock rings, paddles, whips, outlines of handprints, blood... If you can do it in bed, you can find a dessert food to stand in for it. Trust me on this one. You get the idea. This doesn't have to just be a snack, it can be a whole giggly foreplay activity. And if things progress past foreplay, you have whipped cream and chocolate sauce at the ready for even more hands-on activities!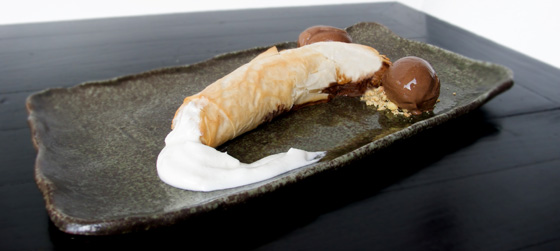 The epitome of the classy banana dish is, of course, Bananas Foster.

This is not a dish you want to try for the first time in a high-pressure date situation, or when you're all jacked up on post-orgasmic bliss, but if you're willing to plan ahead and give the recipe a try a couple of times before the big night, it can be very rewarding. (Besides, trying the recipe beforehand means you get to taste-test it.) If this is a little too much work or you're looking for something quicker, caramelized bananas are easy to make and share much of Bananas Foster's sexy texture and taste.

You can do this as simply as sautéeing quartered bananas in butter and brown sugar, or you can fancy it up with rum or vanilla beans. Rather than thinking of caramelized bananas as the low-rent Bananas Foster, think of it as a more flexible version: It can be non-alcoholic, lower in fat, contain less sugar, or be infused with favorite flavors depending on the desires of the partners.
The bananas are cooked in a sweet rum sauce and set on fire, then served over ice cream. Classy? Yes. Potentially dangerous if you're in a muzzy post-coital state? Definitely.
Bananas are a great source of energy between rounds,

By the way, there isn't any reason why you can't enjoy all of the above in a non-partnered sex life if that's where you're at. The joy of decorating a sexually themed dessert, tasting a sensually seasoned dish, or working six inches of fruit down your throat doesn't have to be shared to be enjoyed. Bananas are good for you, and so is celebrating your sexuality, whatever it may be!
or for those times when you need a little pick-me-up so that you can get frisky before dinner. And there's absolutely no reason why you should consider the old "Here I am deep-throating a banana" joke off-limits. If it suits your humor and that of your partner(s), go for it! Liven up lunch together with a little naughty nibbling.