Role play (alternate personas, BDS&M and genderbending)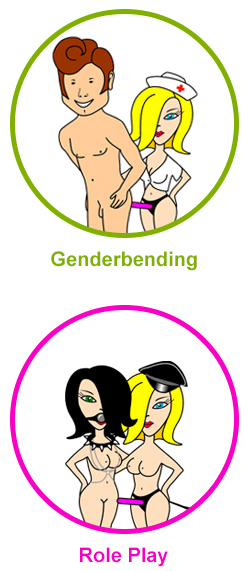 The great thing about indulging in your sexual fantasies is that it gives you a chance to enjoy, guilt-free, pleasures which you might not normally or are considered taboo. Some fun and popular role playing games you can play range from reversing roles to exploring alternate or even fictional personas.
There are few better ways to experience the full gamut of sexual sensuality than by acting out a storyline, like a teacher/student or delivery boy scenario (we're sure you can think of some more original ideas on your own.) And in fact, we recommend the two of you sit down, write out and agree on a scenario you'll both enjoy. Some harnesses personality that we recommend for role play adventures include the Vegan dual harness and lock strap-on and Vibrating harness kit.
In addition, harnesses also play a major role in bondage & discipline, and sadism & masochism. For women, using a strap-on provides an opportunity to wield a new kind a power and have the upper hand in the bedroom, and many gals enjoy the chance to play the opposite role. This practice is called genderbending.
But whether you're getting tied up or doing the tying, make sure you're not neglecting the importance of negotiation and safety. Don't feel compelled to do anything you don't want to, and always agree on a safety word beforehand that will categorically stop all the action.