New products hit our virtual shelves this week! Want to know what did? That's what this helpful feature is for! There's lots of kinky fun available this week!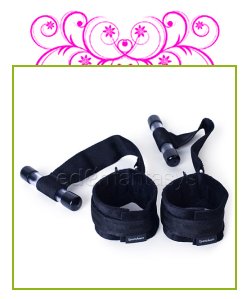 Our first kinky item is the
Door Jam Cuffs
from Sportsheets! These cuffs are made from velcro and faux fur, and they easily attach to your wrists. The cuffs then attach to a door frame for an instant bondage point!
Butterkups
gives this product a great review and says "These cuffs are super comfortable. The lining, which is a fake fur lining, is just soft enough to keep your wrists from chafing. Easily put on and then again easy to be set free from. Too often these things are almost scary in that you feel as though you can't get free. I hate when I don't feel safe. But with these little gems a quick flick and you're free. Safety in our sex life should always be examined."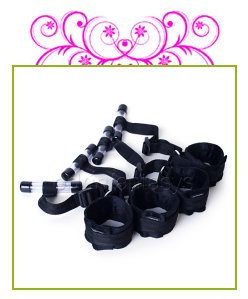 Want to upgrade from the previous item? Then check out the
Deluxe Door Jam Cuffs
! Instead of having the two cuffs, this set has four cuffs: two for ankles and two for wrists. Just like the previous set, they easily fit around a door to give you an anchor point for some sexy fun! One of our reviewers,
Brandon
, says "Anytime we travel, we take the Deluxe Door Jam Cuffs with us. They are really nice to use for a change of pace away from the norm. I know that there is a lot of cuff sets out there, but none stand a chance against these. There is something totally different when you take it out of the bed and move it to a door! Having the ability to stand while being restrained adds spice to any situation. When it comes to the Deluxe Door Jam Cuffs, the only limitations are yourself and your thoughts!"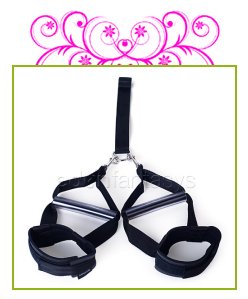 The
4-in-1 Handgrip Restraint
also can be used over your door frame. These cuffs include a little handle to help support your weight. If you normally find that most cuffs pull uncomfortably on your wrists, these restraints can help to allieviate that pressure. Plus, they just look fun! In her review,
Safo Garcia
says "These practical restraints will last a long time and can be used in a variety of ways. They are vegan-friendly nylon, neoprene, and metal and are super comfortable to wear and easy to use. They can be used with several different beds, standing near a door, or sitting in a chair, for example."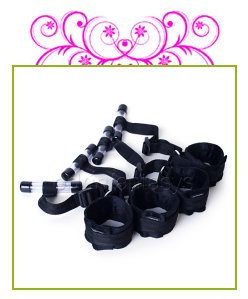 The
Our First Bondage Kit
is a full bondage kit that contains wrist cuffs, ankle cuffs, tethers, and a blindfold. Made out of a soft material, this set gives you the freedom of escape if you are worried about being trapped in your bondage. The included blindfold can also help heighten the sensations of play while your partner can use the tethers to the cuffs to tie the cuffs to each other or even to the bed! If you wanted to try bondage, this set will make it easy!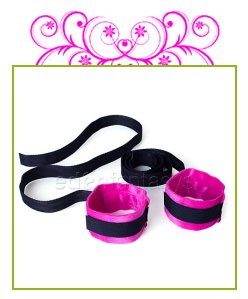 The
Kinky Pinky Cuffs
with tethers are another neat set worth checking out. These wrist or ankle cuffs are easily adjustable through velcro, and the pink color pops out against the black color of the restraints. If you want bondage cuffs that deliver restraining-goodness while still looking cute, these ones can deliver!

Pipedream Products
also announced some of their upcoming products too! Have you seen some of these products yet? They aren't purchasable yet, but you can definitely add them to your wishlist! There's the
Doggie-Style Training Kit
, the
Beginner's Penetrix Strap-On
, the
Blindfold Ball Gag
, and the
Spider Gag
. Those are some neat-looking toys for sure!

California Exotics
announced a lot of their upcoming line as well! These products aren't available for purchase yet, but you can definitely add them to your wishlist! They're producing some new Colt products and new lube. Come look at some of their new releases:
Keep It Up Men's Delaying Gel
,
Start It Up Accelerator Gel
,
Lube-It-Up Water-Based Lube
,
Back-It-Up Water-Based Anal Gel
,
Tighten-It-Up V-Gel
,
Warm-It-Up Personal Warming Gel
,
Colt Big Man Cleanser
,
Colt Big Man Stroker
,
Colt Stallion Tail Smooth
, and the
Colt Stallion Tail Ribbed
. What an amazing new selection!
Which kinky items are you interested in
?