We're carrying some new products this week. Why don't you check out some of these newcomers to EdenFantasys?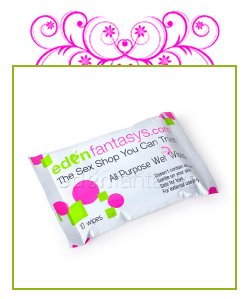 Cute-lovers, beware! [bold|You can now purchase the
EdenFantasys Cleaning Wet Wipes
! How great is that? This little pouch includes ten little wipes, and it comes in a bag that is filled with your favorite colors from EdenFantasys. These all-purpose wipes are safe for the skin
and
safe for all of your toys, and they don't contain alcohol either. Go show your EdenFantasys pride with these new wipes!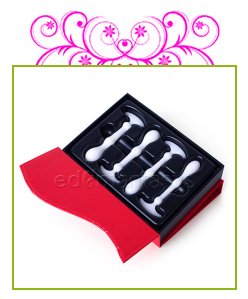 Another new item we have is the
Aneros Peridise Complete Kit
. This kit is a complete kit of three different Aneros probes; each probe is of a slightly different size to provide the perfect fit each time. Made for both men and women, this set allows for both partners to use toys at the same time or for progressive use of the sizes. Unlike most anal toys, with this set, as you get more advanced with usage, you are actually supposed to move
down
in size.
csweatc
gives it a positive review and says "This is one of my favorite prostate toys. I use it to masturbate with; I use it to have hands free prostate orgasms, and I also use it to strengthen my PC muscles so that my experience with other massagers and sex in general is enhanced. This is a toy that every person interested in prostate stimulation should have in their quiver."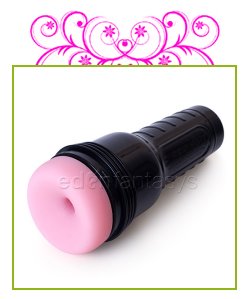 It's the week of the Fleshlight! This week, we just released
four
new Fleshlights! You can now purchase the
Fleshlight Ice Mouth Crystal
, the
Fleshlight Ice Lady Crystal
, the
Fleshlight Pure
, and the
Fleshlight Ice Butt Crystal
. All of these Fleshlights include new textures that haven't been sold together on EdenFantasys, so you should check out these new male masturbators!
Dwtim
gives the Fleshlight Ice Mouth Crystal a great review and says "The Ice mouth with the Crystal texture is by far the best Fleshlight I have tried. It has three different textures to please and I can reach them all. The clear case and sleeve are visually stimulating, combined with the texture, this Fleshlight puts my Stoya/Lotus to shame. Easy to clean and a very life like feeling material, there is no wonder why Fleshlight has sold over 4 million."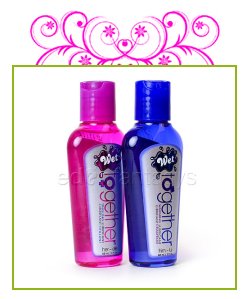 Would you like to give some new lubricants a try? We're now carrying three new lubes from Wet! Whether you want to give a single lubricant a try or try some couple's lubricant, you can now purchase them on EdenFantasys! There's the
Wet Comfort silicone
lubricant, the
Wet Together
lubricant, and the
Wet Together Ultimate
lubricant. For the Wet Comfort lubricant,
Valyn
gives this lube a good review and says "Overall, this lubricant is a great lube to use with a partner for sex, foreplay, or even massage. It's hypo-allergenic and can be used with condoms. For solo play, be cautious of what toys you use with this lube. It's smooth and silky feeling and long-lasting."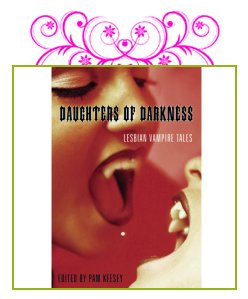 Are books your cup of tea? How about...
a cup of blood
? Well, maybe not quite
that
serious, but we are carrying two new books this week! There's
Daughters of Darkness
and
G is for Games
which are both available for purchase! Daughters of Darkness is a lesbian vampire erotic anthology while G is for Games is a book about sexual games that people play.
Kitty Stryker
gives G is for Games a good review and says "I think "G is for Games" is another great installation in the alphabet erotica series. I can see many of the stories being the backbone for some creative re-imaginings of other games. There's nothing overtly dark in here, so I think it would make a good first book for someone exploring erotica, or as part of a collection."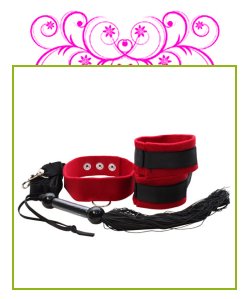 If you want to do some fun experimenting with kink, the
Lover's Prisoner Kit
will provide lots of the accessories that you need for your first foray! This Sportsheets set comes with two cuffs, a collar, and a small, rubber flogger. Each one of the cuffs even includes a tether to make it easy to attach these cuffs to any household point for fun, travel-friendly bondage.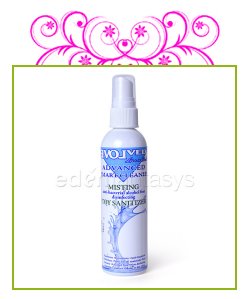 We also now have the two new Evolved Toy Cleaners available for purchase: there is the
Advanced Smart Cleaner Misting Toy Sanitizer
and the
Advanced Smart Cleaner Foaming Toy Sanitizer
. The Smart Cleaner sanitizes, disinfects, is odorless, safe for all materials, and is gentle. The two different types mean that you'll be able to pick the type of toy cleaner that works best for you. About the Foaming Cleaner,
Coralbell
says "Evolved's Advanced Smart Cleaner Foaming Toy Sanitizer is a gentle antibacterial cleaner. It can be used to safely clean and disinfect toys made from any material, and doesn't contain ingredients that are harmful to the body."
Along with all of these neat products, we also released the
LR1130 button cell batteries
,
Trojan Stimulations Twisted
,
Tristan 2
in black,
FunFactory Bimini Ocean
in hot pink, the
Basix Dong with Suction Cup
, the
Don Wands Curved Purple Swirl
, the
Blush XOXO Paddle
, the
Ultimate Satisfier Slim
, and the
Slim Smooth Delight
.
Which one of these new products has your interest?