A plug fit for a king or queen!
Sexy Spades Large indeed! This plug will satisfy even the most experienced size king or queen. Quality workmanship, beautiful coloring and stimulating to the hole anal/rectum area, this plug will surely become a satisfying butt buddy.
Published:
Pros:
Large and in charge gorgeous piece of glass for your ass! Did you need to know more?
Cons:
haha, really?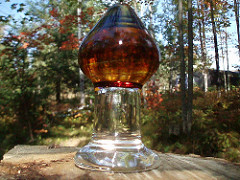 I put the picture at the top so y'all can see the exquisite beauty of this awesome glass butt plug from Doc Johnson. I find myself just gazing into it like some crystal ball, the way the blue and brown color swirl around the top are mesmerizing. Thoughts of being filled with this plug and the firm prostate stimulation soon follow. Only one thing to do at that point, find the lube and get to it.
Now, before you hit the "Purchase it now" button there is something you should know. THIS IS ONE BIG PLUG! Beginners, intermediate and some advanced users may want to steer clear of this one. Coming in at 2 3/8" in diameter (7 1/2" cir.) it will defiantly stretch your anus. Add to that the fact that it is made from
Tempered glass
you get an unforgiving plug that takes no sass from you.
OK, so you think your game? Let's look at the rest of this gorgeous plug. Overall you get a 4 3/4" tall plug with 4" of that being insertable. The top is tapered, thank the gods, so it is easy to insert. The neck, once you get it in, is 1 1/4" in diameter (4" cir.). The base is 2 1/4" across and 1/2" thick. Normally I like a base that is bigger than the bulge but with this plug it does not pose a problem, the abrupt angle of the base keeps it from being sucked in. Plus, if it was any bigger it would not be all that comfortable if you wear it long term.
The blue and brown color is infused into the outer surface. This leaves the core clear; if not for the "Ghosts" in the glass you could see through it easily. With my finger I can feel the swirls of color but they can't be felt during use. Hell, your anus is stretching so much, even if they were more pronounced I doubt you would notice.
Did I mention that it is big? Well here, let's have a visual aid.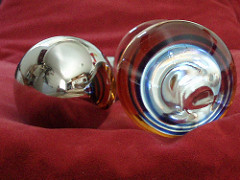 You may guess that that is the mighty Njoy Eleven; can you believe that is the two inch end? Oh yeeesss...
Oh, sorry about that, where were we?
Glass is so easy to care for and when you can use any lube that is safe for your body, it sure is hard to beat. Clean by using soap and water, anti-bacterial soap, a 10 % bleach solution or you can boil it. Just don't use harsh abrasives that could scratch it. Care should be used during cleaning and storage so it does not bang against other hard objects. I can tell you first hand that this plug will take a beating, I dropped it onto the Eleven in the sink while cleaning it and it didn't so much as scratch it.
Another nice attribute of glass is its ability to hold temperatures. Place it in warm or cold water for different sensations. Just make sure to test it on your inner arm before use, a burned anus would not be fun, ya know?
Doc Johnson sends it to you in a plastic box proudly displayed for all to see. Might have to be careful when you open the EF box, ya know? There is a tray that is molded to hold the plug in place; I use this to store my plug in the toy cabinet. You could also buy a toy pouch like
this one
for storage. In fact, if you plan on travailing with your plug, I highly recommend that pouch. There's a video from me on that product page, if that does not convince you to buy one, I don't know what else will.
Experience
I am pretty happy being able to use the Eleven, it has got to the point that I can use the 1 3/4" end for warm up and switch to the 2" end for the real fun. But like the song says, "I use to do a little but the little wouldn't do, so the little got more and more.." Well, I guess the same holds true for anal toys. lol I bought the Randy (I need to get that review done) and while the Randy is slightly bigger, it did not pose much of a challenge.

For the most part I was satisfied with what I had, both the Eleven and Randy are great toys and very pleasurable to use. Then the fateful day came when I was assigned the Round butt plug large for a DR. Silly me, I only look at the diameter measurement on the product page. Teach me, eh? 2 3/8" my ass! It's almost three inches in diameter. Well I am not one to back down from a challenge. So, the Sexy Spades Large and the Hoss were soon on there way.

It took me four tries to get this plug in, this after lots of lube and warm up with Randy and the Eleven. Even then, that second sphincter was not about to let this plug in. Finally, I was able to get her in with a good helping of Maximus and a long session of watching porn and really working with the Randy. I'll tell ya, the first time is slid in, my whole body shook and my cock got rock hard. Needles to say it only took a few strokes of it to get off. Boy did I get off!

I must say that the next few times have only gotten slightly easier, I still need plenty of warm up but there is not as much work to get it in. To say I get a full feeling is a mute point, its more like being plugged up, I don't think anything could get by this plug. Well, that is what its for, eh? The pressure to my prostate is divine and produces a ton of pre cum as it massages it, the neck is long enough that it can be used like a Aneros P-spot massager.

So, if you like your plugs "Large and in charge", this plug will be right up your alley. It is very stimulating, filling and looks just awesome.
This content is the opinion of the submitting contributor and is not endorsed by EdenFantasys.com

Forum
| Discussion | Posts | Last Update |
| --- | --- | --- |
| Clarity | 8 | |
Thank you for viewing
Sexy spades large
– glass plug review page!