Don't just douche, ULTRA Douche!
Curious about enemas and anal douches but not sure where to begin? The Ultra Douche offers an easy to use and, more importantly, comfortable alternative for both beginners and seasoned veterans. The bulb syringe style is easy to use and has the benefit of limiting the volume of water to a safe 7 ounces per flush. Never again will you feel apprehensive about not being completely clean you know where!
Published:
Pros:
Easy to use,
Good for beginners
Cons:
Cannot be sterilized
Ul·tra
(uhl-truh)
Going beyond what is usual or ordinary; excessive; extreme
The name Ultra Douche invokes images of power and strength. Would this be the product to finally introduce Extreme Douching to the X Games? All I could think of was "Fasten your seatbelts, this sucker is going to blast the crap out of you!" Fortunately, California Exotics doesn't necessarily believe that bigger, faster, and stronger always means better, particularly when you're talking about enemas. Instead, they have designed an easy to use, and more importantly, gentle and effective method of administering an anal douche. Whether you have an enema fetish or are just looking for a good way to clean out your bum for anal play, the Ultra Douche is worthy of consideration.
The Ultra Douche kit is comprised of three separate pieces: a nozzle, bulb, and safety guard. The nozzle is made of non-porous and phthalate-free plastic. The bright red nozzle is completely smooth which aids in easy insertion during use. The bulb and safety guard are made of rubber that has a mild chemical odor to it, although it is not overwhelmingly strong and cannot be smelled at all during use. Since this is a toy designed for anal insertion, I did not feel it necessary to taste any of the parts. Let's just agree that after several uses it will probably taste like ass.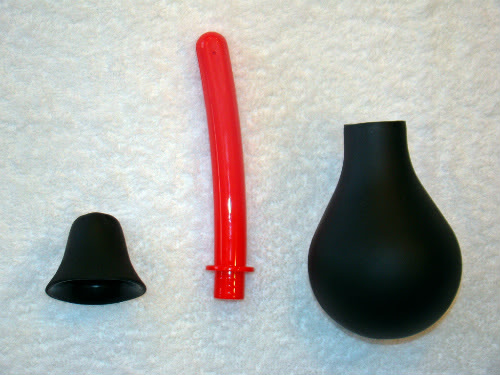 The nozzle is 5-1/2" in total length with 4" insertable once the safety guard is in place, which should be plenty long enough since you only need to insert the tip. The nozzle is 5/8" in diameter making it a small enough size to be comfortable for both beginners and those with more anal experience. The tip is rounded and there is a very subtle curve to the length of the nozzle that also aids with insertion. The base of the nozzle has three small ridges that help to hold it in the bulb. There is also a very small flared base to the nozzle. The flared base is designed to seat the safety guard and prevent the entire nozzle from accidentally slipping inside your rectum. As Martha Stuart would say "It's a good thing."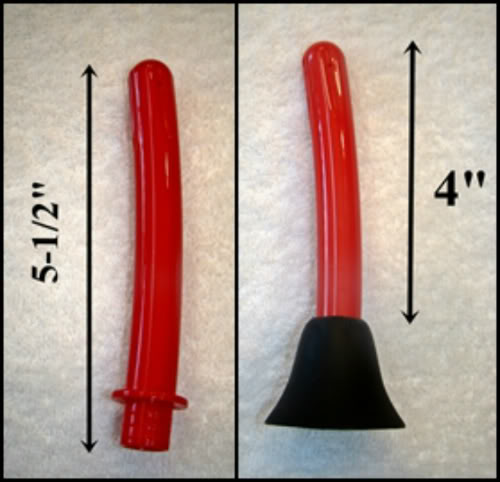 The nozzle has 4 small holes that encircle the tip and one hole at the very tip. The four holes encircling the tip are each placed in a shallow groove that is designed to prevent clogging of the nozzle. If you happened to insert the nozzle into some stool and the grooves were not present, the holes would probably get plugged and you would be unable to flush. Instead, the groove creates a small amount of separation between the hole and any fecal matter and allows you to still be able to flush water through the nozzle. The holes are small enough that it takes a few seconds to completely empty the bulb. This allows you to gauge how much water you need to insert without all of it coming out at once.

The bulb has a maximum 3" diameter (9.4" circumference) that was comfortable for me to grasp in one hand. If you have smaller hands, you may need to use both hands to squeeze the bulb, but the rubber is very pliable and my fingers were strong enough to squeeze the bulb during use. The bulb holds approximately 7 oz. (just under a cup) of liquid, which is a good amount for each flush. When fully assembled, the Ultra Douche measures 9" from tip to base. The connection between the nozzle and bulb did not leak at all during use.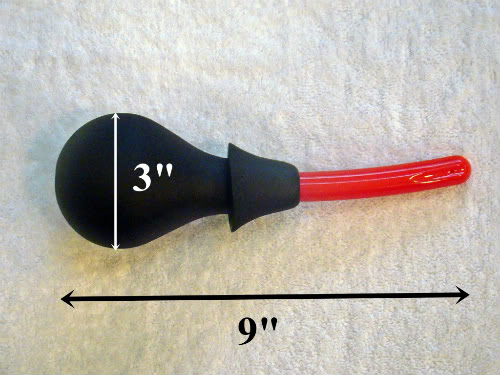 One of the few drawbacks of the Ultra Douche is that they chose to make it partly out of rubber, which is porous and cannot be fully sterilized. This can be even more problematic since we are dealing with the rectum and obvious fecal contamination. However, as long as the kit is not shared and you clean all parts thoroughly between uses with either a toy cleaner or antibacterial soap and water, the risks should be minimal. Water and silicone based lubes are compatible for use with the Ultra Douche. Given the nature of enemas, water based lubes may require repeated application. Allow the pieces to completely dry before storing it in its original packaging or a Ziploc bag. The Ultra Douche comes packaged in a clear plastic clamshell. The packaging states that the product is a douche, so clearly it is not discreet although there is no nudity displayed. I can't imagine anyone gifting an enema kit "Dear, you looked a little, you know, backed up, so I thought you could use a nice enema." Perhaps Massengil can come up with a marketing plan for those "not so fresh moments" in life.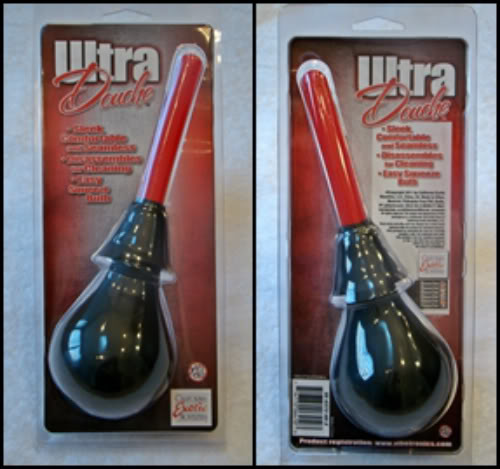 Experience
So, what's the poop on enemas and anal douches? Technically, any solution introduced into the rectum and colon is considered an enema. An anal douche is generally the term used to clean out just the lower part of the rectum. For typical anal play, a douche is all you really need. You're not looking to clean out your entire lower gastrointestinal track, nor is that recommended for health reasons. You should use slightly warm water (body temperature) when performing a douche. Hot water may scald your delicate rectal lining (ouch) and cold water may trigger uncomfortable cramping.

First, be sure to have a bowel movement to remove what material you can naturally. One risk of chronic and frequent enema use is a dependence on them for bowel movements. Therefore, you should limit the frequency with which you do them to once a week. Also, you should perform the enema at least 2 hours before you plan on any anal play.

The best way to fill the bulb is to take off the nozzle and fill it directly from the faucet. You could try to suck water up like a turkey baster, but I did not find this method to be as effective. You can perform the douche in any position you feel comfortable whether it be standing, kneeling, or on your back. The Ultra Douche does not hold water in well and dripped profusely from the holes when turned upside down, so I found that standing was the best position for minimal mess.

After applying a dab of lube, I primed the nozzle by trying to squeeze out as much air as possible before inserting the tip. Excessive air inserted into the rectum can also lead to mild discomfort and cramping. There's no need to insert the entire length of the nozzle unless you're looking for a deeper cleaning. Once the nozzle is inserted, slowly squeeze the bulb to begin dispensing water. You should feel a mild filling sensation as your rectum fills with water. At no point should this process feel painful or even uncomfortable. Once you've inserted as much water as you feel necessary, remove the nozzle and try to prevent backwash (asswash?) from going back into the bulb to help reduce contamination. Next, sit on the toilet and let nature take its place. You may feel the urge to evacuate immediately or it may take several minutes. Either way, be patient and stay near a toilet. The need can come suddenly and with great urgency. Repeat the process until the water flushes clean. For me it took 4 flushes but individual results will vary.

I found the Ultra Douche to be very easy and comfortable to use. I wish that the base of the bulb were flat so that it could stand up on end because between flushes, I filled up the bulb in preparation for the next round. Unfortunately, I had to lean it against the sink edge to prevent water from leaking out. I would definitely recommend the Ultra Douche for anyone interested despite the few cons.
Follow-up commentary
3 months after original review
I've used the Ultra Douche about every two weeks or so for the last several months. I tend to use it particularly when I know we're going to be pegging because I like that security of knowing that I'm clean inside. The rubber bulb has held up well with no signs of wear or cracking. The nozzle still fits into the bulb tightly. At the current rate, it should last me quite awhile before I will need to replace it.
This product was provided free of charge to the reviewer. This review is in compliance with the FTC guidelines.

Thank you for viewing
Ultra douche
– sex toy review page!