Oooh-La-La
A small, comfortable probe great for beginners - but not so much experienced users. Great for partner or solo play, but not for extended wear.
Published:
Pros:
Food-grade, Hypo-allergenic material
Good beginning size
Cons:
Small base
Suction
Packaging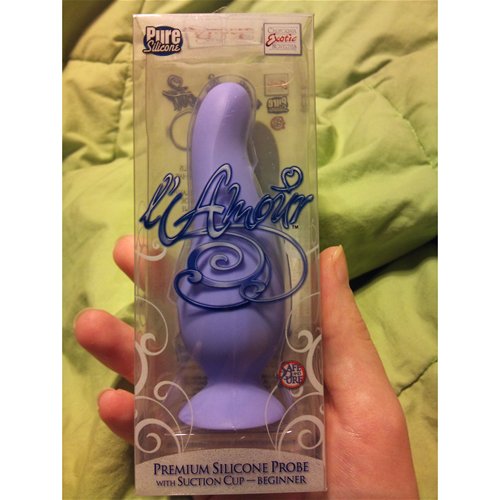 The Packaging for L'amour is very, very indiscreet. While the probe isn't large, packaged in a clear box with large lavender letters isn't very conductive to traveling under radar. Then again, I have a bottle of lubricant in a hot pink and black bottle with 'Wet' written across it sitting on my night table that no one has commented on. Shame really.
Anyway! The packaging is clear plastic, leaving the toy on display in the front and mostly covered in the back. It was easy to open, thank goodness, and there was a bit of an excerpt on the back. It is simple packaging which fit the 'look' of the toy itself. There was no smell upon opening but I still washed the toy to be on the safe side.
Size / Material / Shape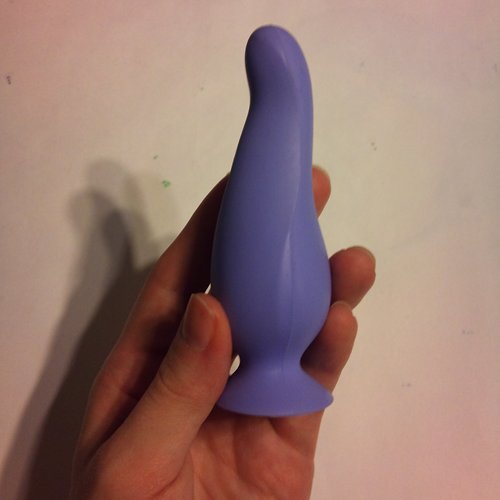 L'amour is made of silicone - it is phthalates free, latex free, non-porous, hypo-allergenic and food-grade. It is a very safe toy to use, as are most silicone, and quite simple to maintain.
The shape of this probe is a bit... awkward to see, but not so awkward to wear. There is the slightest curve where tip fades into base, but not one which makes use or wear uncomfortable. It is about the same feeling as the use of a slightly crooked finger upon entry before broadening at the base.
In total L'amour is 4 inches long, with 3 to 3 1/2 inches of that being insertable. The base circumference (widest portion of the probe) is 4 inches around, the diameter is 1 1/4 inches. A relatively small probe, definitely suited for beginners, but possibly a bit disappointing for more experienced users.
Use / Thoughts
L'amour was most definitely interesting to use, the shape is very unique, but not uncomfortable or overly obvious when using. The tiny base before the flare of the suction is a bit disconcerting and rather distracting from using the toy itself, unless one is more comfortable with anal play and toys. The only real question I had with the toy's design was the suction itself, it was rather... pointless? Even using the suction, L'amour is quite small so it wasn't something I found myself experimenting with.
The probe is for anal play and really isn't large enough for much vaginal stimulation I do not imagine. After use it's relatively easy to clean, with lukewarm water and a bit of soap after use. Being silicone, L'amour can also be run through a dishwasher (without dish soap!). I would assume it could be boiled, but as I haven't done as much myself, I cannot say for sure if it would have any negative impact on the texture of the toy.
Experience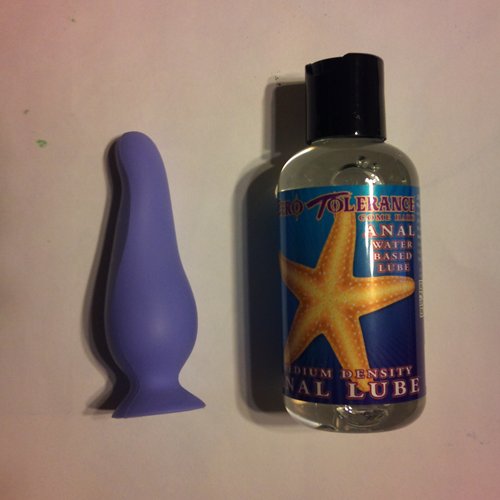 L'amour was probably not the best choice for a first time anal toy, mostly due to my concern over the base not holding up due to its size. However, it was an interesting experience and enjoyable. I used this toy with Anal Lube Medium Density, a water based lube, and found little friction or resistance. It was a smoother fit than I was expecting, but could have been smoother were I not conscious of holding it carefully.
The slight curve was a bit awkward to adjust to at first, but was easily overcome - especially when it didn't make itself obviously known once inside. The only thing I cannot fathom about this toy is the suction, the only real place I have to use it would be the shower - and I that is not a usual practice for me but definitely an experiment I have been considering indulging.
Follow-up commentary
26 days after original review
This probe is fun and small and nice for beginners - I would honestly love to use it more...if it weren't for the base. The suction isn't stable and I'm terrified of it slipping inside, so there is no chance to 'slide the toy in and enjoy'. I have to hold it at the base to feel at all secure using it, and really, who wants to use a toy that they can't relax and enjoy?
This content is the opinion of the submitting contributor and is not endorsed by EdenFantasys.com

Thank you for viewing
L'amour probe beginner
review page!