PLOP, goes the Severin
The Severin from Tantus is a awesome plug for those in the intermediate to advanced side of butt play. The shape lends itself to prostate massage and is very filling. The base is soft enough for long term wear while still being safe. All of this comes together to push my long loved Ryder to just a warm up toy.
Published:
Pros:
Shape provides prostate stimuli, Very filling, Good for long term wear.
Cons:
Does not come in neon green.
Dear beloved Ryder,
I regret to inform you that your position at the top of the toy box has been assigned to another toy, the Severin. You just can not give me the pleasure that Severin can, just look at him, he has more shape to stimulate those areas that I love so much. He is just as comfortable to wear and defiantly gives the full feeling, plus he does what you can't, milk my prostate. Do not worry Ryder, you are still my appetizer, but Severin is the main course.
Yup thats right, my beloved Ryder has moved down in the ranks to make room for the Severin by Tantus. This plug rocks my world! The size and the stimulation are just orgasmic.
So lets see what we get, shall we?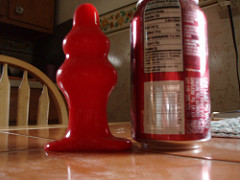 Severin comes in at 4 3/4" tall, 4" of usable joy. Two squished bulbs, 1 1/2" and 1 7/8" diameter, and a 1 1/8" diameter neck that is about 1 1/4" long. Add in the comfy base that is 2 3/4" X 1 3/4", and this plug can and will be a pleasure to use.
At the top the Severin starts out small and quickly tapers to the first bulb. After that there is a small space where the anus can rest and relax before the next jump up in size. And jump it does, almost half an inch! You will definitely feel that size change, so be ready. Once this plug 'PLOPS' in, the fun can begin.
Severin is made from non-porous, Phthalates free, hypo-allergenic, food-grade material and is Latex free
Silicone.
Really in the soft material department, there is nothing better for butt play than silicone. You can boil it, bleach it, even put it in a dish washer with no soap on the top rack. To keep it simple I use a good toy cleaner.
The Severin is not for a beginner due to the size, the more advance users this toy does apply. Use no silicone lubes as this will bring great sorrow, use water and oil based lube so you can play with it tomorrow.
When the cleaning is done, store in a bag, to await the next fun.
Dust bunny's and hair, the war has begun, you will not spoil my fun.
A simple rinse is all you need to start your time of play,
"What could be easier than that?", I must say.
Experience
Yup, this plug has become my favorite. The PLOP is just awesome as it goes in and there is just enough space between the last bulb and base to allow some movement in and out. This great for some hands free Prostate/Kegel type exercise.

For my first foray with the Severin I used it during some play time with the wife. I cleaned and lubed up and took my time to get this big boy in. The first bulb went in fairly easy but the second took some time. That IS a big jump in size. When the second one finally slipped in I was hit with the most pleasurable sensation as it applied good pressure to my prostate. My penis even swelled with anticipation.

As soon as the wife started to play with my tool, the prostate fluid started to flow. This provided a natural lube for some nice hand job type play. Lets just say there was more pre-come than any other toy has ever produced. The nice thing about this plug is it will not come out on its own, no projectile plug here.

Just a word of caution, with this plug I have found that after 20 minutes or so it is best to pull it out and apply more lube. If you have a syringe or something similar use that to squirt lots of lube inside. This plug is very filling and any lube in there is either pushed up or out. The first night, when I went to pull it out, I found that there was not much lube on the bottom of the first bulb. This caused a bit of pain while trying to remove, it felt like it was stuck to my ass. Not fun!

Like I always tell people, lube lube lube, when you think you have enough, add more.
Follow-up commentary
5 months after original review
Were's the button for "Still love it!"
Seriously, this a by far my favorite plug. The shape is very stimulating whether just sitting in my ass during sex or masturbation or with a bit of thrusting. Recently I bought a Mystic wand and I am finding that putting that on the base is just orgasmic. Ya, I love this plug.

No signs of wear and the finish looks good as new. If the size is to your liking you can not go wrong with the Severin.
This content is the opinion of the submitting contributor and is not endorsed by EdenFantasys.com

Thank you for viewing
Severin medium
– butt plug review page!