Pop,Pop,Pop
I love my textures and the ball type texture of this glass is different than that of swirls or nubs. It is hard to explain but as you are inserting and removing these bubbles, you have a type of popping sensation that is different from the others. It is not better, just different. And, I like it!! For both beginners and experienced users.
Published:
Pros:
Great textures
Doubled ended
Easy to clean
Safe material
Any type of Lube
Cons:
Can chip or break if dropped
Sapphire Falls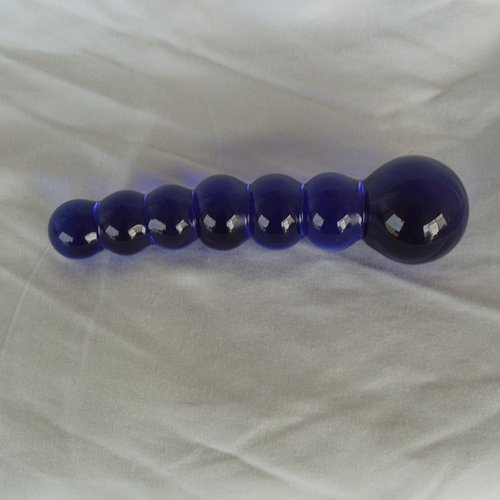 A glass dildo for vaginal use. I wouldn't use this one for anal use even if you have a very cautious partner as there is no base to this toy. Even though the end bubble is very large some anal users may be able to insert it without difficulty. The glass can get very slick with lube and I would be worried about loosing this one and having a trip to the ER. Great for Hot or Cold temperature play. To warm it up you simply place it in a cup of hot water and the heat is absorbed. To cool it down, place in a cup of ice water or put it in the fridge. Be sure to test the temperature on your inner wrist, no burnt lips!!!
Material/Texture
The bubble tends to give a popping sensation when traveling in and out of your orifices. Each of the bubbles tend to give you sort of a popping sensation. The glass is actually borosilicate glass other wise know as pyrex, the stuff your cookware is made from. Borosilicate glass contains boron to change the density of the glass so that it resists breakage and it to break into large pieces with out shards or splinters. This is very safe for sex toys since out bodies have give and the toy doesn't. The way to ruin this glass is by dropping it and getting chips or scratches on the surface. The scratches can actually cause tissue damage. Be sure to inspect your glass before you use it. The glass is a food safe, hypoallergenic, non porous, latex and phthalates free material It has an Eden safety scale rating of 10.
The glass is very firm, please be careful with thrusting or have your partner we aware of the fact that you can bruise your cervix with the firm glass.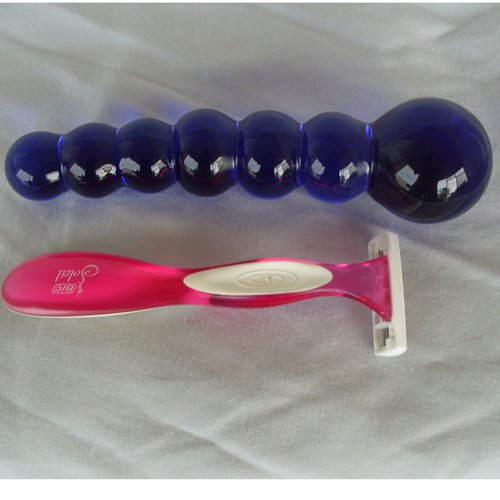 Size/Shape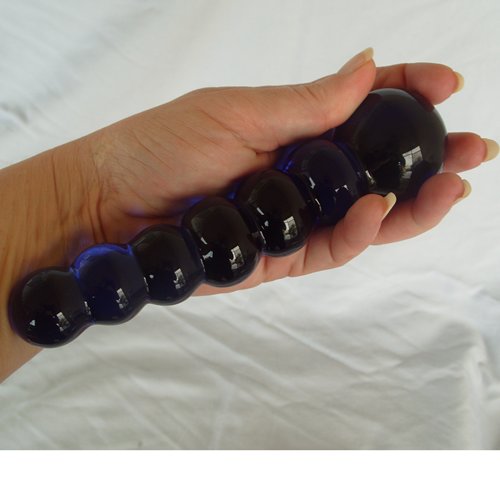 The sapphire falls is 6 1/2 inches long. As you can tell from the pictures is has the layered bubbles, there are 7 bubbles total if you include the largest one. The smallest is 3/4 of an inch and the next 5 bubbles graduate slightly to a diameter of 1 inch, with the largest end bubble having a diameter of 1 ½ inches. There is a very slight curve to this toy. It doesn't hit my G-sot and I would wonder if it would work for g-spot stimulation. With the design of this toy you can use it as a double ended dildo and enjoy the large end if you prefer.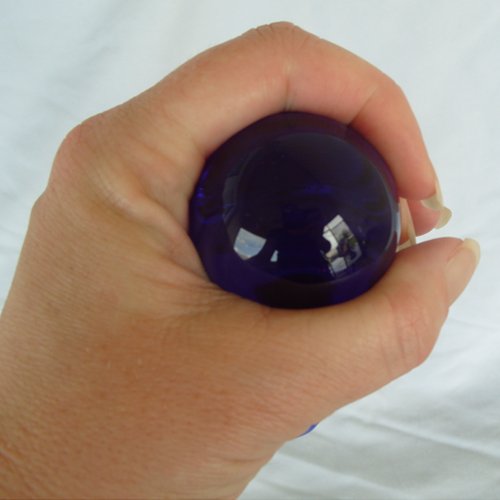 Care/Maintenance
You can use any type of lube with glass ranging from your oils, water based, hybrid or latex. You can sterilize glass by boiling it, placing it in your dishwasher, or cleaning it with a 10% bleach solution. You can clean it with your antibacterial soap and water, toy sprays, Eden wipes or what ever you use. If using chemicals be sure to rinse it before you use it. You can use your glass any where, but be careful in the shower so you don't drop it. The sapphire falls doesn't have any nubs and it is smooth despite the bubbles and it is very slick when wet and when you have lube on it. I store my Sapphire falls in the red velvety pouch that it came from Eden in.
Packaging
Sapphire falls came from Eden in a red velvety pouch and wrapped in bubble wrap.
Experience
I like this one. I have found through play and research that I really enjoy glass toys and I enjoy the textures even more!! The glass is very versatile and easy to clean. I like this one, it is different than the swirled blue and nubbed glass. You have a sort of popping sensation as your vaginal walls accomidate this toy and it is the same when it is removed. This adds to the enjoyment of the experience. Yes, I would like to enjoy this piece anally but I am too much of a chicken. I will have to find a different bubbled toy for that. This is great for someone who is new to glass or new to textured glass.
This content is the opinion of the submitting contributor and is not endorsed by EdenFantasys.com
Thank you for viewing
Sapphire falls
– glass probe review page!