Squeaky Clean with Silicone
The Fetish Fantasy Elite Enema/Douche kit is easy to use and easy to clean. You may have to keep reapplying lube with every insertion. It may take a few tries before getting as clean as you want because it only holds 6 oz. And it comes with free gifts! Better for beginners.
Published:
Pros:
Silicone, Easy to Clean, Free Gifts! Easy to Use, For Beginners.
Cons:
Takes a long time to clean out your bum, lube and toy cleaner are not paraben-free.
The Fetish Fantasy Elite Unisex Douche/Enema kit from Pipedream is a great way to get introduced into cleaning up before anal play. This is designed to be both pleasurable and practical for everyday use. It's easy to care for, easy to use, and is more fun with a partner. The medical style bulb is dishwasher safe, phthalate-free, latex-free, and the tip has three holes to help clean you. This kit comes with everything you would need to get started as soon as you take it out of the box!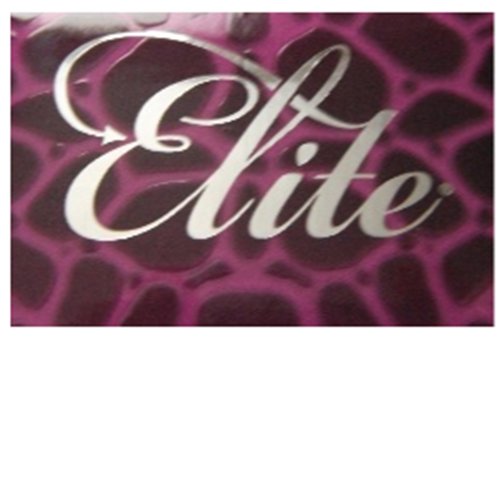 The package is a larger sized cardboard box. The front and back of the box feature pictures of the hygienic silicone bulb, the silicone mask, and the included free gifts of Moist Lubricant and antibacterial toy cleaner. The sides and top of the box are a tasteful purple reptile print and silver text. The inside of the box is a solid purple. Here's what the back of the box says,
"Getting clean has never been such dirty fun with the Fetish Fantasy Elite Douche/Enema System! Designed to be both pleasurable and practical, this silicone water bulb is comfortable, easy to use, and safe for beginners. The medical-style squeeze ball is soft, pliable, and made from 100% medical-grade Elite Silicone. It's phthalate-free, latex-free, nonporous and the safest sex toy material on the market today!
The thin, tapered tip features three spray holes to evenly distribute liquid and detaches from the bulb for easy cleaning. It's perfect for him or her and can be used as both a douche or enema. Fill it with your favorite body-safe solution and enjoy some good clean fun!"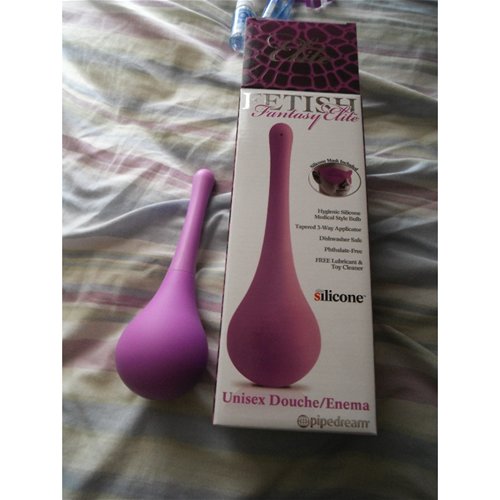 Front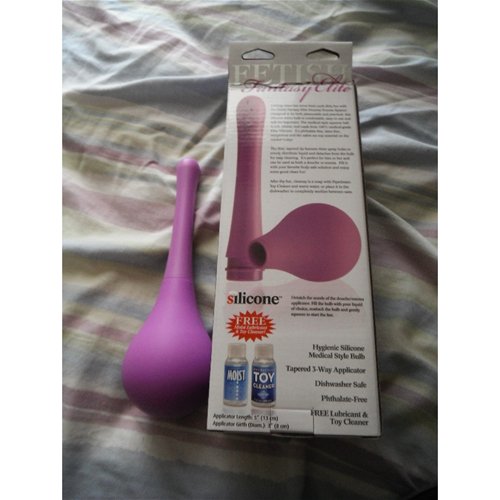 Back
Clean up is super easy. Just detach the nozzle from the empty bulb and you can get started. You can use the included antibacterial toy cleaner and warm water, or throw it in the dish washer, or use soap and water. You may want to invest in a small baby bottle cleaner to give the inside of the tapered end a good scrub and to dislodge any particles that may have gotten stuck in the small holes.
I love the feel of the silicone mask and the bottom half of the bulb. It feels like the silky soft silicone of the Jopen Vanity toy line. It is a lint magnet, so you may need to rinse before use. The applicator is made of a different type of silicone. It feels more like hard plastic, but still has the slight dragging feeling of silicone when you run a finger down it.
The bulb and mask are a much lighter purple then what is shown on the box. When the mask is lain flat, it measures 18.5 inches and has some stretch to it. The length of the enema when put together is roughly 9.5 inches, the bulb is 3.25 inches wide, and the nozzle is just under 1 inch wide. The base can hold up to 6 oz of the liquid of your choice.
Don't use silicone lubricant with this enema. It is silicone!
Pipedream included a silicone mask in the same shade of lavender as the squeeze ball and two 1 oz bottles of Moist Lubricant and their Antibacterial Toy Cleaner with this kit. The mask is thin, and made for people with smaller heads. It has a clasp like those on front closing bras. You have to slip the little plastic key into the top of the hole on the other clasp. It is much easier to get your partner to put it on for you!
The included lubricant and toy cleaner are not paraben free.
Antibacterial Toy Cleaner ingredients: Water, Ammonium Lauryl Sulfate, Cocamidopropyl Betaine, Cocamide DEA, Sodium Carboxymethyl Lauryl Glucoside, Sodium PCA, Propyl-paraben, Methylparaben, Diazolidinyl Urea, Citric Acid.
Moist Lubricant ingredients: Aloe Vera, Nettle Extract, Rosemary Extract, Balm Mint Extract, Ginseng Extract, Water, Glycerine, Hydroxyethyl, Ethyicellulose, Diazolidinyl Urea, Carobpol, Sodium Benzoate, Methylparaben, PEG 6-32, Triethanolamine, Nonylphenol, Citric Acid.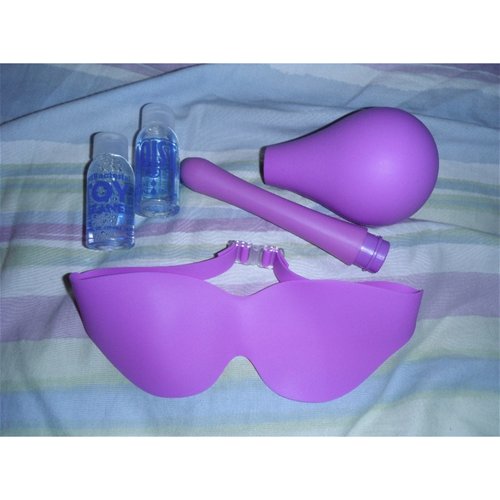 Experience
This is my first time owning an enema/douche kit. It was enjoyable as far as getting an enema can be! It was super easy to use and clean up. I ended up having to reapply lubricant every time I had to re-insert it. It took more tries filling my bum up with the warm water solution then I care to admit and still couldn't get as clean as I would have liked. I loved that this kit was made with silicone. It was so easy to clean and didn't have the funky smell like the rubber enema/douche kits have.

I would never use this aa a douche and would not recommend it! Douching is very bad for your vaginal health. It disturbs the normal chemical and microbial balance of the vagina. Possibly leading to bacterial infections. Douching also may force pathogens up through the cervix, causing uterine infections. Not fun!

Even though it took much longer to clean myself out with compared to an enema bag, it was worth it.
Follow-up commentary
2 months after original review
I really like the Fetish Fantasy enema bulb for being able to sterilize it and how easy it is to squeeze the liquid out.

But, I'm starting to notice that you really need to use this a few times before you can get clean enough (to my standards) for play. It's not really a big deal, but it's still a few extra minutes in the bathroom when I could be out playing.
This content is the opinion of the submitting contributor and is not endorsed by EdenFantasys.com

Thank you for viewing
Fetish Fantasy Elite unisex douche-enema
– anal toy review page!