The best body safe douche that is not a shower mounted unit.
Overall I'm happy with my purchase. The material is nice and the disconnection problem can be solved using a rubber band as explained above. The amount of time needed to get the water where it needs to go is my only real problem with this product.
Published:
Pros:
Body safe material
Can be used as a warm up toy as well
Cons:
Disconnects easily, solved with a rubber band. Time consuming compared to a shower unit.
1: I bought this item because of it's material which I am happy with, it is odorless which means it's not out-gassing. This is the second douche I've bought, the first one I bought was made by Cleanstream and it claimed to be silicone, but only the bulb was silicone, not the tip. The tip smelled so bad that I threw the whole thing away after I realized it had made my whole toy collection stink really bad in just 24 hours. I had to air them out and the bag they were in for about a week for them to be odorless again.
2: It works well except it comes apart pretty easily at the connection point if it's not pulled out straight, the two pieces will come apart and you'll have water all over the floor. I solved this by wrapping a rubber band tightly around the outside where the two pieces overlap. I used a thick blue rubber band from produce which is 1/4" wide & 7" circumference, I was able to wrap it 4 times. Now the bulb will just bend/fold rather than disconnect even if you intentionally try to disconnect them.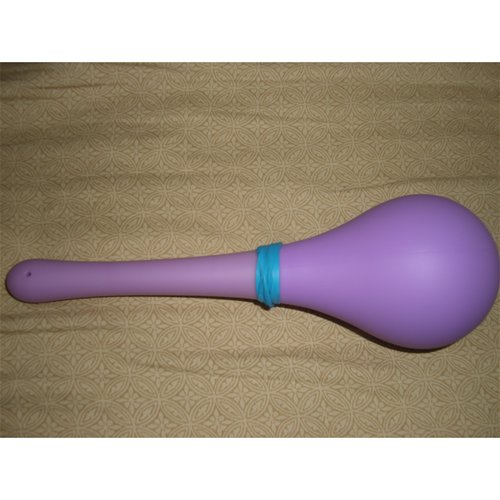 3: The bulb is a normal size but it takes a lot of refills and time to get yourself clean. I think this product is useful for people who have never used a douche before and want to try it without committing to a shower mounted unit but I think a shower mounted unit would be a more time efficient method. It's kind of like eating a cup of soup with an eye dropper. I have never used a shower unit but it's not hard to see that it would be a much faster process.
4: It can be used as a warm up toy on it's own or while your cleaning for some extra fun.
5: The material is smooth, I have used coconut and olive oil as lube and insertion was smooth and painless.
6: It stores nicely when the tip is placed in the bulb.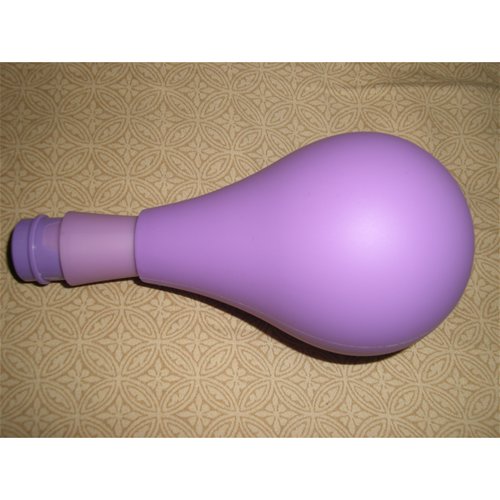 This content is the opinion of the submitting contributor and is not endorsed by EdenFantasys.com

Thank you for viewing
Fetish Fantasy Elite unisex douche-enema
– sex toy review page!