Whipping for more.
This beautiful whip is one piece of BDSM that I really like. The smell of the leather, the feel of it on the skin, and the way it is able to be used on each other. I find it very exciting to me in my experiment with sex. I feel this would be great for a first time with a whip for anyone. I cannot wait to try out more.
Published:
Pros:
High-quality, gorgeous, great for beginners or advanced users.
Cons:
Handle a little light for the weight of the falls. Nothing else I can find so far.
This beautiful whip is very impressive. Doc Johnson has done their homework on this one. This whip is made from faux-leather with a wrist strap, making it easier to keep in hand, and a beautiful rose on the base of the handle. The handle is made of wood and wrapped beautifully with purple faux-leather. The falls flow very nicely from under the purple wrap and hang very nicely as being held in hand. The falls are soft but not too soft, they have the feel of a new leather jacket or a belt that has only been worn a few times. The wrist strap, also made from faux-leather, also comes from just under the handle wrap and is very soft on the skin while in use.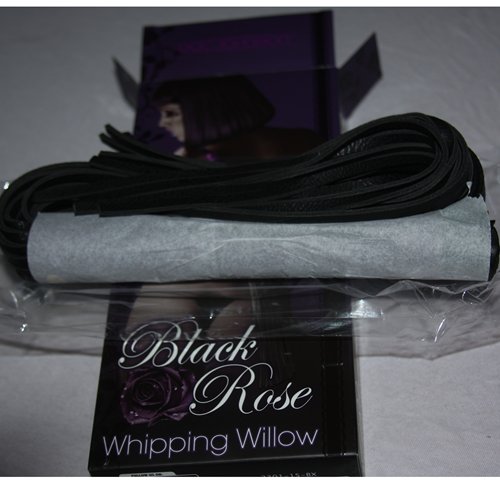 The flowing leather straps are soft but thick and can really make for some fun when in the right hand. It does have a popping sound when swung softly with a little sting from it. When you ramp up the swing of these soft falls, you get a very nice sting, even a bit of a smacking sound from the skin. This whip is good for beginners as well as advanced users. This is a good addition to any collection of BDSM toys.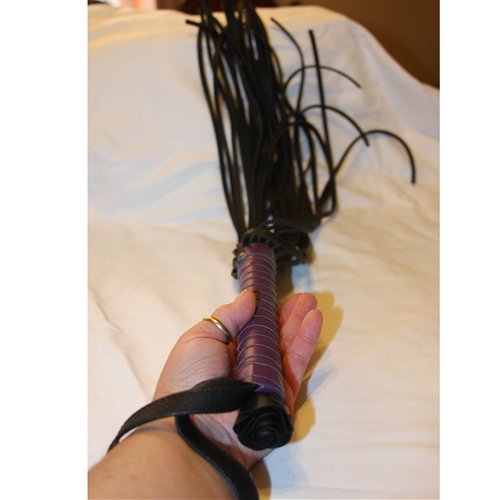 This whip comes in a black box with a photo of a lady with her back to you with nothing but a T-strap on and the whip draped over her shoulder. The name Black Rose with a rose next to it and the words Whipping Willow below that. You could keep the box for storage if you would like. To store this whip, I have gotten a belt hanger from the local Wal-Mart and that is where we have it hanging and hope to add more soon.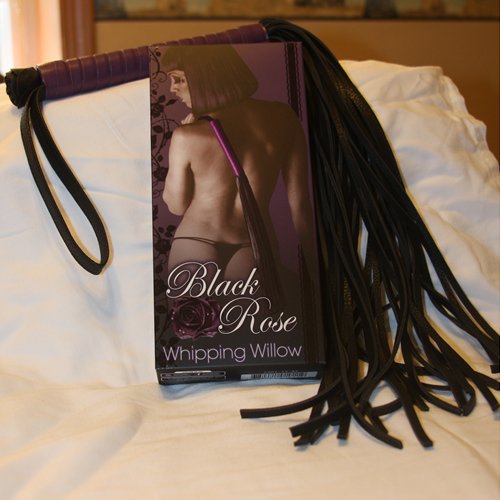 It is made from faux-leather in the colors of black and purple, one small tack that holds the handle wrap in place, and a beautiful black rose on the butt of the handle finishes off a perfect look for this whip. The handle, without the rose, is 7 inches long. The falls are 16 – 16.5 inches long, some are a little longer than others, and the count on them for this one is 27. The falls are 1/4 inch wide and 1/8 inches thick. The handle is 3 1/4 inches around and 1 inch across. The wrist strap is 12.5 inches long, from handle around to the other side, with its opening large enough to fit most men's hand and wrist easily. Full length with handle and falls is 23.5 inches. The rose is about 1 inch tall and 1 inch around as to not take away from the handle. The material safety on the product page says that it is a 7, based on a 1-10 scale and 10 being the safest. To clean the faux-leather, you should not use anything other than a warm damp cloth to whip it down.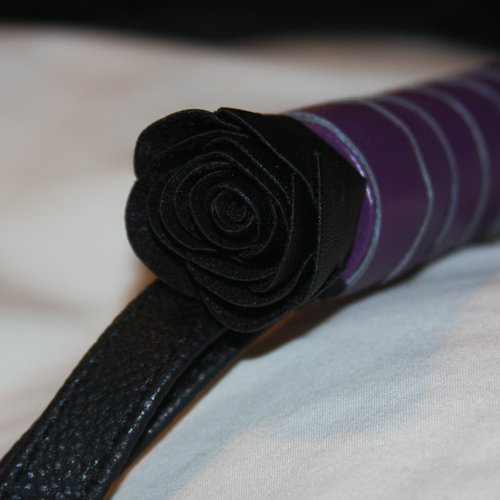 Experience
I found myself loving the soft feeling of the falls dragging on my skin and the little sting gotten from the gentle swing of my lover's hand playfully smacking my skin with them. The falls do have a mild sting when softly or lightly used and more of a burn when used harder. You have a bit of red tint to the skin when you use this whip but it does seem to go away very quickly. I am not one that likes to have marks, or the hard use of a whip or flogger, so this might leave more if used with more force than I have had done.
Follow-up commentary
25 days after original review
We are still enjoying the flogger. It is a very nice toy to have in the toy box. We have used this toy more and more as we get into the BDSM more.
This product was provided free of charge to the reviewer. This review is in compliance with the FTC guidelines.

Thank you for viewing
Black rose whipping willow
review page!