Good Riding (Time of Your Life)
This is a great toy for harness (or non-harnessed) use. Awesome for genderplay, both men and women will love the goodfella. Since it's made of vixskin, you can sanitize it and use it without fear. It wasn't as big as I'd like, but it's really the motion in the ocean that matters and this toy's got moves!
Published:
Pros
Silicone, skin-like, awesome to use in a harness
Cons
On the small side, hard to use in an O-Ring harness
So, uh, that's a pretty weird looking toy. What's the deal with the balls? And the base? What the hell am I looking at?
The Goodfella, by Vixen Creations, Inc. is a realistic dildo designed for strap-on play. The dildo has a full shaft and head, as well as testicles. Directly behind the testicles is a square piece (the base) that allows you to use this dildo for harnessed play while still getting the benefit of a dildo with testicles. That makes this cock a really awesome choice for transmen and people who enjoy gender play; you get a cleaner gendered experience because you get the full look of a functioning cock and testicles. If you've got no interest in strapping this dildo on, no worries: that base makes a great handhold for solo or coupled thrusting--and it means you don't lose any insertable length.
The Goodfella comes in three colours, vanilla, caramel, and chocolate. Mine is the caramel colour. Please bear in mind that this image was taken on a white piece of paper, beside a purple MiMi (for size reference) so please bear that in mind when viewing and choosing your colour selection.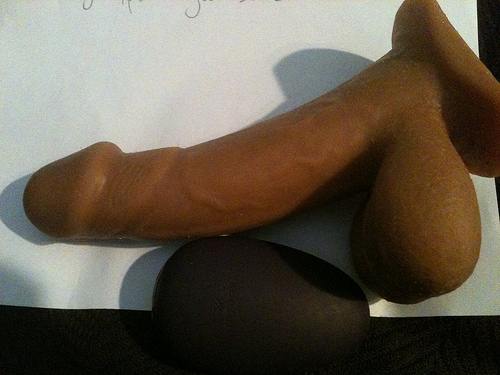 I don't know, I'm kinda new to this whole strap-on thing. How do I put it into my harness?
It's super easy, but it depends on what kind of harness you're using. My recommendation is one of the
SpareParts harnesses
, and I'll explain why in a few moments. If you're using a traditional, O-Ring style harness, you can still use the Goodfella but you may run into some issues with the way the testicles hang. I tried using the goodfella with my
Luxe
and, as you can see...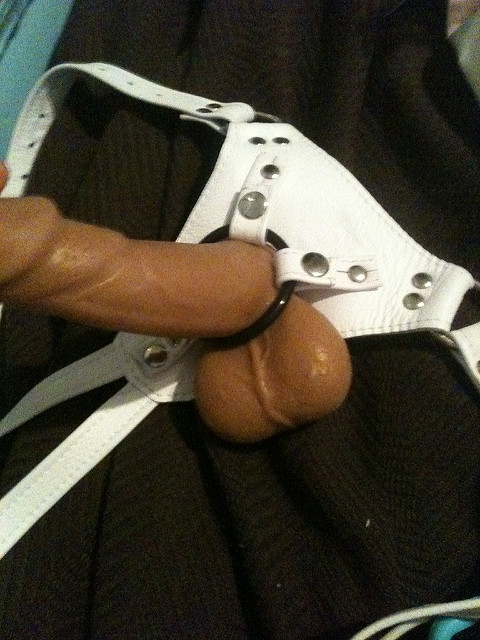 The balls don't sit properly on it because otherwise it's only using two of the O-Ring straps. It's stable without the third, but I'd prefer to use a harness as it should be. It can be strapped in using all three snaps, but you have to move the testicles to one side or another. The other issue is that I had to really jimmy the base into the harness, and that made me concerned I was doing major damage to the leather of the harness itself. For this reason, I'd recommend using an O-Ring harness with the rings in a different position or a non O-Ring harness like the SpareParts ones.
Whatever kind of harness you're using, to insert it, you just back it in ass first (so to speak)...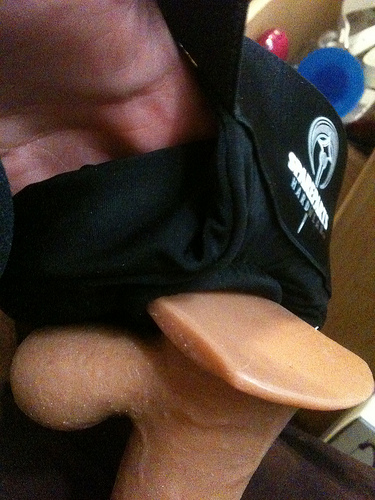 ...and work it in until you've got it seated with the testicles in front and the base in the back.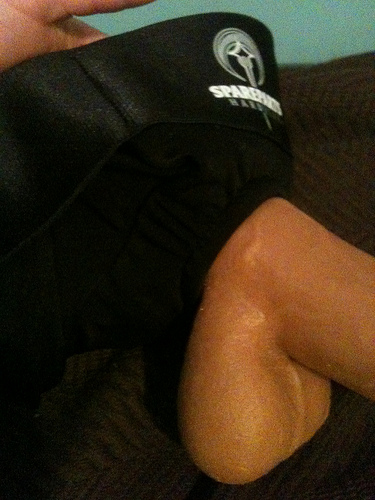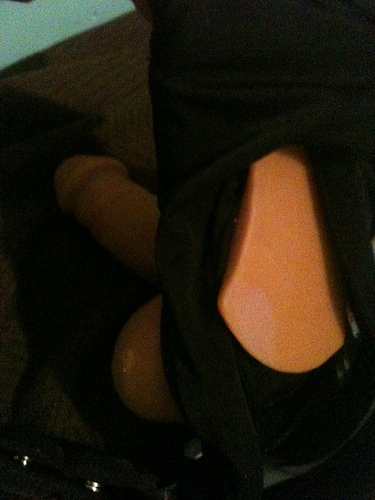 Okay, but does it REALLY look like a cock?
It looks as much like a cock as a dildo with a big base is going to! It's very realistic, I must admit. It measures 7" long (including the base) with 5 1/2" of insertable length, making this a quite average cock. The circumference measures 5 1/2" and it weighs just over 12 ounces, so it won't give you a workout during use. It feels solid, but not heavy.
The dildo has a very detailed head (glans) and foreskin, and the shaft has raised veins and a pronounced ridge (raphe) running along the entire underside of the cock. The testicles have small veins as well, and what appears to be razorburn.
The cock itself is angled slightly upward with a tilt that will provide nice stimulation to g-spots and p-spots. It's bendy and flexible, and the testicles can be squeezed, pulled and squashed. The tip of the cock is also very plush, whereas the rest of the shaft is solid with a firm inner core. The base of the cock is a much firmer silicone, and does not bend easily, probably to provide stability during harness use. The dildo does feel fairly flesh-like, but I am unable to provide a comparison to an actual cock.
So, how was it, you know, IN USE?
It worked well in use; it's got a nice curve to it for g-spot stimulation (though it wasn't firm enough pressure for me, I know that lots of people will adore it for that). When it was in-use, it felt firm and solid, but not hard like some silicones can be. Maybe it's just me, but it doesn't FEEL soft in use--but that doesn't mean it's uncomfortable. If it was a bit longer, I would use it more, but I just find that it's too small to be more than just a warm-up toy. As a strap-on cock it works well; the base provides a lot of stability in a harness, and it's got a great handhold when you're thrusting it manually.
Experience
Well, can I wear it out to a bar? Is it going to be super obvious?

For hard packing, I'd give this a thumbs down. Because it's very obviously an erect cock, it's hard to arrange the dildo so it's not abundantly obvious that you've got a great big hardon. The best recommendation I can give for hard packing this would be to wear it under several layers of clothing (like put your harness on, then put some briefs on, and some boxers, some long johns and then a pair of jeans). Maybe then it won't be QUITE so obvious. However, if you're going for obvious, this'll be awesome.


So once I get home from that bar, how do I store it?

VIxen's packaging recommends that it be stored upright in the box that it came in to maintain its shape. Unfortunately, the packaging is pretty utilitarian and ugly; a simple clamshell box that's a lot bigger than (I think) it needs to be. It's also got about 0 discretion to it, since the clamshell is clear. The next time I come across a smaller clamshell, I'm definitely going to follow their directions with a bit of creative license. No matter whether or not you ignore their instructions, you should make sure you never store this against other toys--especially silicone ones--as that can make them melt (and how tragic would that be?!)


So what's it made of? How do I take care of it? I'm busy, you know, so I don't have all the time in the world to clean.

Don't worry, I don't have hours to devote to cleaning a dildo, either, but as luck has it Vixskin (what the Goodfella is made of) is super easy to care for. Vixskin is made of silicone combined with angel tears*, making it soft and skin-like, with all of the aspects of silicone we love. Vixskin is nonporous and totally sanitizable by boiling, dishwashing or bleaching (10% bleach, 90% water). Due to the silicone nature of Vixskin, you should not use silicone lubes with the Goodfella; water based lubes only.

Daily cleaning can be done with antibacterial soap and water, and you should make sure to give it a rinse before each and every use, as it can collect dust and lint.


But can I use it with my partner?

You can; because it can be sterilized you can share this with partners and use it in different orifices--if you don't plan on giving it a proper cleaning between uses, you should definitely use a condom with it. The curve of the dildo will also provide nice P-Spot support, and the plushness of the head will make entry easier all around.



*No angels were harmed in the making of this product.
This content is the opinion of the submitting contributor and is not endorsed by EdenFantasys.com
Thank you for viewing
Goodfella
– realistic dildo with balls discontinued review page!