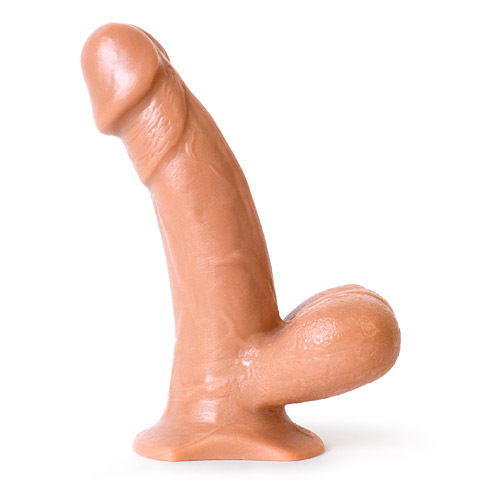 Goodfella
Realistic dildo with balls discontinued
by Vixen Creations
Our New Lover Is Vampire Proof
The Goodfella is responsible for the most enjoyable dildo play I ever experienced in my entire fifteen years of exploring sex toys. It's a fantastic buy and I highly recommend it for anyone interested in double penetration fantasies, gender play, or MMF threesome role-playing.

The price tag might make you scoff at first, but I sincerely assure you that it is well worth all of those pennies. This is my new go-to dildo for most play sessions.
Published:
Pros
Realistic Look, Great Feel, Detailed, Firm Core for Thrusting, Softer Exterior for Comfort
Cons
A Little Rough on the Thighs, Gotta Save Up Those Pennies!
The Technical Stuff:
Goodfella from Vixskin Creations is an odorless/tasteless, dual density silicone dildo made from food grade, phthalates and latex free, hypoallergenic material with a safety rating of 10. I ordered the caramel version to contrast my pale skin tone.
Dual density means that it is soft on the outside and firm on the inside. This creates the illusion of a real penis. The material warms up to body temperature within just a few moments, which is something I love. Nothing is worse than a cold cock on your skin.
It is boilable, bleachable, dishwasher safe and can be cleaned with ordinary soaps or toy cleansers. Compatible with oil and water based lubricants, it is not recommended for use with silicone lubes. The manufacturer recommends storing it in the original packaging, standing upright and separate from other toy materials.
I believe this is a great dildo for anyone and everyone. The girth is slim, but filling and the length stops it from being a cervix banger (unless you want it to be). The balls have substance and are useful as a handgrip. They slap nicely against the skin, creating that "pop" sound I love to hear.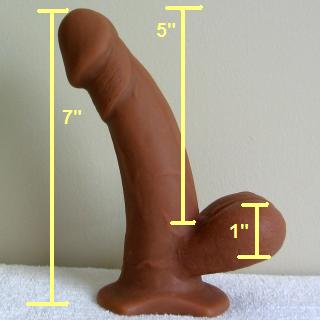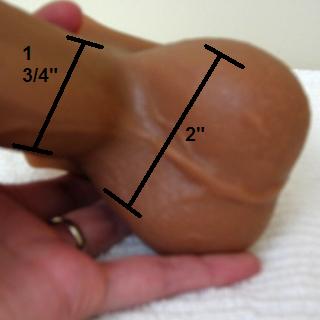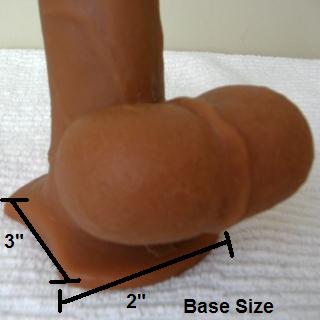 The incredibly awesome thing about the Goodfella is how flexible it is. This is where the dual density core really comes into play. It's firm enough not to flop out of an orifice on its own, but soft enough to not mutilate the hole you're pounding with it. With my large TPR toys (my largest is 9" insertable with a 6" circumference), I found it was really hard to say naturally lubricated but I didn't have that problem with the Goodfella.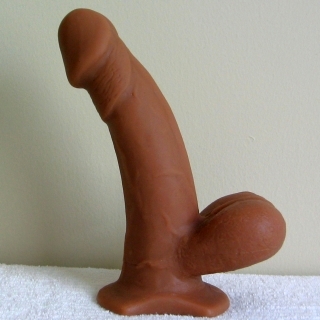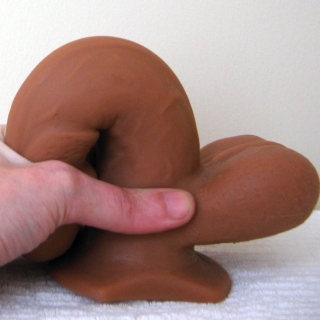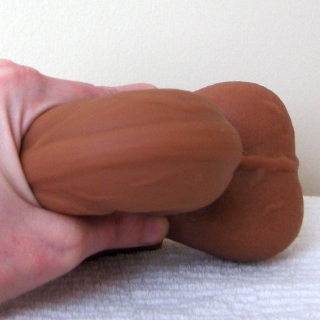 I can see why other reviewers have described this dildo as "plushy". It is quite luxurious and I can't help but want to play with it all the time. When I squeeze it, it moves. I can feel the outer layer depress and then stop when it reaches the inner core. It's unlike any dildo I've ever felt before. And I've had many.
Below are pictures of the Goodfella next to the
Doc Johnson Platinum Silicone Super
. Look at the difference between the textures of the two. The Doc Johnson dildo is very hard, isn't all that flexible and the lines are more rigid. The Goodfella is softer, rounder and the surface gives when you run your fingers over it. There is also a nice curve to the shaft for g-spot/p-spot stimulation.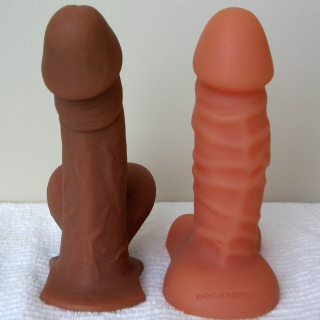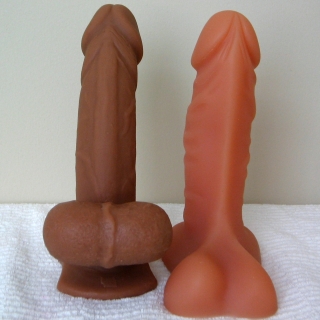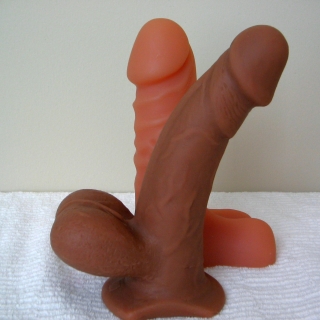 The Fun Stuff:
My first impression was it is too small. We enjoy the visual of a large cock in tiny places, but those weren't ideal for multiple sessions for me. My vagina would protest by drying up and clamping down, creating small tears in my skin and pain. Not sexy. I needed something slimmer and more petite to really act out our fantasies of double penetration.
My first solo session quickly put to bed my fears about the size. I still felt full. I could easily thrust without my forearms getting tired and the balls really added to the fantasy of being fucked by another man's cock while my husband watched. He kept murmuring that it "looks so real". I even think I got a "well done!"
For the second session, we went for a lazy double vaginal penetration. He was on his side and I on my back with my legs thrown over his. I was able to penetrate with ease. At first, the dildo didn't drag, but a few minutes into it I had to twist the dildo to naturally lubricate the underside. That was also easy to do. Thrusting in unison proved to be no problem, either. He could feel the balls against his own skin and I could feel the dildo and his penis switch positions inside of me. He said he could feel the temperature changing with the mounting friction. If the sensation became too much, I could easily hold either of them in position while the other thrust. It was absolutely amazing and has been by far the most pleasurable double penetration experience to date. We rounded it out with a doggy DP, with me using the dildo from underneath. I could easily maneuver the dildo to stroke my g-spot while he went for my cervix (I really do love that).
The third session was all about the oral sex. I loved the feeling of the material on my tongue and more than that I loved not worrying about scraping my teeth on the shaft. I lost my head and bit down hard on it. There were intense teeth marks, but I rubbed them out in a few minutes. Any other dildo would have been wasted if I had done that.
Experience
Cont'd:
I could easily take it to the balls without gagging. I've never wanted to give an inanimate object head so badly before. No taste. No smell. Balls I could squish as hard as I wanted and move with my fingers. The base gave me a place to hold onto to keep it steady. Now, if only I could get real cum out of it I would nominate it for dildo of the century.
Finally, there is gender play. I have two harnesses;
the Pete Commando packer
and a leather harness. Goodfella's base sits behind the balls so it may not be compatible with all harnesses, but given how flexible it is you should be able to thread it through by pinching the base together on either side.
The Pete Commando is meant for soft packers and is more like underwear---the Goodfella will not fit in the top pouch. It's too long and too hard with too much of a curve. Bending it is of no use either, there just isn't enough material. I tried to sleep through the night using the Commando harness and the Goodfella. I sleep on my stomach and it felt good pressed up against my belly, but I had a really hard time rolling over. I tried laying on my side with the dildo pushed behind my thighs, but I found myself pressing my knees together in an effort to keep it from popping up. I'm surprised I didn't dream I was a bull in a china shop. I took it off after four hours.
I woke up with an aching back that continued to get worse throughout the day. I had to take a mild prescription pain killer to level it out. I tend to have lower back problems as it is, and the weight of the dildo plus the straps just added to the problem.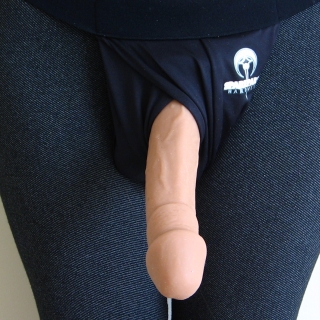 Pete Commando Packer Harness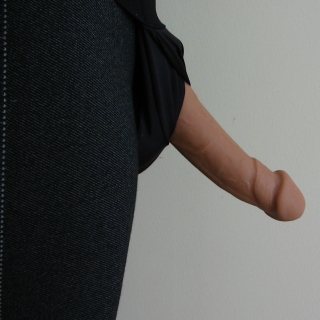 The leather harness is perfect for this dildo. The balls hang out in front of the panel for easy access and a very nice visual. The base fits really well without any extra room. The diameter on my harness is 1 1/2" wide.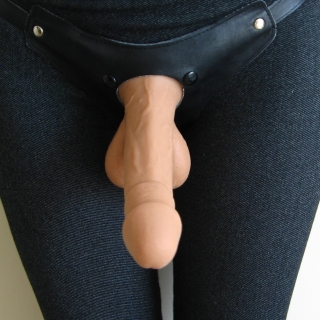 Leather Harness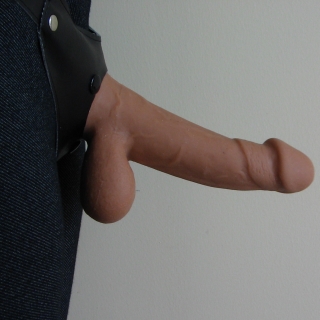 Now here's the rub, literally. When it comes down to gender play the only downfall with this dildo, or any dildo for that matter, is the potential to rub your thighs raw. (Totally makes sense why men are covered in thick hair in that area.) But, it's counter-balanced by the shape of the base. The curvature of the sides makes it easy to position the dildo between my thighs and directly over the vagina for a comfort fit.
There's no way anyone could pay me enough to wear this dildo in public as a packer. A constant hard-on is not the look I am going for, but it's super awesome in the privacy of my own home.
In conclusion, I'm really glad I spent the money on this dildo. It's a fabulous addition to our collection and I can't wait to explore many, many more fantasies with it. It earns five stars all the way around, even if it does collect a little bit of lint and dirt on occasion.
This product was provided at a discounted price in exchange for an unbiased review. This review is in compliance with the FTC guidelines.
Thank you for viewing
Goodfella
– realistic dildo with balls discontinued review page!