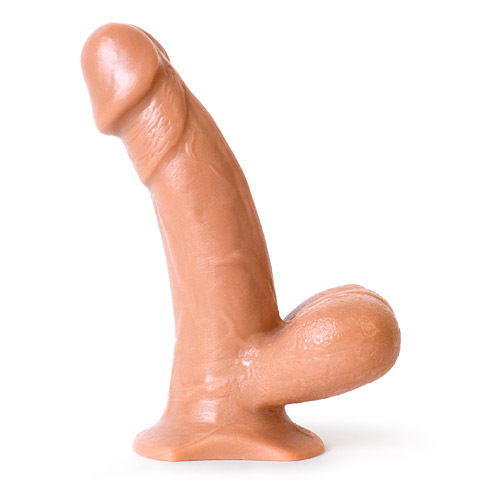 Goodfella
Realistic dildo with balls discontinued
by Vixen Creations
Great for Play! Bad for packing!
The Goodfella really raises the bar on realistic silicone. It offers friendly size, unsurpassed comfort, and a delicious shape. As long as you don't do anything silly like try to pack it, it is a great investment that will last a very long time.
Published:
Pros
Accessible size, realistic dual density, 3D balls, extra comfortable, boilable
Cons
Doesn't live up to packing claims, no lifetime warranty, takes longer to put in harness
Originally I was just looking for a smaller sized option amidst Vixskin's line of monster cocks. With it's unique three-dimensional balls and higher price tag, I wrote the Goodfella off as a specialty item. I am so incredibly glad that I reconsidered.

The Goodfella arrives in Vixskin's clear, reusable clamshell packaging. I went with the caramel this time and even though the vanilla is closer to my skin tone (just a bit lighter), the caramel looks more natural and I'll be sticking with it from now on. It's really not as dark as it sometimes looks in pictures.

Total length is 7" with 5.25" insertable and about 1.5" in diameter at the widest insertable point. In other words, close to the size of the average erection and a great cock to lead off with for that reason. It has a handsome curve (though it still sits at half mast) and a whole host of realistic details, including a ridged head that can provide soft g-spot stimulation. The head is especially compressable because the firm core ends beneath it. The balls sit about a centimeter from the base and in front of the O-ring. As far as nuts go they are rather high and tight, but they're squishy all the way through and playing with them is pretty addictive.

Vixskin dual density silicone is a gold standard material and it looks and feels absolutely wonderful. It is the perfect mix of squishy on the outside and firm on the inside. It's body safe, non-porous, and can be thoroughly cleaned for sharing. Without lube (water-based, not silicone!) the surface has a fair amount of drag, but a bit of cornstarch gives it a velvety texture.

This is my absolute first choice cock for blowjobs. I completely underestimated the visual effect of having balls in front of the O-ring for your partner to lick and play with. It adds a whole new variety. The size makes it a good candidate for deep throating and Vixskin is odorless and tasteless (although vulnerable to teeth marks). If purchased for blowjobs and nothing else, it would be worth every penny.

But the balls aren't just for show. When you thrust in balls deep, your partner is coming in contact with soft, heat-retaining silicone instead of a hard O-ring. It is way more comfortable, which means longer and harder fucking. Plus, what other cock offers you the chance to have true to form ballslappy sex? I didn't expect ballslapping to pack such a psychological punch, but it really does.

Because of it's unique shape, putting the Goodfella into a harness works differently than most dildos. Instead of pushing it forward through the O-ring, you back it in base-first, bending edges to fit it in. It works best with a flexible rubber O-ring of around 1.75" diameter. With the Aslan Jaguar I unsnap the O-ring and put the base through the ring first before it goes through the hole in the harness. It takes a bit longer and I would recommend doing it before you put the harness on your body. To save time I just put it into a harness after each cleaning so that it's ready to go.

Check out the experience section for my comments on packing the Goodfella. To summarize: this amazing cock is NOT GOOD FOR PACKING!

But you can certainly pack it into a suitcase for travel. Just keep in mind that it attracts lint and the attention of anyone who happens to come across it. Keep it clean by boiling, wiping with diluted bleach, or a run in the top rack of a soapless dishwasher cycle. Ideal storage would be upright and away from sharp objects, transferable dyes, and rubbers of mysterious origin.

I subtracted a star for not following through on product claims and lack of lifetime warranty (it sucks that it could get damaged and Vixen wouldn't replace it like they would other Vixskin cocks damaged under reasonable use). That is no reflection on how this cock is in action, five stars all the way on that. Even though the Goodfella isn't a real pack-and-play option, it offers elements in the play arena that no other harness-compatible cock on the market has matched thus far.
Experience
I was very curious to see how the Goodfella would stand up to Vibratex's pack and play cock, Silky.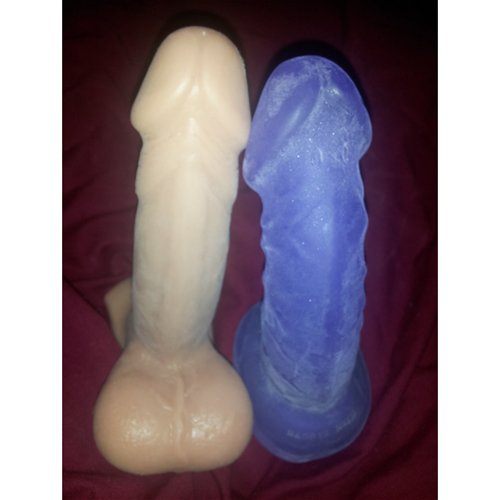 (The dust on Silky is cornstarch)
Despite being breakable and made of elastomer, Silky is the only cock I've used so far that truly delivers on the pack-and-play concept. Silky is a bit larger than the Goodfella yet packs comfortably and discreetly (not as discreet as a soft pack, but still reasonable) because it's interior spine will bend and hold different curves, giving it the ability to be up when you need it and down when you don't.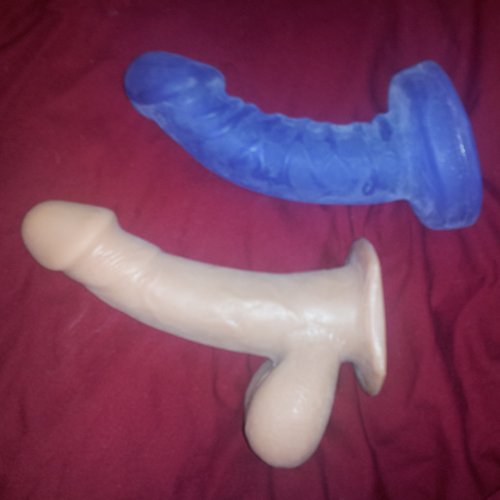 I am honestly confused by the claim on Vixen's website that the Goodfella was designed for both play and packing. It excels at play but fails the packing test. Vixen makes a packing cock, so they of all people should know what makes a cock packable. Every flexible dildo is not automatically a packing cock. It's true that packing success varies amongst different body types and clothing choices, but clothing can only do so much and a true packing cock should have a chance in hell of looking reasonable. You can put clothes on over the Goodfella, but there will be a really obvious bulge. It's not about size, it's about angles. The Goodfella can't hold a down position on it's own. The firm inner core has a set upward arc that it wants to maintain. You can try to confine it under clothing, but it will always strain to stand upright just like a flesh and blood boner. Not something I would pack unless you're comfortable sporting serious wood all day.
Also can't forget to mention: packing will DESTROY the Goodfella. All the dry rubbing will cause tears and keeping it bent under clothing will put the firm core under constant stress and ultimately kill it's functional value. Vixen recommends storing Vixskin cocks upright to maintain their shape. If you stored them all bent and rolled up, they'd warp and tear too. Since they decided to call it a packing cock, Vixen does not offer their standard lifetime warranty for the Goodfella. As Kitty from Vixen put it in an email to Mr. Sexsmith (published on sugarbutch.net) "It simply cannot take being bent back-and-forth on a daily basis as the Vixskin is rather delicate." Where was this in the product description? I don't understand why they would make such a beautiful high quality product that could potentially last forever and then recommend it for activities that they know will ruin it. If you decide to pack it anyway, good luck you ballsy mofo.
Follow-up commentary
4 months after original review
I am still crazy about this cock. For partners who want a moderate size there is nothing better, plus the 3D balls are good for keeping things comfortable when things need to be gentle and then slapping around during a hard fuck. If they made a larger version I would snap it up real quick.
This product was provided at a discounted price in exchange for an unbiased review. This review is in compliance with the FTC guidelines.
Thank you for viewing
Goodfella
– realistic dildo with balls discontinued review page!