In a Purrple daze
While the texture of the Purr may not prove to be for everyone, it is well designed with a gradual taper and less severe ribs than the product photos may have you think. A great alternative for those who want a dildo with a different form of texture than the usual ridged head.
Published:
Pros:
Beautiful pearlescent, slightly curved, pleasantly textured without being too intense.
Cons:
Bullet lets it down.
Having a growing collection of Tantus toys that never seem to disappoint, I was drawn to the Purr and its unusually heavily ribbed design. As confident as I was that Tantus toys are great quality silicone toys with generally thoughtful designs, I knew that the ribbed texture of the Purr was something that is something that can be a hit or miss and comes down to personal taste. Having never used such a heavily ribbed toy I thought who better to introduce me to the texture than Tantus. It was one of the few Tantus purchases that I ever felt too nervous about but the Purr was a slightly risky investment for me which I knew was bound to either go down a treat or end up being a lesson in my sex toy tastes.
Packaging:
The packaging of the Purr is Tantus' usual style of packaging, a clear plastic box which is free of any sexual imagery. On the back and sides of the packaging you will find plenty of information about the silicone used in Tantus toys. As the clear plastic box is so transparent it gives the advantage of being able to see the toy from every angle while it still sits in it packaging. As happens from time to time with Tantus packaging, the plastic had been slightly damaged during shipping, as much as I like Tantus' simple clear packaging, the plastic can be quite sharp and easy to cut yourself on when in any way damaged or torn.
First Impression:
Seeing the Purr in person for the first time I fell in love with the beautiful pearlescent shade of 'Purple Haze' which is a much lighter shade of purple than Tantus' 'Midnight Purple' shade. The Purr is also available in an equally pearlescent 'Pink Pearl'. The surface of the Purr looks smooth and shiny with a sheen that can even be seen in dim lighting and appears almost metallic looking at times with a shade of electric blue being the main colour that shows when the Purple option is held up to light. Looking closely at the Purr, the silicone has a uniformly fine shimmery look.
Looking at the ribs on the Purr in person they are not as deep as I initially expected when judging by the photos on the product page. With 17 ribs running along a space of 5 and a half inches of the shaft, in person the texturing really didn't look as severe as I worried it might be. The head of the Purr is completely smooth and is thicker than the shaft without being bulbous. The slightly thicker head mixed with the gradual curve of the Purr, I hoped, was a good indication that the Purr could provide a decent level of g-spot stimulation.
The base of the Purr is small compared to most Tantus toys. It is slim and flexible with a diameter of just 2 Inches. Its flexibility makes it comfortable to hold even for those like myself with petite hands. While the Purr is listed as being O-ring harness compatible, I immediately had my doubts that it could stay well put in a harness unless used for the gentlest of strap-on sessions.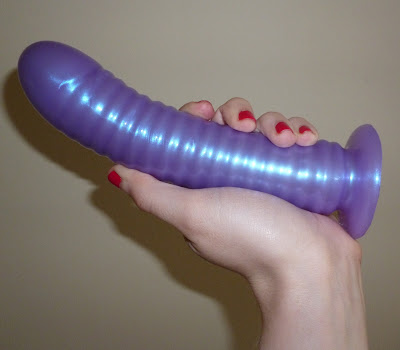 Measurements:
Total Length: 7 Inches
Insertable Length: 6 ½ Inches
Circumference: 4 ½ to 5 inches
Base Diameter: 2 Inches
In Use/ Experience:
Using the Purr for the first time I found it needed a generous amount of water based lube to coat its ribbed shaft and counteract its typical silicone 'drag' to a point where I felt ready to attempt its tempting but initially intimidating texture. The smooth rounded head of the Purr feels great when lubed up and makes a great clit rubbing warm up, combine this with running the (lubricated) ribs of the Purr along the clit and the Purr proves itself to be a fantastic warm-up for, well...itself. The smooth 1.5 Inch thick head of the purr is easily and comfortably inserted and the transition from smooth head to ribbed shaft is made easier by the fact that the shaft tapers down slightly.
The ribbing is actually felt less than you would expect and the addition of lube means that while the ribbing can be felt most around the opening of the vagina and in the first couple inches, the ribs do slide and create a pleasant and unusually attentive sensation for a dildo. The only way I can describe it is as feeling like the walls of the vagina are being massaged in a way that even dildos with the most ridged of heads can't manage. At no point do the ribs even feel anywhere near as severe as a deeply ridged head but the 17 slightly raised ribs work together to deeply satisfy without being too intense.
Experience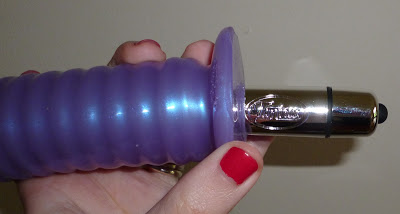 I've noticed that a short session with the Purr leaves me as satisfied as much longer sessions with other dildos so as someone who tends to enjoy particularly long sessions with dildos this is my go to dildo when time is short and results are needed quick. The shortest session with the Purr is surprisingly able to fulfil needs rather than leave you with post quickie frustration. The gradual curve of the shaft means that some g-spot stimulation is gained from the Purr but this is only slight.
Bullet/ Vibrations:
And with all that talk of how well this works as I dildo I got this far without mentioning that the Purr is of course not just a dildo but also comes with a bullet vibrator which sits inside the base of the toy and can be easily removed for washing of the toy. The reason why I managed to make it this far without mentioning it is that, well it is pretty forgettable or even disposable as far as bullets go. With just a single speed which is noticeably weaker than most bullets I've ever owned, the bullet is where this toy is let down.
Silver in colour and shiny with a simple black push button, it even has the name Tantus engraved into it. Powered by three LR44 watch batteries, there is only one vibration speed. The vibrations are loud and not as powerful as you would hope for a bullet that is intended to make a seven inch dildo vibrate. If you are a fan of strong vibrations there is a good chance this bullet won't even do it for you when used alone clitorally. I don't find that the vibrations from the bullet have much impact or travel too well through the Purr but you can always see if your favourite bullet is a good fit in the Purrs base instead.
Having tried bullets from a few other Tantus toys over the years, I have generally found them to be a disappointment and have noticed that Tantus have since begun overhauling them. I recently purchased the Tantus Goliath and was relieved to find a different and actually half decent bullet included with that.
Material Information:
Made of a quality silicone, The Tantus Purr is and both Latex and Phthalates free. Silicone is completely non-porous meaning that it can be fully disinfected by boiling it in a saucepan for just 3 minutes or by throwing it into the top rack of your dishwasher or it can be simply washed after use with warm soapy water or specialized toy cleaner. It is generally recommended that you don't use silicone based lubricants with a silicone toys. I would recommend using a water based Lube. Between the typical drag that silicone has and the amount of texturing this toy has I find lube is always needed. I would recommend keeping the Purr in a zip sealed bag, like most silicone toys the Purr can be a serious lint magnet and this keeps it lint and dust free in between uses.
-Compared to the Tantus Adam and Tantus Vamp-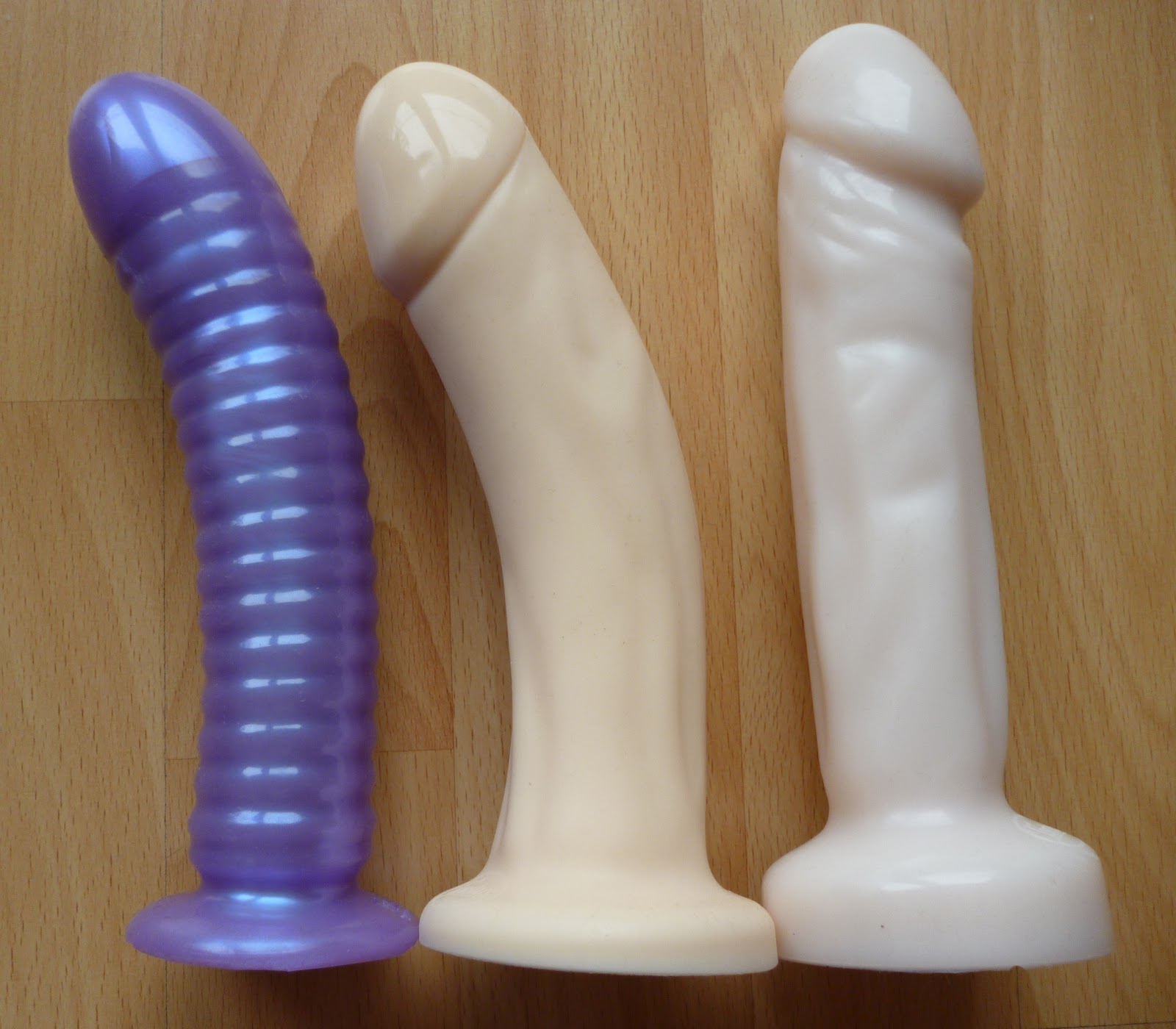 This content is the opinion of the submitting contributor and is not endorsed by EdenFantasys.com

Thank you for viewing
Purr
– strap-on dildo review page!