~*Bothrium Beauty, Version 2.0*~
After the magnificence of the Tentacle, it's hard for a sea-themed toy to make waves, but Tentacle Jr. does a respectable job. It's as gorgeous and soft as the original, but more user-friendly with a simple curve and O-ring compatibility. However, its extreme flexibility can prove troublesome for penetration, so in my opinion it doesn't quite fill the shoes of its predecessor.
Published:
Pros:
+ 100% High-quality silicone
+ Gentle curve and smaller girth than the original
Cons:
- Too flexible
If the girthy beauty of
Whipspider Rubberworks' Tentacle
gives you pause, the slender proportions of "Junior" may be more to your liking. The smaller yet slightly taller version of a cephalopod appendage is smoother and straighter than the original Tentacle, and less challenging to the inexperienced.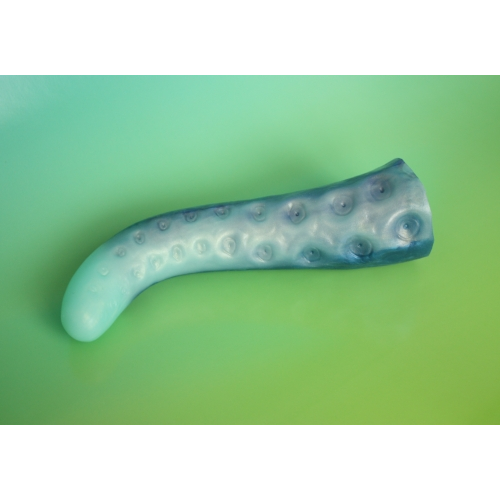 My Tentacle Jr.
measures
7½" tall, with a 1" diameter at the tip, a diameter of just over 1½" at the midpoint, and a base 2¼" wide. Though he stands 7½" tall, when accounting for the curve Junior's overall length is closer to 8¼". He
weighs
in at just over 9½ oz. (273g).
The
color
of this toy is pearlescent blues with some green towards the tip and a curvy stripe of "pure glo pigment" along the body which will glow in the dark if you let the toy sit in the light. According to the maker there should be some purple swirls, but I don't really see any on mine. And as always, there is a dash of black on the bottom: the embossed logo featuring their eight-legged mascot. If you look hard enough, you'll also find the maker's initials carved somewhere on this
objet d'art
.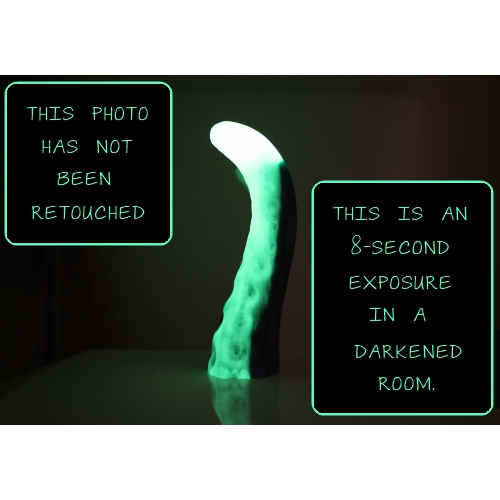 The slender tentacle is
made from
high-grade silicone and is nonporous, latex free, phthalate-free and hypoallergenic. The surface
texture
is smooth on one side with suckers running the length of the other. The suckers are not as scary as they might sound. They are far more shallow than the pronounced nodules on the Tentacle.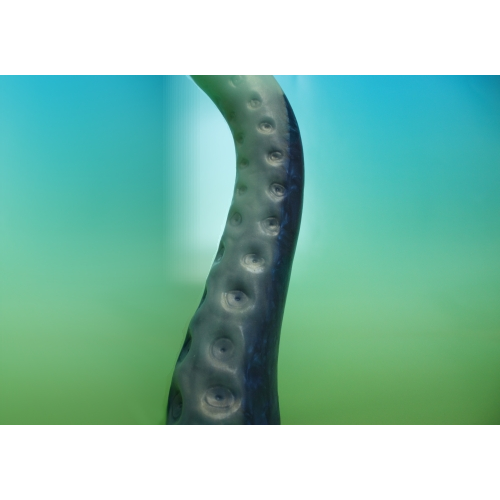 The Tentacle Jr. can be handheld or mounted in an appropriately sized O-ring. The base of the toy is wide, however there is no flare, which is generally considered unsafe for anal use. There is probably room for debate on the topic since the toy is between 7½" and 8¼" long.
After the fun times, it can be
cleaned
with soap and water, or sterilized by a three-minute boil. Should stains prove sticky, a dip in a 1:10 solution of bleach and water should solve the problem. (
About.com has instructions for making a 1:10 solution safely.
)
Whipspider Rubberworks' silicone is a dust magnet, so invest in an
Eden toy pouch
. The Ziploc-like one the tentacle comes packaged in should be recycled immediately, though you can hang on to the 4" x 6" index card for reference. A toy of this quality can last for a very long time, however it must be protected from sharp objects and silicone-based lubricants.
Experience
I am quite satisfied with my first
Bothrium Beauty (1.0)
but the more the merrier, one can never have too many glow-in-the-dark toys. So I decided to say
bienvenue!
to another tentacle from the talented threesome of Maine. I love the original tentacle, but I am not a size queen, so a "firm but flexible" version, less textured and with a more gradual increase in diameter sounded like a gift from... Poseidon.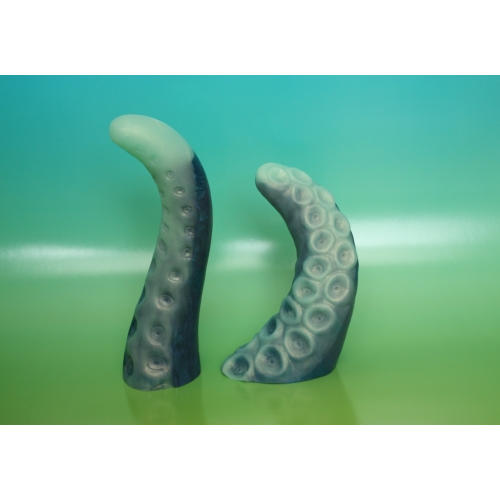 Whipspider's quality is unquestionable and I already knew from research on my first tentacle that the pure glo pigment is "nontoxic and becomes completely inert once cured into the silicone" so I placed an order without worry.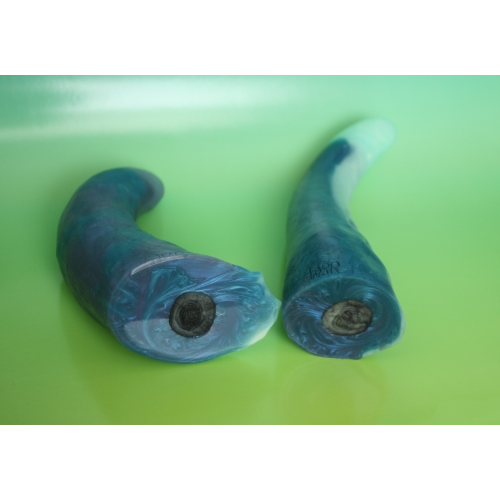 My toy arrived and it was as lovely as expected but surprisingly heavy. I placed it on the scale and discovered it weighs just over ¼ oz. (8g) less than the original Tentacle. Like the Tentacle, it comes in a see-through plastic bag with a Whipspider Rubberworks information card. The plastic bag is cruddy, and the card is the same for every Whipspider product, so I sent both to the recycling bin.
When it came time for the nitty-gritty, Junior was great for teasing purposes. The silicone has a very light drag to it and the longer length has greater maneuverability, however, the toy's flexibility made it difficult to insert. My anatomy is somewhat "tight" and the slender tentacle did a lot of bending and very little penetrating. I thought adding some
water-based lubricant
might help, however it just added more slip-n-slide to an already slithery problem.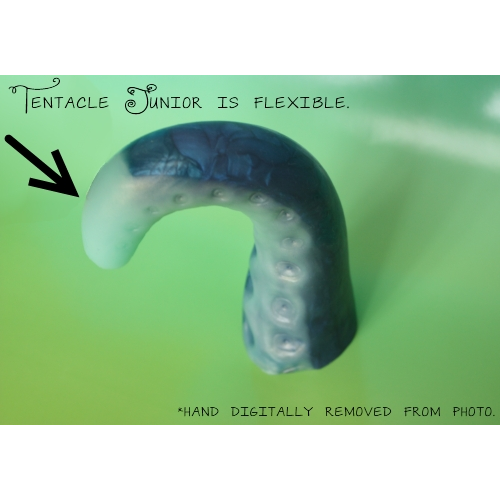 With a concerted effort it was finally able to plunge into my depths — and it felt wonderful — but I was unhappy with the amount of work I had to do to reach that point. High quality and originality are welcome additions to my play chest, but the learning curve for Junior dampens my enthusiasm. With more experience I expect for it to become easier to use, but for now I'll probably stick to the original Tentacle for play, and leave this skinny progeny as the "pretty art piece" on the shelf.
This content is the opinion of the submitting contributor and is not endorsed by EdenFantasys.com

Thank you for viewing
Tentacle jr
– sex toy review page!