~*Bothrium Beauty*~
You could use the Tentacle just as conversation piece as it's so well crafted and beautifully made — but why deny yourself the pleasure of feeling its soft, spiraling suckers on or in, your body? If the idea of intimacy with squid parts weirds you out, think of it this way: cephalopod tentacles are muscular hydrostats and humans have those too … our tongues!
Published:
Pros:
100% Silicone
Glows in the dark
Unique piece of art + toy, all-in-one
Cons:
Widens quickly
Curve may present problems if partner is handling it
Whipspider Rubberwork's mission is to create unique pieces of interactive sculpture that look equally good on the shelf, or in your lover's hand roaming your body. The three good friends from Maine succeed admirably with the Tentacle, fashioned after things which lurk beneath the waves:
This outlandish offering is made from high-quality silicone and a "very small amount of pure glo pigment which is non-toxic and becomes completely inert once cured into the silicone." Translation: don't be afraid of the eerie glow, it's completely safe. The Tentacle is also non-porous, latex free, phthalates free and hypoallergenic. The suckers extend the length of the toy in a helix pattern, alternating nodules with smooth spans.
The Tentacle mimics a cephalopod arm right down to the bioluminescence. There are lots of pictures on EF and Whipspider's site showing the beauty of
le tentacule
, but expect to be dazzled when you finally get it in your hands.
C'est très joli!
The main color is pearlescent blues, with a healthy dash of purple and a frosting of white which turns day-glo green after you let it soak up some sun.
The only portion of the toy not sea-colored is the black Whipspider logo on the base. Clearly they take pride in their designs, embossing the core and carving their initials:
Strangely, the tentacle does not form a perfect "C" shape because of a twist approximately half way up the shaft. The bend photographs oddly sometimes, but works well with female anatomy. It may however prove a challenge if your partner is doing the steering. (More on that in the experience section.)
The soft, rounded tip has a modest 1" diameter and quickly widens to 2 1/8". The total height measures 7", though the insertable portion will vary according to the girth you can withstand. Don't be surprised to discover your inner size-queen. The Tentacle is delightfully squishy and petal soft on your insides.
The Tentacle is meant to be handheld, though the more industrious might be able to convert it to harness use via sharp implements — proceed at your own risk. It weighs in at 9 7/8 ounces (about 281g), which is more than the half pound weight advertised. It's more than double the weight of my favorite Tantus item, the Throb, which weighs 4¾ ounces (136g).
If you want to keep lint and dust away, but you're not quite ready to give the Tentacle a glass display case, invest in a toy bag. The one it comes packaged in is good enough for shipping, but better off recycled than used long term. A higher quality bag can keep the Tentacle fresh as an ocean breeze and prevent harpooning by any nearby sharp objects. Keep the 4" x 6" index card for reference, as it has instructions for cleaning and the Whipspider URL.
Since my tentacle is
mine, all mine!
, I clean it using just soap and water. I wash it immediately after play, so very little elbow-grease is required. If fluids are left to sit overnight you might want to use a wash cloth or a very soft, retired toothbrush to go over the nodules. If there is sticky residue or if you plan to share it, Whipspider recommends a three minute boil.
Experience
Oh how eager I was for this leviathan to wash up on my shores and wouldn't you know it? Aunt Flo came surfing in on the same wave. Bogus.

So I played — in the more traditional sense of the word — with the Tentacle while I waited. I let it sit in the sun to make it glow. I moved it about my shelves so I could play a mental game of who-will-notice-the-object-d'art with visitors. I tested its bendy factor. Believe it or not, the Tentacle makes for a great toy without sex.

However, getting-off was at the top of my to-do list and darling husband, also intrigued by the Tentacle, joined me for the christening. Had it been a planned excursion I would have 'charged' it under a light, but we had an impromptu session so no glow this time around. He obligingly rinsed it off in the sink (it's silicone, a.k.a. a lint magnet) and got the brilliant idea to use cold water — just like the ocean! — which was more realistic than I cared for. Silicone holds temperature and I prefer my insertables warm.

Sugar melts though and cold water was not enough to stop us. My husband embraced the role of creepy hentai guy, dragging the wet tentacle over his favorite body parts. The feeling is nice because despite the Tentacle's bumpy appearance, it is very soft. The suckers don't adhere, they just lightly drag, reminding you they're there. (I was very excited, so I forwent lubricant, but for those who like their tentacles slimy, make sure to use water-based stuff!)

When it came time to insert the toy we had a small wipeout. My toys to date have been arrow straight or very close to 180°, unlike the Tentacle which has curves and twists. My husband had a difficult time thrusting and keeping the toy inside of me at the same time. His efforts were valiant, but he was eventually forced to relinquish command.

I enjoyed working the toy inside and was very surprised how close I came to bottoming out. The spongy nature of the Tentacle made for very comfortable penetration and my orgasm broke in record time. I love the design, I love the feel, I LOVE this toy.

I foresee the Tentacle making many a cave dive in my depths and with practice I think my first mate will be able to hold course.
Follow-up commentary
10 months after original review
What's not to love? Whether on my desk looking fabulous or swimming about my nether regions this toy performs beautifully. It remains in great condition, looks fabulous and glows for all it's worth after a few minutes in the sun.
I now have a Tentacle Jr. to compare it to
, and while I
like
Junior I still
love
this leviathan.
To anyone who is weirded out by the thought of A TENTACLE, I would advise putting aside your prejudices and giving this a try. It is amazing.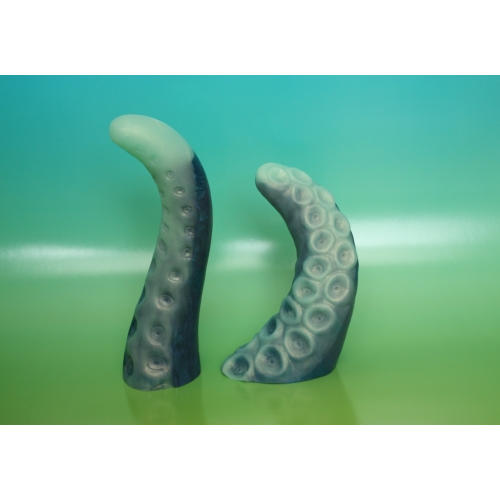 This content is the opinion of the submitting contributor and is not endorsed by EdenFantasys.com

Thank you for viewing
Tentacle
– dildo review page!