Frisky Feeler
The Tentacle is a beautiful piece of art that doubles as a wonderful G-spot toy. It's neither too firm nor too soft, not to textured nor too smooth.
Published:
Pros:
Waterproof
Glow in the dark
Beautiful colors
Great for G-spot
Cons:
No handle
Suckers may be hard to clean
Probably not anal safe
The first time I saw Whipspider's Tentacle, I thought, "Whoa, how weird," and moved on. The next time I saw it, I was a little more interested, but still not sure that I wanted it. Eventually, I decided that it's so silly, so crazy, so
unique
, I would be sorry if I did not buy one. However, it was out of stock, so I stalked the page. As is often the way with hand-made pieces, it was out of stock for months before it came back. I placed my order within minutes of its return.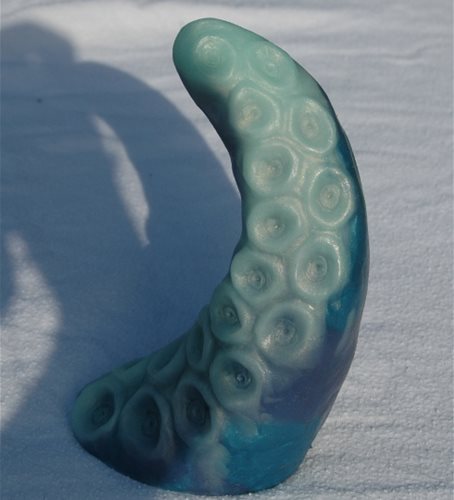 I'm not a fan of going over product specs in my reviews and have recently decided to stop doing it, since you can get most of that info on the product page. But, I did notice that my Tentacle is slightly larger than the specs given. It could be because each piece is slightly different. The length is 8 inches if you measure along the outer curve, but 7 if you measure along the inner. The shaft gradually becomes larger, starting at just under 4 inches in circumference at the tip, 6 inches at midpoint, and finally 9 inches at the base.
Very briefly let me touch on the material. The Tentacle is silicone, so do not use silicone lubricant with it. It will damage the toy. Being silicone, though, it is easy to clean. Whipspider advises using soap and water or boiling for 3 minutes.
Now that we've got that all out of the way, I want to talk about it on a personal level. I will say right now, whether you like tentacles or not (I actually
do not
have a thing for tentacles), the colors on this thing are gorgeous. They're bright, pearlescent, and swirled. And, it glows in the dark. The silicone itself is slightly squishy and does have some give, particularly near the tip and especially if you bend it toward the way it is curved.
The tip doesn't have quite so much give if you try to pull it back away from the curve. This particularly good news because that's the direction it would be bent if you are using it for G-spot stimulation. Since I'm someone that needs very firm rubbing on my G-spot, so this is something I was particularly worried about. I am happy to report that the tip is stiff enough to provide very decent G-spot stimulation.
Something else that concerned me is a lack of any sort of designated handle. I do know I like to be able to thrust G-spot toys, and without something to grip, I couldn't see how this was possibly going to work. The angle of the base, though, makes a perfect grip and thrusting is possible.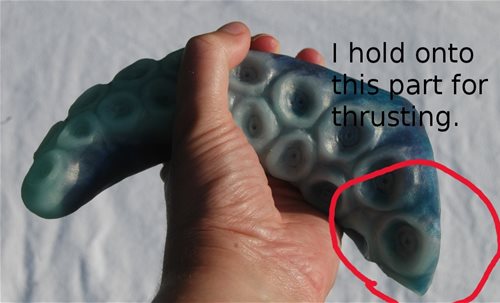 I've seen a lot of people concerned over the insane amount of texture on the Tentacle. Yes, there is quite a bit of texture that can be a little rough. I usually don't need any lubrication, but I did here. Most of the time I don't like toys that have
tons
of texture, as they really irritate my entrance. With lubrication, though, it is the perfect blend of smooth and rough.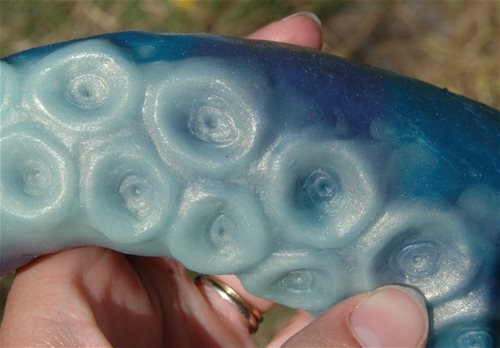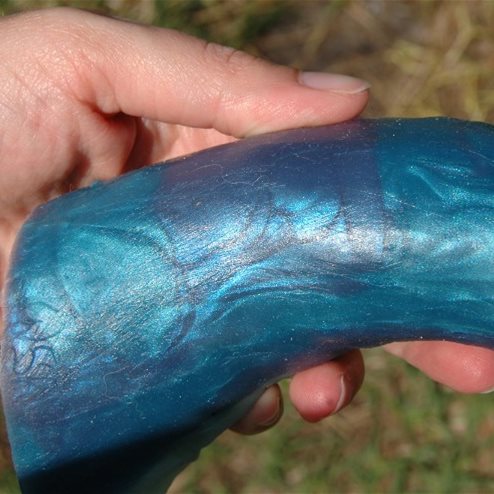 The size is perfect. It's not so small that it is disappointing, but not so large that it will worry those that are inexperienced, except for those perhaps that have trouble with anything except very small toys. The slowly increasing size is great for those that get more and more open as they get aroused.
Comparison shot! Left to right: Stronic Eins, Bimini Ocean, Ella, Tentacle, Pure Wand, G4 Big Boss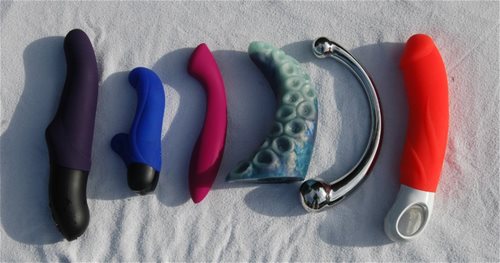 I'm very glad I bought the Tentacle, and now I'm looking at the Jellyfish as well.
This product was provided at a discounted price in exchange for an unbiased review. This review is in compliance with the FTC guidelines.

Thank you for viewing
Tentacle
– dildo sex toy review page!