Extra, Extra: Don't Just Read About It---Fill Up With It!
If you're ready for the next step in stretch, the Hottie Extra's exactly what you need. Its excellent construction provides a consistent girth, with just one little staging ground after the coronal bell for texture. Unlike Randy, Hottie Extra is blessed with a bullethole, allowing either deep vibrations or the ability to give the base of the dildo a little flex, for those new to these girths. Don't forget the steamrollerlike g- or p-spot pleasure, and the Extra is a dildo you'll be glad to own.
Published:
Pros:
A full-dildo stretch, bullethole for customizable difficulty, steamrollerlike g-spot abilities.
Cons:
Can pop out during orgasm if not held in place.
USE
The goal of the Hottie Extra is to provide stretch. And boy howdy does it succeed at its goal. While it's stretching you, another reviewer compared the sensation to "running your prostate over with a steamroller," and I'm here to say that that's the best way to describe the intense fill on the g-spot as well. When you're as girthy as the Hottie Extra, you can't miss a single spot, and the pressure is undeniable.
Having fully warmed up to my
Njoy Eleven
, I decided I wanted to try to tackle one of the most famous girth challenges in the sex toy world. Tantus'
T-Rex
didn't exist yet when I was making my choice. Vixen's Randy (in
silicone
or
VixSkin
) is the more famous longer-around-than-from-top-to-bottom dildo, but after doing a bit of research I decided the Hottie Extra was the one for me. Not only did the shape seem a little more appealing (the tip looks like a mostrously-scaled-up version of inviting, and the little dimples on the back looked promising), but the fact that it has a bullet cavity meant my not-actually-size-queen-yet muscles would have a little bit of respite if they needed it---when my muscles clench, the base of the dildo can cave in a bit. (Until the day I don't want that anymore, at which point I can slip in a bullet or a
suction cup
.)
CONSTRUCTION
The Hottie Extra, coming from Ontario's Happy Valley, is part of a line of toys---the
Little Hottie
is 1.5" across with 5 insertable inches, while the
Hottie
is 1.5" across with 6.5" to insert. The Hottie Extra is a step back down to the Little Hottie's insertable length (5.25"), but a big step up in girth---Extra is 2.25" in diameter, making it the biggest stretch my kegels have ever undertaken.
The stretch of the Hottie Extra isn't just from the head, though. I'm showing here the Extra next to my Eleven, and you can see that the Eleven gets you to stretch just to crest the ridge, and then the neck narrows out to let the bulge fill your g-spot without overtaxing the muscles at your entry (I keep phrasing this review in the vaginal sense, because that's how I've used it, but Hottie Extra will function the same way for anal use). The Hottie Extra, by contrast, stretches you to the diameter of the head, and then gives you a valley as a staging ground. After you've caught your breath, you plunge right back up to the practically-a-can-of-baking-powder diameter and stay there. (I should also say, the staging ground valley does a great job of providing variety to your g-spot as you thrust, grind, or ride.) Your kegels or sphincter are held at their maximum capacity for your whole session---and that's quite the sensation!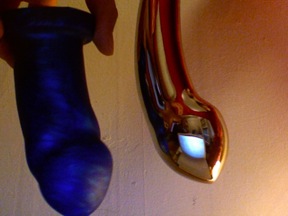 My delightfully swirled blue Hottie Extra is fashioned from incredibly high quality silicone. Happy Valley's silicone is known to be one of the firmer blends on the market, which means it's perfect for a girl who likes resistance (say, for example, me!). Because of the girth and the stiff silicone, it takes both hands and a lot of force to be able to squeeze the head of the Extra. Thankfully, the bullet cavity works exactly the way I had hoped it would, and I can squeeze the base of the dildo quite a bit with just one hand (not that my hand can quite wrap around it...). Hottie Extra doesn't compress much along the vertical axis at all.
If you intend to use the bullethole for its intended purpose, you'll be glad to know that it's very deep, so the vibrations will be felt at the head of the toy. You might want to attach a ribbon or something to the included (watch battery, silver plastic, very standard) bullet, because even though there's a little extra space for finger access at the very base, I can see the bullet being so happy deep inside that it might be hard to extricate.
The Hottie Extra, along with its bullet, ship in a Spartan plastic bag with cheerful cardboard label... nothing fancy, but you don't need anything fancy. The surface of Hottie Extra isn't very draggy, and so it doesn't capture very much lint, but it's still a good idea to clean (with soap and water) or sterilize (with 10% bleach or boiling water) your dildo regularly. Avoid using silicone lubes to avoid damage to the material---I typically just just a smidgen of
Sliquid Ride
when I switch from the 1.75" end of the Eleven to the 2" end, and then that lube is already well distributed inside me when I step up to the Extra.
Experience
FINAL THOUGHTS
The Hottie Extra has been for me exactly what I thought it would be. It's a challenge, it's a stretch, it rolls over my g-spot like a steamroller. (Those with deeper g-spots may need to seek out something longer, though.) The firm silicone makes me happy, the valley after the coronal bell gives me the texture I need, and the blessed bullethole means my kegels can take as long as they need to acclimate to having something as big as a can of baking powder inside them.
If you're looking to strengthen your kegels, by the way, doing just two sets of five clenches around the base of the Hottie Extra has left my muscles with the same after-workout burn as I don't even know how many leg presses. The firmness and resistance of the silicone would be a nice workout at any diameter, but at 2.25", asking your muscles to contract even as they're being stretched much wider than they're accustomed to feels excellent. Sort of like the equivalent of taking your usually-pavement morning run on a sandy beach instead.
My only complaint against the Hottie Extra is that I have to make sure to hold it in with the palm of my hand, or my heel, during orgasm---otherwise my muscles will send it flying halfway across the bed. It's a bit of a hassle to remember to hold it in... but that hardly diminishes the excellent sensation that the stretch provides.
The Hottie Extra? Definitely not an everyday toy. After my first orgasm with it, I asked myself "Oh my gosh---that was amazing? Oh crap! Am I a size queen now?" No, fortunately I'm still an equal opportunity size enjoyer, and my
Gold Laced G
is never far from my side. But on days I feel like a challenge, I'm really glad that I've got the Hottie Extra to wrap myself around.
This content is the opinion of the submitting contributor and is not endorsed by EdenFantasys.com

Thank you for viewing
Hottie xtra
– dildo review page!