Green Never Felt So Good!
The harness compatibility coupled with the softness makes it great for pegging. The fact that it is so forgiving would make it good to use on a day when you are feeling tender inside. All in all it does have a high price tag but in my opinion it is well worth it.
Published:
Pros:
Safe hygienic material, Great skin analogue, Variety of colours
Cons:
A Little bit pricey
My partner and I have debated about getting a VixSkin toy for a while now. My partner is a huge fan of Tantus and recently invested in some of their O2 range, which we were both pleased with. After hearing people rave nonstop about VixSkin we decided to invest in the Leo (which is from Vixen Creations but not made from VixSkin). We were both quite pleased with the design and feel of the toy so we decided to invest in our first VixSkin toy.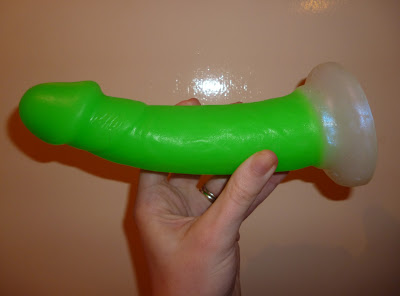 -Packaging-
The packaging the Mustang arrives in is actually a bit of a departure from traditional sex toy packaging. Rather than a plastic or cardboard box the toy arrives in a clear plastic tube with the Vixen logo on the front and some information about the VixSkin material the toy is made from. It is capped at either end by thicker pieces of black plastic. The toy just sits loose inside the tube but as it is so soft on the outside it doesn't matter that it can bounce about a bit. All in all I am pretty happy with the packaging, it is kind of stylish but practical.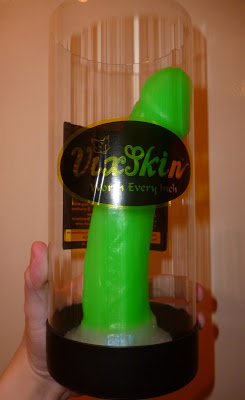 -Material/Specifications-
The toy is made from VixSkin which is a semi-organic polymer. This material gets a lot of good feedback and once out of the packaging I can see why. It is a skin analogue like cyberskin but retains all the hygienic properties of silicone. This means that it is non-porous, latex and phthalate free. Basically this means it won't take in any bodily fluids in use.
It has a strangely soft feel to it. If you didn't know it was VixSkin you might think it was jelly or some other lower end material. The softness and malleability of the silicone is astounding. You can actually grip it and twist it a little around the more solid core. The Mustang is available 6 different varieties; Caramel, Green, Pink, Chocolate, Tie-bright and Vanilla. Needless to say that is a pretty broad range of colours as compared to many other toy ranges. It's great as you can pick something that appeals to you. The colour we chose was green. It has a white base that is substantially more solid than the rest of the toy. In terms of size/shape it is on the large side of average. The toy gets gradually wider as you run down the shaft. The dimensions are as follows.
Overall length = 7 Inches
Insertable length = 6 Inches
Circumference (slimmest) = 4 Inches
Circumference (widest) = 5 Inches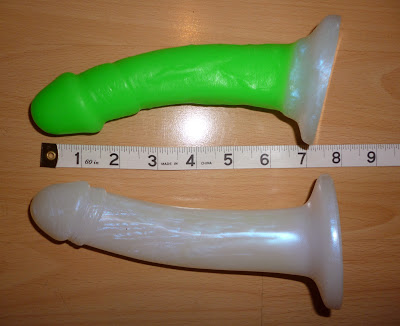 *Compared to the Leo*
-Use-
When we first took it out of the packaging we were totally unsure as to how it would feel in use. The material is so unlike most other toys that it was hard to predict what it would be like. In the same order as this we got a toy from the Tantus Pack N'Play range and even these two skin/realistic toys are fairly different to the touch.
The material is only suitable for use with water based lubricant as silicone is used in the making of the toy and water based lubes may damage it.
The design is semi realistic. It is shaped mostly like a normal penis with a decent curve but in addition to the normal head it has an additional bump about an inch further down the shaft. If this were a more solid toy this could make it a little uncomfortable to use but as it has such a soft outer shell we weren't really worried.
As described by my partner it is very different when compared with other toys. Because of the softness you don't really feel the bumps and ridges half as much as with a more solid silicone toy. Despite being very soft on the outside the solid core still makes for great stimulation. Unlike some silicone toys it doesn't really dry out during use and so will sty fairly well lubricated throughout. That combined with how soft the toy is makes for a very comfortable play session.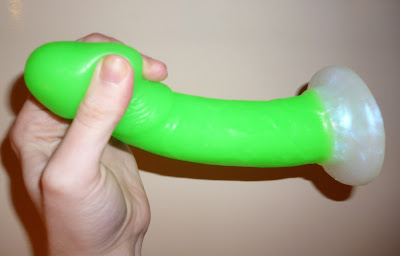 While we did not use the toy anally I can safely say I think it would be a great toy for anal use. It is very soft and forgiving while still being hygienic and safe. It has a solid base with a flare so you don't have to worry about losing it.
The base would also double for harness use. There is a small bit of extra hard base where you could attach an o-ring harness. You would likely need a 2 inch o-ring instead of the standard 1.5 inch.
Experience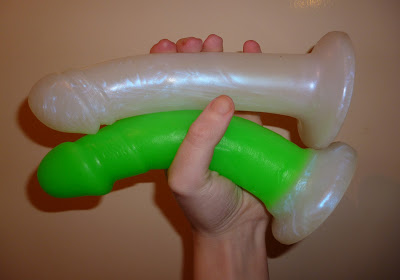 -Care/Storage-
In terms of care you can treat it as you would silicone. This means you can boil it in a pan to sterilise it if you want or even throw it in the top rack of the dishwasher. But for normal cleaning after use I find warm water and mild antibacterial soap or specialist toy cleaner works best. Natural juices can dry on to the material but they come away really easy with a little gentle rubbing under running water.
Once it is clean make sure you dry it thoroughly before storing it. You can store it in the plastic tube it arrives in but if space is at a premium (and with us and our 50+ dildo collection it is); we find a zip-seal sandwich bag works best for a number of reasons. It takes up no additional space, it keeps the toy free from dust/dirt/lint which this toy loves! But probably the best reason to store it in a sealed bag is to keep other toys from reacting with the material.
-Summary-
Overall we are very impressed with the toy. VixSkin has a great reputation and in our opinion it is well deserved. It maintains a softness that you don't really see with other silicone toys. There are a vast range of colours when compared with a lot of toy ranges which is nice. The packaging is fairly original and free from anything seedy or pornographic which is nice.
After using this toy my partner has said she will likely invest in the toys bigger brother the Maverick. That alone is a testament to the toy. While initially it was strange to the touch, it has definitely grown on us. The harness compatibility coupled with the softness makes it great for pegging. The fact that it is so forgiving would make it good to use on a day when you are feeling tender inside. All in all it does have a high price tag but in my opinion it is well worth it.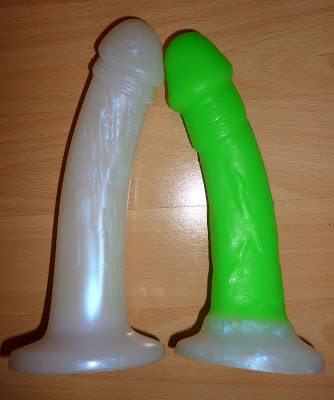 This product was provided at a discounted price in exchange for an unbiased review. This review is in compliance with the FTC guidelines.

Thank you for viewing
Mustang
– sex toy review page!