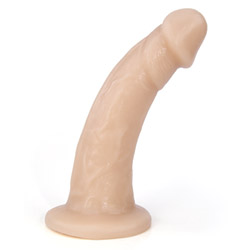 Mustang
Realistic strap-on dildo
by Vixen Creations
Once You Go VixSkin...
If you want a dildo that looks and feels exactly like the real thing, VixSkin is the way to go. The Mustang's size and material make it perfect for everything from handjobs to blowjobs to anal. It might not fill up us size queens, but it's a versatile and realistic size. The Mustang is highly satisfying, and I'm looking forward to trying his big brothers in the future!
Published:
Pros:
Amazingly realistic in size, color, and squishiness
Cons:
Slight sticky when dry; realistic doesn't mean best; other toys less fun after VixSkin
Although I'm a slight size queen when it comes to vaginal toys, I purchased the Mustang because I wanted something more realistic than my other porn star-sized toys. I wanted something that could be used in any of my holes, especially my mouth-- but I really wanted an "authentic" blow job experience. The Mustang absolutely fits the bill! In the right circumstances, I can actually forget that the Mustang isn't attached to a real person. It squishes and 'moves' in response to my mouth just like a real penis. And even though there's no opening on the tip, my tongue was completely convinced that there was. It's just that good.
The Mustang came packaged in a clear plastic tube. The first thing I did upon opening it (aside from squishing it and smacking it against my face a few times!) was to sanitize it in boiling water for three minutes. It's probably not necessary, but you never know. The Mustang is so soft and squishy that I watched the toy the whole time, afraid it would melt. It didn't, though!
The only way you can tell the Mustang isn't real is the way the material drags a little. It has a slightly sticky feel to it, but it feels exactly like skin once you add lube or lots of spit. The head is much larger and more pronounced than I expected, but the softness keeps it from catching on my pubic bone (something I loathe). I think it will be enjoyable anally, but we haven't had time to try that out yet. I was worried the veins would be uncomfortable, but you can barely feel them. The bottom of the base is surprisingly hard, almost like a firm plastic type of feel. The square VixSkin logo is stamped on the top of the base, but it's barely noticeable. I was concerned that the extreme curve of the shaft would be so drastic it would be uncomfortable or fake-looking, but that's not the case at all. Once you strap this guy in, gravity seems to pull him almost straight. Even in cowgirl position, it doesn't feel as wickedly curved as it looks in the pictures or on my nightstand.
In my opinion, this toy is the most fun when it's tucked into a pair of jeans or when using a RodeOH harness. It's so realistic, it feels almost disrespectful to put it into a flashy leather harness! If you really want a harness, I recommend something sexy but minimalist, like
Commando from Aslan
or
Leather Strap Rider
.
Unfortunately, the Mustang didn't work as well for penetration as it did for fellatio. It was hard to get the floppy head inside me, and once inside, it wasn't as big as I wanted. It was definitely realistic-- but that's not always automatically the best! Again, I'm sure it will be highly satisfying to take the Mustang up the ass. I'll be sure to try it and address that in my follow-up review.
Speaking of size, here's how Mr. Mustang measures up (diameter/circumferece, in inches):
Largest part of head: 1.59/5
Immediately under head: 1.35/4.25
Near the base: 1.75/5.5 (Did NOT feel like that, though. Maybe our O-ring was holding that part.)
Length from bottom of base to tip: 7 inches
Because this is a 100% silicone toy, care and cleanup is pretty easy. I'm the only one using it, so I wash it with soap and warm water. You can boil it for a few minutes to sanitize it or just stick a condom on it if you're going to use it on more than one person. And as always, be very cautious with silicone lubes and other silicone toys! Always test the silicone lube on the bottom of the base first, and make sure the Mustang doesn't touch any toys that are only partially siliicone, such as jelly toys. When in doubt, store it in a bag or a separate drawer/container. We usually use water-based lube, but this toy is so realistic we might try some improvised situations using cooking oil or vegetable shortening. Just remember, oil is not compatible with latex, so avoid mixing oil and condoms. Several people have told me that you can dust cornstarch over the Mustang to avoid scratches and tears during storage, so I'll definitely be giving that a try.
Experience
So far, here's what we've found works best:

I wash the Mustang in very hot water while my partner puts on her harness/RodeOH/jeans. I put the Mustang straight into the O-ring or underwear and immediately drop to my knees to suck on it. Since VixSkin retains heat, it feels incredibly real! I usually like to have my girlfriend grab my hair and force my head down, because I'm kinky like that. When the Mustang is nice and wet, I lean forward on something (couch, table, counter, bathtub edge) and let her take me-- handcuffs optional. The vaginal muscles are always tighter when you're being taken from behind, so the position is great for a realistically sized toy like this one. It also works best for most anal play, in my experience.

If I'm riding my girlfriend cowgirl style, it feels good if I alternate my position. I like to straddle her hips and lie flat on her from the waist up while I'm inserting the Mustang's floppy, uncooperative head; it helps not to have to balance on one knee! Once it's in, I might hover over her enough to kiss her, then lean all the way back to stimulate my G-spot, and then sit straight up so she can see my breasts and pinch my nipples. The Mustang is short enough that I can get some decent friction grinding on my partner's mons, which definitely adds to the realism. Since the Mustang isn't quite big enough to get me off vaginally, we usually finish with me using my vibrator on myself while I suck on the Mustang and rub my girlfriend's clit.
Follow-up commentary
14 months after original review
This is still a great product! I'm excited about the new versions, the Mustang Royale and the Vixenaire, but the original is still great. I definitely prefer it over any dildo when it comes to giving blowjobs, and it does a nice job with anal. It's held up really well over the past year and some change!
This product was provided at a discounted price in exchange for an unbiased review. This review is in compliance with the FTC guidelines.

Thank you for viewing
Mustang
– realistic strap-on dildo review page!