I'm reflecting on why I love my Pure Wand.
Often compared to the Pure Wand, I had to give this a try before I invested that much on a dildo. While it is certainly not the Pure Wand, it isn't a bad toy all by itself. If you enjoy larger sized things vaginally, this may work very well for you. Unfortunately, while I did enjoy the curve of this toy and adore the color and the material, I could not make the large bulb work for me, and the small bulb didn't do anything.
Published:
Pros:
Tempered glass.
Easy to clean.
Useful with all lubes.
G-spot access.
Cons:
Large bulb too large.
Small bulb too small.
No storage bag.
When I first got this toy, I was actually a little thrown off by the packaging. It's plastic, and you can see the toy inside, but the designs that are all over the box left me with an odd feeling because it's so flowery and perky that it actually looks like it's designed for a genuine toy, or a pre-teen. So moving past that, I opened up the flimsy plastic container, and revealed my little glass present nestled inside another few layers of plastic. Not a big deal to get past, but I didn't end up keeping this box for storage, since it was such a pain in the butt to get open to begin with.
Now I've heard a lot of people talk about the fear of putting glass in their vagina/anus, because it's, you know, glass. But listen, this isn't a light bulb; it's tempered glass. This is food-grade material, the same stuff that you use in your kitchens if you're using mixing bowls or have Pyrex pans. These babies aren't going to just snap in half and splinter to bits in your naughty places because you're a little rough with them. I've dropped my glass toys on more than one occasion and have never harmed them. I'm not saying you should go wield them and beat people senseless with them just to see if they'll take damage, I'm just saying that using them properly, vaginally or anally, you're going to be fine as long as you make sure yours have no flaws upon initial purchase. Glass is also an amazing product to use for temperature play, since it holds heat and cold very nicely (although not for as long of a duration as steel would).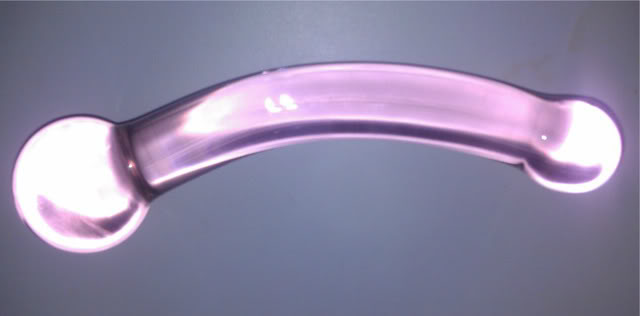 That being said, this toy can be a little scary, glass or not. It's curved a little bit (and sort of reminds me of a gigantic naval ring), with a large ball at the top, and a smaller one at the bottom (or vice versa if you flip it upside down). The curve isn't the scary part - the curve is actually the nice part, since it's going to be easier to access your G-spot with it. The scary part is the golf-ball sided nub at the end. Holy crikeys, that thing could kill a person. I actually have used this with both ends, and while the smaller end didn't access my G-spot well enough for my enjoyment, it was easier to hold this way, since I had the large ball to use for a grip. But when I used the large ball for insertion, not only did it take quite a while to get that puppy in there, I found that I could hardly move it, since it was so snug. And this was after being warmed up by my trusty Hitachi for 5 minutes or so, and being about 70% of the way to orgasm already. So, lots of lube, and lots of patience, and I still struggled to really make this work for me. It's only 7 inches, with 5 inches of insertable length, but with nearly a 2 inch diameter, you can see how that may be a bit on the difficult size to make fit, as there is absolutely no taper. There's really no easy way to work it in there.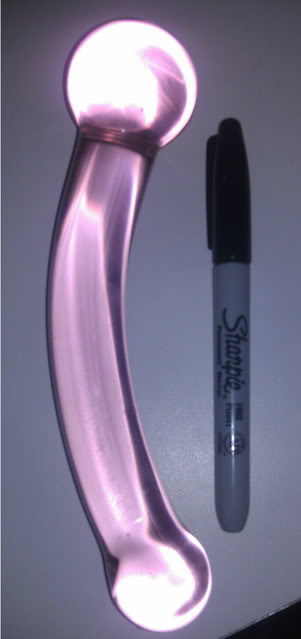 Now, because this is tempered glass, you can literally clean it nearly any way you can imagine. Boil it, wash it with soap and water, toy wipes, baby wipes, dish-washer. Hell, run it through a car wash if you want, as long as it's getting covered with soap and water, it's going to come clean fairly easily since it's completely non-porous. This is also good to use with absolutely any type of lubrication you want, from water-based, to silicone, to oil, to saliva. Whatever you usually use, you can use with this without any fear.
Storage is a bit trickier, because it doesn't come with any form of a storage container, which is a total bummer, but it's really not that hard to find a safe place for it. Before I found a nice little velvet bag for mine, I used to just stick it in a sock. Just be very careful to not just toss this in a drawer or something with sharp objects or other glass toys, because you wouldn't want to accidentally scratch or chip it. Y'know, glass and all that.
Experience
I had heard amazing things about the pure wand, for a very long time. But I'm cheap, and I didn't want to go spend more than $100 on something that I wasn't sure would work for me. You see, I haven't always been certain that I have a G-spot. So when this was on sale for a measly $7.99, I couldn't help but jump on it, and immediately purchased it. While this product hasn't worked for me nearly as well as my Pure Wand does (yes, I ended up splurging on that, thanks to this very toy), it worked well enough for me to know that I do, indeed, actually have a G-spot. Because the two are often compared, with people wondering if the Reflections compares with the Pure Wand, I figured I would put them side-by-side. While they are similar, for sure, they are certainly not identical products, and work very differently.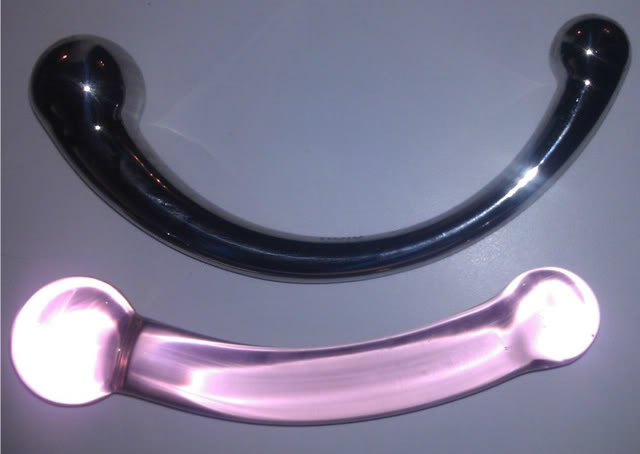 Now, as I previously mentioned, this toy took a lot of lubrication for me. I'm not exactly the most used bicycle on the rack, if you get my drift. My husband is deployed and all, so it's really just me and my toys ridin' solo for awhile, and I'm not a size queen. So when I did finally get this in, it actually was rather uncomfortable. I tried swishing it back and forth, like windshield wipers, but that really didn't do much for me. I found that if I rocked it very gently in a slow thrusting motion, it worked best. That way, it was putting pressure on my G-spot, but I couldn't really enjoy it to it's full potential, since it was just too big to really use all the way. With gentle rocking with this, and my trusty Hitachi, I was able to climax, but it was nowhere near as pleasurable as it is in comparison to my Pure Wand. If the big end were a little bit smaller, it would have worked very nicely for me, but this was just too bulbous, too quickly for me to enjoy.
This content is the opinion of the submitting contributor and is not endorsed by EdenFantasys.com

Thank you for viewing
Reflections serenity
– double ended dildo review page!