Nice, but Not the Wand I Wanted
The Don Wands Curved Purple Swirl has a distinct texture with smooth gaps between the ridges (which make them feel more raised), which you will either like or you won't. I wouldn't suggest it to beginners for that reason. It's a nice toy for if you love texture, but it's not my favorite.
Published:
Pros:
Nice curve, great for rocking.
Cons:
Texture too abrupt- not great for thrusting or twisting, would be nice if both bulbs were bigger.
The Don Wands Curved Purple Swirl is a double-ended glass dildo with ridges around it that have smooth gaps between them. I am glad that I got it, because it is a good addition to my collection of textured glass toys and I wouldn't have known this until I tried it, but I don't like the texture as much as my other toys. It is fairly raised and the gaps between the ridges make the texture seem more extreme. Some may like this, but I like toys with less raised textures or no gaps between them better.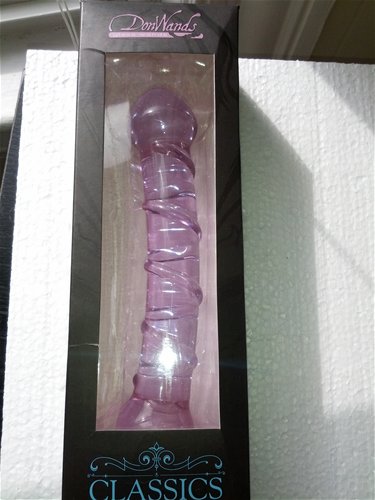 The Don Wands (which I will call it for short) arrived in a cardboard box with a thin plastic case inside it. I am storing the toy in this case for now, but in the long run, I will have to find a way to protect it better.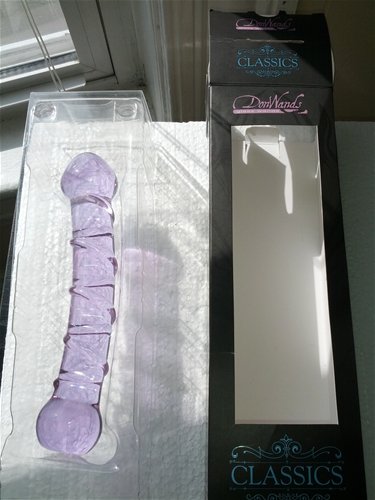 The packaging is obviously cheap (but the price is cheap, so what do you expect?), but as cheap packaging goes it is simple and classy. You almost wouldn't know what it was for, if you found just the empty box.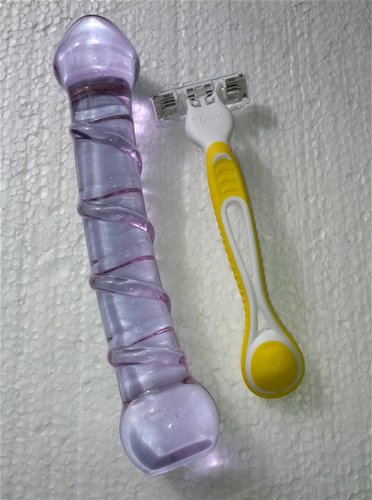 I don't love the color (it's much lighter than it looks in the product picture. I like more vibrant colors in glass, like bright blue or green); it is a pretty and simple toy. It has a moderately-ridged texture, but you feel the ridges more, because of the smooth gaps between them. I bought the Swirled Blue Dildo, around the same time, and I like the Swirled Blue better for this reason, even though they are about equally raised in texture.
With the Swirled Blue, you feel every subtle movement from your hand in the toy against you in the ridges, but with the Don Wands you feel the smoothness of the toy and sometimes the ridges abruptly hit you in some places. So I use it differently-- I rock with it, but don't twist or thrust with it. I wish it were more curved though
The measurements are as follows:
Length: 7"
Insertable length: 6"
Circumference: 4 1/2"
Diameter: 1 3/8"
Weight: .5 lb
As a Borosilicate glass toy, it has no smell or taste and is completely safe to use. It can be washed with soap and water or boiled.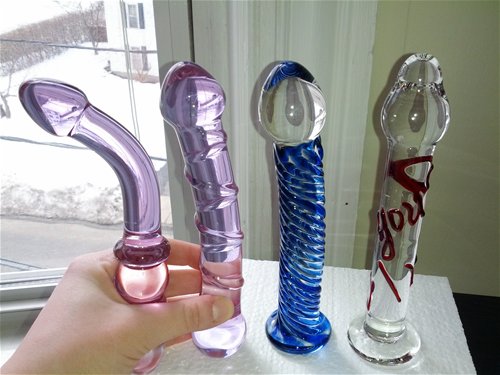 Here is where it ranks with a few other toys, in terms of the curve. The Hearts Wand, on the right, has no curve, the Swirled Blue is slightly more curved, the Don Wands is slightly more curved than the Swirled Blue, and the Amethyst is much more curved than any of them.
One of the sides has a pointed bulb and the other has a round bulb. Using either end feels about the same, and I had trouble figuring out why the rounded side has a flattened edge. In the package, it looks as if it would stand upright (which would've been useful), but it just falls over. However, when using it as a handle, I think it makes the toy easier to push with your fingers and control than if it were round.
I liked using either end; the pointed bulb worked well as a handle, because it is easier to tell which way it is facing (so you can make sure you push it into your g-spot and not the side or back walls), and it felt better inside me. So I switch off. I would like if both ends were bigger (like the Sweet Lola).
Glass is my favorite material, because it offers very rigid and direct stimulation, it holds temperature, it doesn't require much (or any) lube and you can use any kind of lube on it.
Glass is very rigid, so you should be careful not to thrust too hard, so you don't bruise internally. You should even be careful about thrusting in general, because of the abrupt texture of the toy. It's not very curved, which I think would make it good for having a partner use it on you and for anal use (though I wouldn't use this on myself anally, because it lacks a flared base), but only if you know that you like a texture this raised.
I like that it is a simple, but whimsical piece. I wouldn't leave it out though. And I think this toy would work well for travel, as long as you wrap it in clothes to protect it.
This is a great toy, if you like thrusting with average-sized and more-raised glass dildos, or are okay with rocking and twisting rather than thrusting. It has a great size and curve, but the texture isn't my favorite. I would give it a 3, but it works well for me when I don't move it much so I changed it to 4.
This content is the opinion of the submitting contributor and is not endorsed by EdenFantasys.com

Thank you for viewing
Don Wands curved purple swirl
– sex toy review page!