Textured to heaven and back
The Icicles No28 is a high quality glass dildo with a curved and textured shaft. I can recommend this for the experienced glass users or those just interested experimenting with texture.
Published:
Pros:
Amazing spiral texture
Curved shape
Super easy maintenance
Cons:
No pouch
Could provide too much texture for sensitive folks
Use
The Icicles No.28 glass dildo can be used both vaginally and anally. It has the wider base which makes it safe for anal use since this won't disappear into the ass. It also has a curved shaft which makes it great for exploring the G-spot (and P-spot I would imagine).
The spiral texture provides a wonderful sensation, but could become too much if you're sensitive for texture.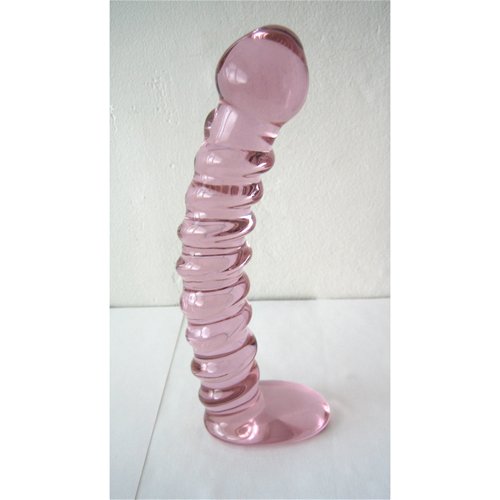 Material/Texture
The dildo is made out of hand blown pyrex glass and it's obviously completely rigid. It's doesn't have any seams to it and it's smooth to run fingers on the surface. Some glass toys might have tiny air bubbles inside of them. I can say that my piece doesn't have a single one inside. They don't affect the use anyway, but I'm really pleased with it, considering this is hand blown.
The dildo has a spiral texture along the shaft, which I had not tried before purchasing this one. It feels absolutely amazing to me. It also causes a slight "juicer" effect, so your fluids will be running all over the shaft. Especially if you're on the juicier side like I am.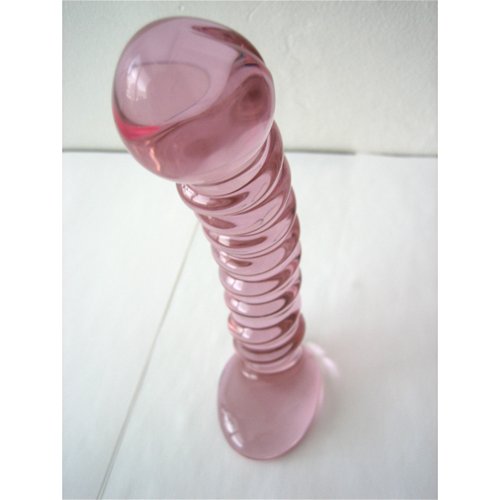 While the texture does feel wonderful to me, I can understand that this might be too much for others who are more sensitive. So if you're new to hard materials like glass, you could try something with a smoother texture first. I've yet to use this toy anally because I'm not sure I'll like this much texture in my ass. It might cause discomfort.
Design/Shape/Size
The length of the dildo is 7.5 inches and circumference along the shaft 4 inches at the widest. The circumference in the head is 4 ¾ inches. The weight is 11oz.
The shaft is curved, which makes it good for G-spotting (and possible p-spotting).
The head has two "slits" in the bulb. I can't feel them in use at all, so I think like they're kind of useless design-wise.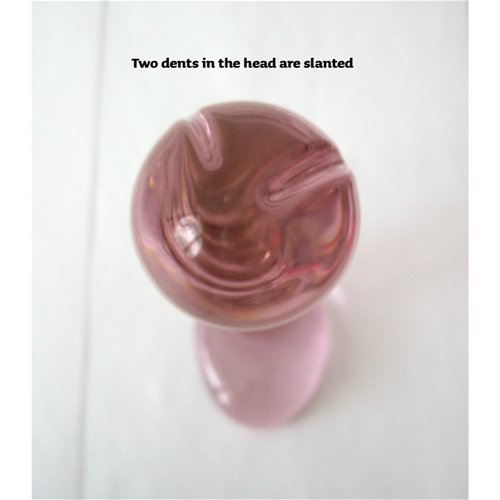 The base is an oval in shape and the toy does stand steadily on it. It's balanced well, so a light breeze from an open window won't make this fall over. I wasn't sure how I would feel about the stand/base, but now I can say that it's one of the reasons I love this toy. I like to thrust with my dildos, so it makes for an excellent handle as it sits into my palm wonderfully.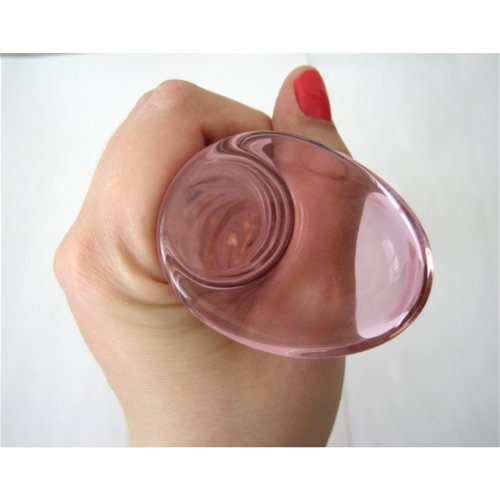 You could possibly use this dildo in a harness because of the base.
It almost looks like the shaft is hollow in some pics. You can look inside the shaft but it is solid glass, so you can't stick a bullet inside this.
This dildo is only offered in one color - light pink.
Performance
Glass is sleek, so it will move inside with no drag. But this particular dildo has the spiral texture along the shaft and you will definitely feel it while using the dildo. The spiraling could become too much if you're not used to texture. To me it provides a nice sensation inside and along the vaginal opening when thrusting this toy. Since glass is also a stiff material, you should use care when thrusting so you don't bruise yourself inside.
Glass is perfect for temperature play. You can cool this toy in the fridge or under cold water or heat it up in a bowl of warm water. The packaging mentions heating it up in microwave but I think warm water is a better option.
Care and maintenance
One of the reasons I love glass is the easy maintenance. It's a safe, non-allergenic material and can be cleaned and sterilized in variety of ways. I usually just use soap and water, but you can use the dishwasher or mild bleach for sterilizing it (which is extra important if you decide to use this anally). You can also use all lubes with it, but glass just slides in with such ease you might not need it for vaginal use. Make sure you clean the two dents in the head and the spiral well because they might collect some residue.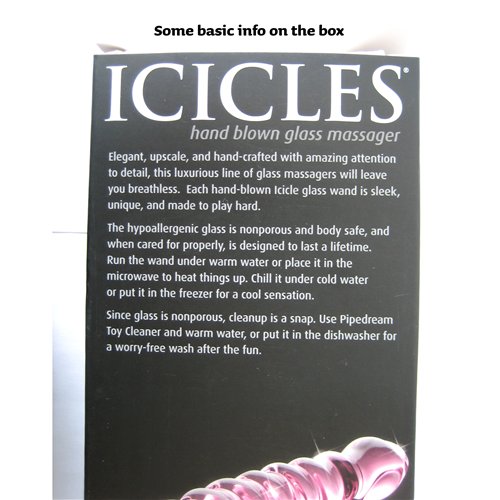 Pyrex glass is very strong and pretty much unbreakable in normal use. But it's wise to run your fingers on the surface of glass toys before each use just to make sure there isn't any cracks on it.
Experience
Packaging
The cardboard packaging from Pipedream is classy looking and it protects the dildo well inside it. The wand sits safely in thick foam material and you can open the magnetic flap to take a look through the little plastic window, which reveals the dildo inside.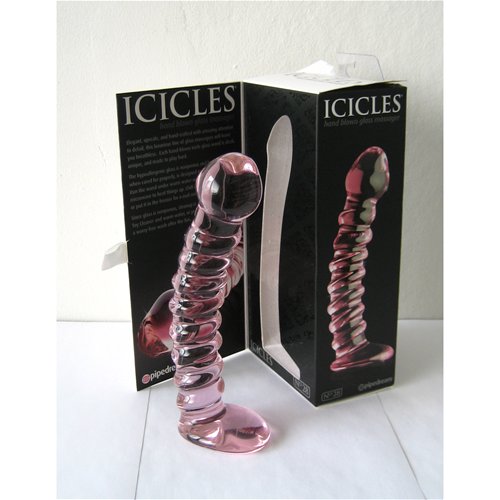 Pictures of the dildo are printed on the outside of the box. So while the packaging doesn't have nudity on it, it certainly isn't discreet. If you want to gift this to someone, make sure it's opened in a private setting.
Some simple care tips are provided on the box but no instructions come with it (not that one would really need them anyway).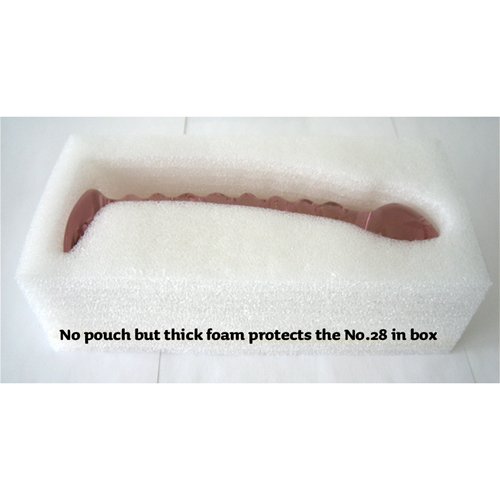 I would have liked to see this dildo come with a pouch. I prefer those to keeping my toys in boxes. But since I'm planning on sewing some of my own, I can look past this. You can obviously store your toy in the box. I usually throw my boxes away, but I'm considering doing some DIY action with this box cause I really love the magnetic flap. Maybe remove the foam, cut the window part open, cover the box with a nice fabric and store some smaller toys inside...
Personal comments
I'm super happy with this dildo. With a -40% sale it was an absolute steal. The quality of the dildo and the packaging is wonderful. To me, the material combined with the texture, curve, and the weight of the dildo feels fantastic. My only issue is the lack of pouch. I'm still giving this toy five stars but I'd like to deduct half a star because it doesn't come with a pouch. But overall, I'm in love and it's currently my go to glass piece.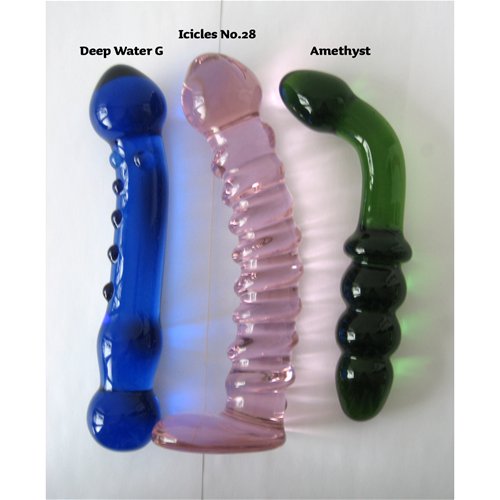 This content is the opinion of the submitting contributor and is not endorsed by EdenFantasys.com

Thank you for viewing
Icicles No. 28
– g-spot dildo review page!