Oh my stars of texture!
A very simple and much loved design with more pronounced texture than on almost any other toy I have seen. It was love at first glance. Perfect for anal (if you like texture), great for vaginal use too. He might not be as big as you are used to seeing, but he can stand on his own and pack a wallop! So if you are looking for something with oodles of girth this may not be your cup of tea.
Published:
Pros:
Fantastic price, lots of texture
Cons:
No storage pouch, too much texture (is this really a con though?)
The moment I saw this guy I knew I had to have him.
I wasn't too keen on his thickness- er... rather lack of it but then I thought, "you know, you are looking for the perfect bum toy, why not get it for your bum's birthday?"
I know. My conversations with myself are quite... well quite!
I love the Swirled Blue by Don Wands and love it as a bum toy. I have complained that he is a little too thick and that his ridges are not as pronounced as I wish they would be. So you can imagine how my mind went racing when I discovered Icicles No. 28.
Icicles No. 28 is not your "average" toy. In fact I find him a little... below average. If you look at most toys, the majority of toys come with a width of an inch and a half. This guy, he measures in at just a teeny tiny bit over one inch. In fact, I would even be comfortable saying one inch along his shaft where all that yummy texture is. But, his head on the other hand in an inch and a quarter in diametre. His total length is seven inches and about six and a half insertable.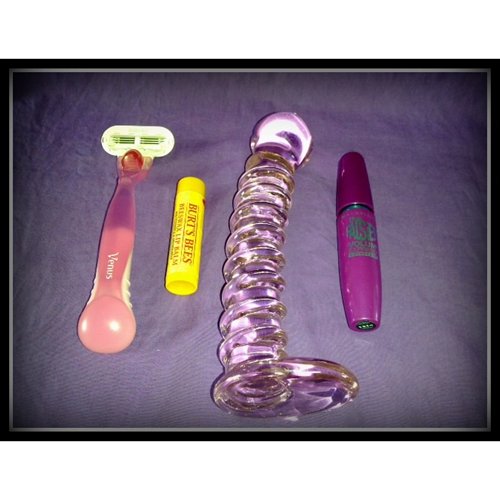 He is tasteless, odorless, and a perfect baby pink colour. And to make him just that little bit more amazing? He is made from glass. Or better yet? Pyrex glass. So use him with whatever lube strikes your fancy then wash him up either in the top rack of your dishwasher or in the bathroom sink. He will be happy as long as you use soap. And sharing is caring as long as you wash with antibacterial soap first. Because as we all know, glass is one of the safest materials out there! And because he is waterproof? Take him to the tub!
Please note: While washing him, be sure to use a toy brush (soft bristled toothbrush) and get along each ridge or else you will have left overs hiding there.
Now I need to point out here ladies and gentlemen, that just because I have dedicated this guy to anal use, does not mean that is the only way to use him. In fact? Please! Try him out vaginally!!! You might just enjoy him!
When you first meet your new pink wonder, he will be cased in an elegant package with a door. You open the door, and you see your new Icicles No.28 in a peek-a-boo window. Put a bow on the box and it would make a stunning present.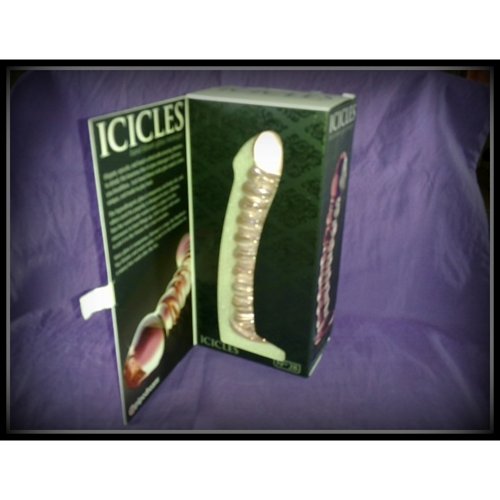 Unfortunately, he does not come with a storage pouch and he is not all that discreet. So be careful when leaving him out, as with one look, everyone will know that his intended purpose is to go up your nose. I mean bum. I mean vagina. Ok. Pick the best two out of three (please note, he did not fit up my nose). He would only be travel worthy if you fold him into your clothing and make sure there is no way he would slip around.
His head is pretty unique for a glass toy in my opinion. Rather than being a perfect circle, or a elongated tear drop shape, or a small tear drop, he is more of a fat circular tear drop with what looks like a ridge at the back of his head. When using him vaginally or even inserting him anally, I did not notice these grooves.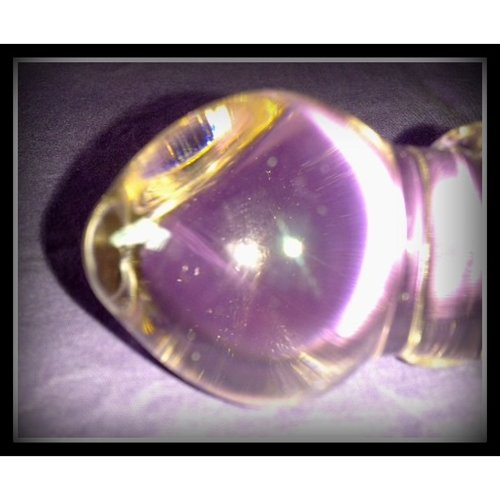 His shaft is something to admire. If you enjoy texture, you are going o love this guy. I felt each and every ridge vaginally, and gentle anal thrusts with this guy quite literally forced me into sudden anal orgasms that I was not prepared for. And with his gentle g-spot curve? Makes solo anal play very comfortable and if you angle him just right during vaginal play, you might be able to hit your g-spot while thrusting. Word to the wise? I found turning him around so that the outside of the curve slides along my g-spot works the best.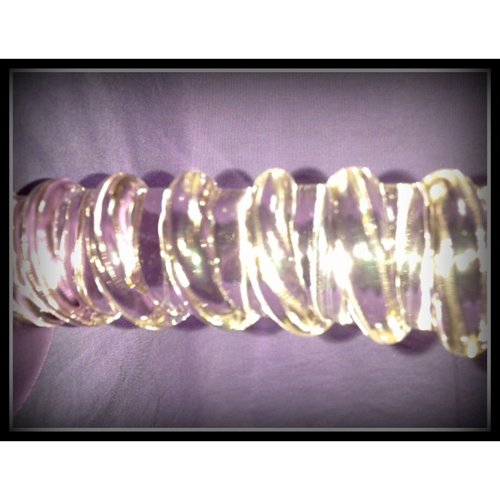 But remember! Front to back is honky dory. Back to front is just yikes!
The flared base makes it a great toy for anal. There is no way that it could get lost up your butt. And because of the shape of the flared base, you can sit on him while you sit up and masturbate.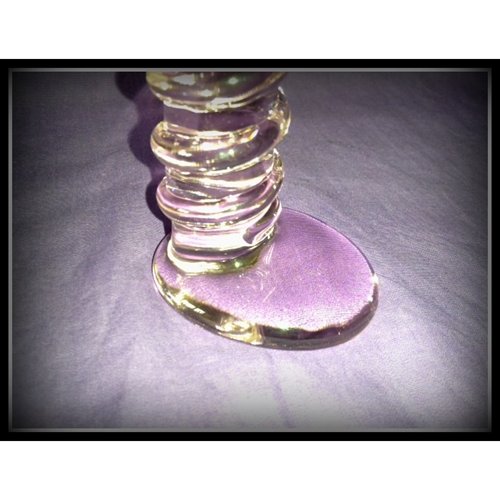 Experience
Now if you so choose to use him anally or vaginally , remember glass starts off a little chilly and it is always hard and unforgiving. So watch your cervix while using him vaginally, and don't use another glass toy if you are into double penetration. Use a different material, something with a little give, otherwise, you will have bruises where you really don't want bruises!
You know, I wonder if he came in a different colour, would he look as innocent as he does now in pink? I mean think about it. He's got some of the most pronounced texture I've seen next to the
squids penis with pimples
and they both come in pink. Do you think that they made them pink to make people not be afaid of them?
Sorry for the ramble!!!
As you probably have guessed, he is my new bum toy. But, I found leaving him in for too long I start to feel uncomfortable. I had to remove him after about thirty minutes of playing. Compared with the
Icicles No. 26
which can be painful upon removal (thin neck to very wide), this guy was quite pleasant when I went to remove him.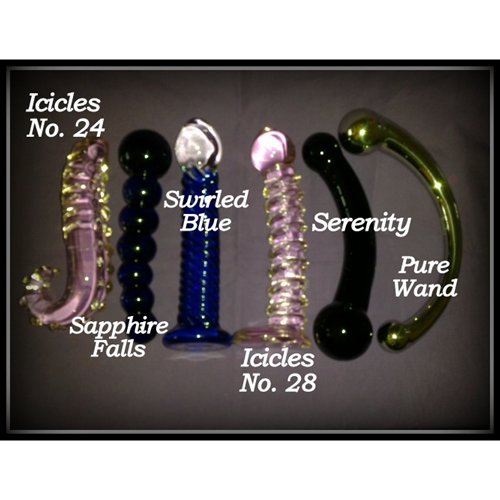 For anal play, I like him better than Sapphire Falls because of the base. The Swirled G is in my opinion a very uncomfortable toy vaginally or anally, he provides more texture than
Serenity
or the Pure Wand.
I left out level of user in the above section simply because it is a complicated answer. Vaginally, I'd say to anyone with a vagina who enjoys glass toys... "get one!!!!!!!!" and to anyone with a tuchus who likes texture and anal play... I would ask... experienced or not? If they have some experience I would say, "here's some lube. Have fun!" but if the person were to say that they are not so experienced... I would not deny them their fun, but I would demand them to be careful. That texture can cause issues if you have hemorrhoids or you know how some people around their anuses have a little extra flesh? If that is you, or you have any issues, you might want to be extra careful as you might cause some tearing with all this extra texture.
Follow-up commentary
2 months after original review
L'grande sigho... Icicles No.28... oh how do I still love thee.

Only... You and my arse just do not get along.
I still love your texture
I still love your smallerish girth
Simply because you provide oodles of texture to experience!

But me arse and you..
just are not meant to be!

I bought him for his extreme texture, and used him both vaginally and anally (remember! front to back, not back to front) on my own and with a partner. I enjoyed him so much. But the one day, we were just so into the sensation and the play time, that we got carried away and did not go as slowly as we should.

It was dark, and my partner thought that it was ok to go into uber high gear thrusting... but little did he know that on one of the inwards thrust he tore my bottom and as he pulled the No.28 out, he tore me even further.

Which put quite the damper on our play time for the remainder of that night. And any form of anal play for about a month while my flesh healed (or sitting down for that matter!). The doctor visit was torture (not embarrassing really, just trying to figure out the Chinese to try to get things translated) trying to explain that this was caused by a sex toy. He (thankfully!) decided against stitches.

So. Bottom line. I still love my Icicles No.28. But I cringe and my butt clenches up whenever I think about him. It will take some time before I am up to the point where I can take him vaginally without cringing!!!!

This content is the opinion of the submitting contributor and is not endorsed by EdenFantasys.com

Thank you for viewing
Icicles No. 28
– sex toy review page!