The Classiest Dildo I Own
This is one of the best g-spot dildos I have used. The flared base makes it suitable for anal use as well. It's aesthetically pleasing and feels as fantastic as it looks. Even the packaging is attractive. It's super easy to care for and an all around great product.
Published:
Pros:
It has the perfect curve, the ribs feel great, and it's super smooth and easy to care for.
Cons:
It's easy to bruise yourself since glass is rigid. It's heavy and not travel-friendly.
Use:
This is primarily a g-spot dildo, curved in such a way that it stimulates a woman's g-spot when inserted vaginally. It has a flared base, which makes it suitable for anal use, and the curve means that it might also be used to stimulate a man's p-spot.
Design/Shape/Size:
I think that this is the classiest dildo I own. I mean, it's gorgeous. Holding it makes me feel downright sophisticated. It's currently my absolute favorite dildo. It definitely makes me want to buy more of the Icicles line.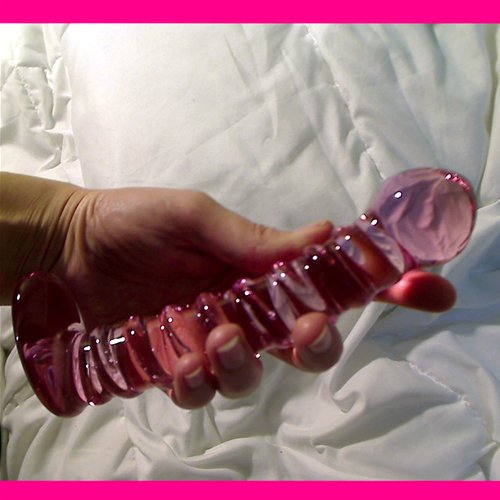 It has a shallow but distinct curve and ribs that spiral up from the base to the bulb at the top. The bulb is very slightly oblong, with a subtle egg shape. For ladies with deeper g-spots, this is the dildo for you. The curve is perfect, the ribs are delightful, and the perfectly-sized bulb at the end will rub you just the right way. The material is so slick and smooth that you don't have to worry about rubbing yourself raw. The flared base makes it safe for anal, which it is also very good for. The nice thing about the design of the base is that it makes it easier to maneuver and thrust the toy even with slippery hands. It has a good weight and heft to it, which is really nice once you've found the right angle to thrust with. The fact that it is glass also makes it good for temperature play.
Total Length: 7.25"
Insertable Length: approx. 6.5"
Circumference of head: 4.75"
Circumference of shaft: 4"
Diameter of head: 1.5"
Diameter of shaft: 1.25"
Width of base: 2.5"
While it is a very pretty dildo, in my opinion it still obviously looks like a dildo. I don't consider it to be very discreet; I'd still keep it out of view of any guests. Since it's somewhat large and heavy, I don't think it's travel-friendly.
Material/Texture:
This glass dildo is made from one of the safest materials. It's easy to sterilize with toy cleaner or by washing it in the dishwasher. Because it is glass, it retains heat and cold which makes it good for temperature play. There were no bubbles or impurities in my dildo. It is a nice, light, clear pink. The product photographs are true to the color and shape of the actual product.
Glass does not have any give so you have to be careful not to bruise yourself while thrusting. It is super silky smooth though - even more so than pure silicone. Unfortunately, the material and shape of the dildo don't transmit vibrations very well if you were to hold a vibrator against the bottom.
Performance:
It wasn't hard to figure out what to do with this toy - I applied lube and inserted it. It immediately rubbed me exactly the right way. That felt good, so I just kept doing it!
Care and Maintenance:
This toy is easy to care for. Spray it with toy cleaner and clean it with antibacterial soap and water, or just run it through the dishwasher. The ribs make it a little bit of a pain to clean, but it's not horrible. It just takes a little extra work. I store it rolled up in a towel in my dresser drawer.
Packaging:
The packaging is very nice. It's well put together, professional, and classy looking. The dildo comes in a black box with a lovely, tasteful photograph on the front and text identifying it as a "hand-blown glass massager". The front swings open to display the dildo through a window in the box, along with some information about the dildo. The dildo sits in a dildo-shaped indent in cushy foam packaging.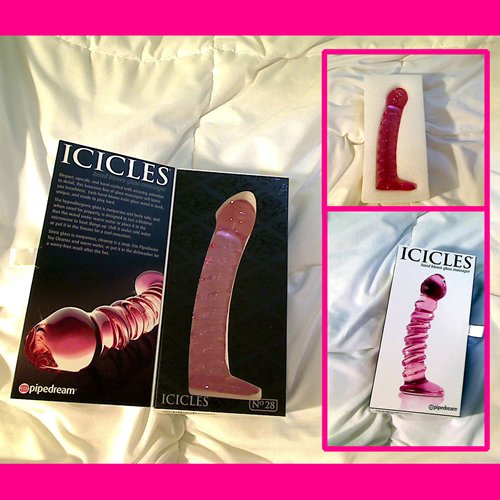 It's an excellent gift box and serves equally well as a storage container, if you don't mind the extra space the box takes up. It didn't come with a pouch or anything to store the dildo in if you wanted to take up less space though.
Personal Comments:
This is the first glass dildo I have used, and I feel like I made a great purchase! I'm extremely pleased with it. I've always gone for pure silicone in the past, but I'm glad I finally tried glass. I've had other G-spot toys turn out to be a disappointment, but this toy does very well at what it claims to do. The bulb and ribs do a great job of stimulating my G-spot and vagina in general.
Experience
Vaginally:
I inserted this dildo vaginally the first time I used it. It was slick, smooth, and cool. The coolness wasn't unpleasant and it warmed up quickly with my body heat. I wasn't able to have a g-spot orgasm, but that was ok - I could honestly use this thing all night. It just feels wonderful. It hits the spot perfectly and I don't think I've ever used a dildo that felt this good. I had to be careful not to get too carried away - you can bruise yourself by thrusting too hard with a glass dildo. Despite being a very pretty piece of blown glass, it is not discreet. I actually gave this one a noise rating because - how do I put this - it's... squelchy. The ribs create a loud, juicy sound while you use it, and you can definitely hear it from several feet away.

Anally:
I was a little intimidated at first because I'm a little new to anal and this is larger than my silicone anal dildo. I was still curious, though, so up the butt it went.

I found it was a little bit of a challenge to insert at first due to the rounded bulb on the end. However, after that initial hurdle, I had no issues inserting the rest. The ribs are just as wonderful anally as they are vaginally. I really enjoyed the sensation of the ribs as well as the sensation of the bulb at the end. I don't have a p-spot or male partner to experiment on, so I can't really say if it works well for that.

Experimenting with temperature:
I experimented by placing the dildo in a bowl of hot water and a bowl of ice water. Both were equally enjoyable, and it retains heat and cold very well for several minutes. Although the packaging says that you can, I would not personally heat it in the microwave or place it directly in the freezer because those temperatures are more extreme and you have less control over the temperature of the dildo.
Follow-up commentary
2 months after original review
I've come to really like this dildo. It's really a "juicer" - the ribs get me super wet and partners *love* the sound that makes. It's wonderful when paired with a good, small, clitoral vibe - nothing else gets me off in quite the same way.
This product was provided at a discounted price in exchange for an unbiased review. This review is in compliance with the FTC guidelines.

Thank you for viewing
Icicles No. 28
– g-spot dildo review page!