Bsoft is my new best friend.
Bsoft by Bswish is a unique, rechargeable clitoral stimulator with a variety of settings and uses. It's great for foreplay, teasing and ultimately, orgasms. It's a bit louder than I'd prefer and the controls are a little inconvenient, but overall this is a great toy and well worth the price tag. I wouldn't hesitate to recommend this to anyone.
Published:
Pros:
Variety in speed/functions.
Cute.
Rechargeable.
Powerful.
Cons:
Inconvenient controls.
Noisy.
Bsoft by B swish is a uniquely-shaped multi-speed, multi-function rechargeable vibrator intended for clitoral stimulation. It's really not shaped for vaginal penetration, although it can be used to stimulate the vaginal opening with no issues. Bsoft isn't safe for anal penetration.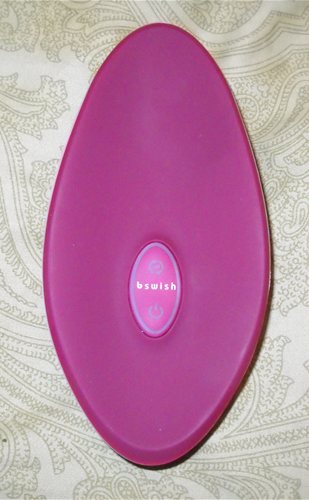 It's great when used for solo ventures or with a partner for foreplay, teasing or during penetration. If you're inclined to use this toy alone and have the dexterity that I don't possess, it can easily be paired with a g-spot dildo for added awesomeness.
It's more than just a delightful vibrator though! It's also a sensual tool. Take it on a tour of your body while slowly cycling through the settings and you'll quickly realize why B swish markets this toy as 'sensual and sweet'. The silky, smooth texture helps it glide across your skin while it gently massages your thighs, your nipples, your neck, your shoulders and everywhere else it touches.
Experience level doesn't even begin to come into play with Bsoft because with seven settings, there should be something for everyone.
Bsoft is made mostly of
ABS plastic
but the control button and the charge port flap are made of
silicone
, which can be more than just a little confusing when reading the product information page.
It might not be pure silicone, but plastic is still pretty safe as far as hygiene and porosity goes and it rates as an eight out of ten on
Eden's Material Safety Guide
. Bsoft is also made of a food-grade material; it's hypo-allergenic, latex-free, non-porous and phthalates-free.
Bsoft isn't exactly what I imagined when I picked this toy out though. I expected a soft, possibly even flexible toy, but it's just not. It's definitely soft in the fact that it's velvety smooth, but there's no give to it. It's just a hard plastic.
It is smooth though. The only visible seam is disguised in the white ridge between the top and bottom of the toy and can only be felt with your fingers and it really can't be felt at all when the vibrator is switched on.
It does have a really light plastic and chemicals scent upon opening the box, but you have to hold it to your nose to even notice it at all. After a few washes the smell completely dissipates, so wash this a few times before use and you should be good to go. There is no taste associated with this toy.
Bsoft has a unique design that is hard to explain, although I do like it very much. It's just shy of 4 3/4" long, 2 1/2" across the top at its widest point and is 1 1/2" tall so it's not a very large toy. It fits right in the palm of my hand.
Looking at it from above, it looks like a misshapen oval. It's tapered at the tip and gradually flares out just past the center and then tapers again at the bottom. It has a sunken-in look about it which is pretty appealing to the eye.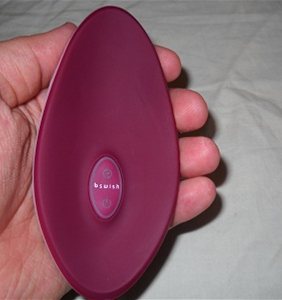 Looking at it when it's turned over gives you the same impression of the shape, but in the space where it looked sunken-in on the top, now it looks pushed out. There is a ridge with an indent on either side presumably for gripping the vibe while it's in use.
The controls are located on top of the toy and are a bit inconvenient to use. The way it's intended to work is that you would grip the bottom (where the indents are located) between your index and middle fingers and use your thumb to operate the controls on the other side. It's definitely a bit awkward until you're used to holding a toy that way, but once you've got it down, it feels like second nature.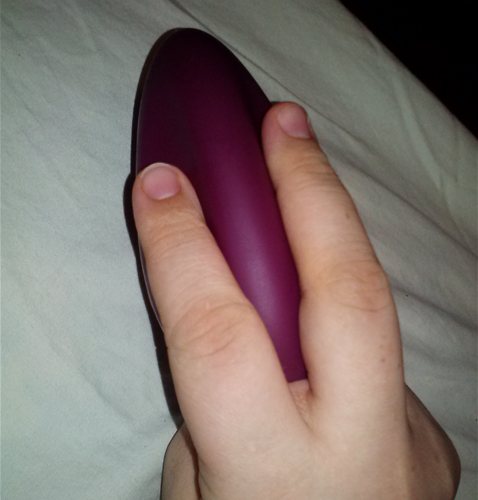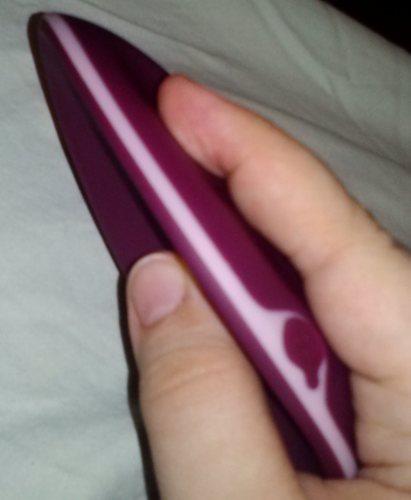 Bsoft is rechargeable and the Li-Polymer battery is charged by flipping up the silicone flap and plugging in the DC adapter. Simply charge it for 2 ½ hours and you should be good to go for 2 full hours of use. The package boasts that it has a stand-by time of up to 60 days, but I've yet to test that claim.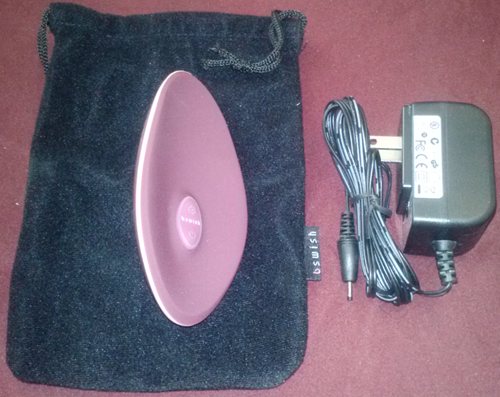 Once the toy is all charged and ready to go, simply hit the power button to turn it on. A blue light will come on to indicate that it's on (it also comes on and stays on when it's charging). Just above the power button is a circle with a play button inside it that operates the settings of the toy. Click that once to turn the first setting on and cycle through until you find a setting that works for you. To turn it off simply click the power button and that's all there is to it.
Experience
(Continued)
Functions:
1. Steady vibration, low. (2 vrooms, 2 bees)
2. Steady vibration, medium. (3 vrooms, 2 bees)
3. Steady vibration, high. (4 vrooms, 3 bees)
4. 8-9 short, choppy pulses followed by 1 long steady vibration. (3 vrooms, 2 bees)
5. Medium length, choppy pulses. (3 vrooms, 4 bees)
6. Fast length, choppy pulses. (4 vrooms, 4 bees)
7. 2 medium length pulses, 1 long pulse. (4 vrooms, 4 bees)
The vibrations are all fairly intense and pretty loud. If you have a living situation that requires discretion, be sure to turn on some music to muffle this.
The control button is easy to push when you're attempting to turn the power on or change a setting, but it can't accidentally be bumped into another setting while the toy is in use unless you apply pressure to the button.
Caring for Bsoft is a breeze. Wash it with an anti-bacterial soap and hot water or wipe it clean with an isopropyl wipe. Dry with a soft towel and store it in the pouch that comes with the toy or in any cool, dry place that you store toys.
While plastic is compatible with all lubricants, silicone is only compatible with water-based lubricants so to keep the silicone parts of this toy from degrading, only use water-based lubricants.
I don't recommend fully submerging this in water even though it's waterproof because the flap to the charge port easily slips open and water could make a real mess when it comes time to recharge.
Bsoft comes in a pretty black box with a pink and white label. There's a picture of the toy on one side and some product information on the back and other side.
Inside the box is the Bsoft massager nestled into its own carrying tray. Underneath the tray is the unpadded pouch for toy storage, a DC adapter and instructions.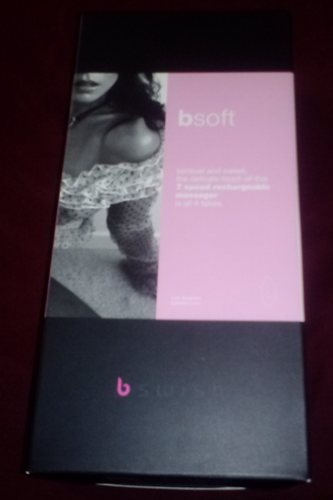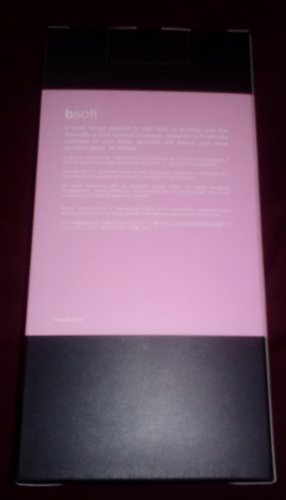 The toy could easily be stored in the box or it can be tucked into the handy pouch that's provided.
Bsoft would make a great gift for anyone that's looking for a clitoral massager, but because the box isn't exactly discreet, be sure that the recipient opens this privately (unless they don't mind others seeing, of course).
Experience:
Bsoft was my first rechargeable toy and I couldn't be more pleased with my decision to spring for this. After letting it charge the almost excruciating 2 1/2 hours, I powered this baby right up. I loved every setting so I couldn't even begin to pick one as my favorite and that's okay because I'd rather have too many favorites than not enough variety to choose from.
My only complaints are the noise and mildly inconvenient controls. I have roommates so I had to make sure my door was shut and the TV was on to muffle the buzzing. I need to focus, so the TV was bothersome, but I've learned to deal with it. As far as the controls go, I just don't understand why a toy would be designed so you have to turn it upside down to use. When you turn it upside down, you lose access to the buttons unless you leave your thumb underneath.
Follow-up commentary
1 month after original review
Bsoft was the best first rechargeable toy I could have ever picked. I still grab this thing regularly (like every couple of days) and it's still just as amazing as ever.

I've only had to charge it three times in thirty days, which was incredibly surprising. Granted, I only use it for 10-20 minutes at a time, so it's going to hold a charge a little longer than if I used it for more extended periods of time.

It is still really noisy and that's a pain, but a little music drowns that sound right out and the vrooms more than make up for the noise.
This content is the opinion of the submitting contributor and is not endorsed by EdenFantasys.com

Thank you for viewing
Bsoft massager
– sex toy review page!