High Intensity? Oh yes. Yes it is.
Don't let the small size of the High Intensity Bullet fool you. It packs quite a punch! Not to mention that it now comes in Eden pink with green accents. Just that alone would have sold me.
Published:
Pros:
Powerful, discreet, easy to use, waterproof
Cons:
N-1 battery
USE:
The Eden Fantasys High Intensity Bullet (or HIB because I am feeling lazy and don't feel like writing out High Intensity Bullet more than once.. er.. twice)is a small, but rather powerful, wireless bullet. It is meant for external use. Use it to tease your lovers erogenous zones or on yourself for a quick solo session. You could use it internally vaginally, but with the small size you might not get much from it. You certainly do not want to insert it anally. It is just too small for that and could surely get sucked into the point of no return.
It is waterproof so tub and shower play is possible as long as you close the cap tightly. Just like the sticker on the bullet tells you to do.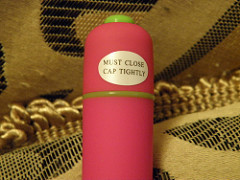 MATERIAL/TEXTURE/DESIGN/SHAPE:
This bullet is made from smooth, matte plastic. The body of the bullet is Eden Pink and the o-ring and push button are Eden green. Plastic is non-porous and body safe but cannot be sterilized. If you intend to share, slide a condom over it. It does not have much drag at all, but if you need a bit of lube, any one you have handy will work.
It is a tiny little guy at just 3.25 inches long (insertable length of 2.5) and a circumference of just 2.25 which makes it very discreet. You can toss this one just about anywhere whether it be a drawer, under the pillow for easy access, in your purse, or even in the glove compartment for those times you are stuck in traffic.
It has 3 levels of vibration that are operated by the single push button on the base. It goes from a low pitch buzz, to a medium, and finally to a holy-jumpin-just-about-buzz-your-clit-right-off high. The buzzy vibrations will make your fingers itch in no time, but they also don't take very long to get you off. Which is good because I am sure if I had to use it for very long, I would go numb before I got there.
Even with all the power it can throw out at you, it is not loud at all. It would never be heard behind a closed door.
CARE AND STORAGE:
The HIB is waterproof which makes clean up pretty simple. Wash it under warm water with soap or your favorite toy cleaner. It does come with an N-1 battery that should be taken out between use to prolong battery life.
The packaging is minimal. Just a small, plastic bag/envelope. You could try and save it for storage but I am sure it would tear in no time (mine did just opening it up the first time). The bullet itself also comes shrink wrapped which is something I always love because I know that there was not a bunch of germy hands on my toy.
You could toss it in with another plastic or silicone toy or just in a ziploc bag. I keep mine stored in one of my Evolved tins.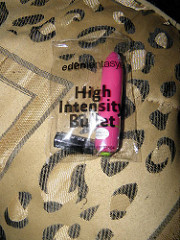 HOW DID IT WORK?
I was a little unsure of the HIB when I first got it. I washed it up, turned it on, started to get itchy fingers and thought it would numb me out in no time. The buzzy vibrations are strong enough to bring me to a quick, clitoral orgasm with very little effort. On low, it makes for a great companion with penetration as well. It would be just about perfect if it wasn't for that dreaded N-1 battery that is so hard to track down.
This content is the opinion of the submitting contributor and is not endorsed by EdenFantasys.com

Thank you for viewing
High intensity bullet
– sex toy review page!